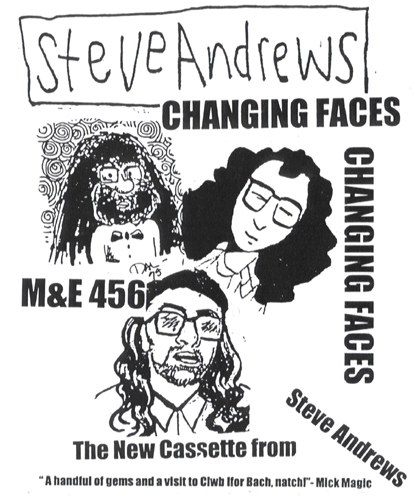 A couple of reviews here, generated by Steve Andrews, for the 2001 United World Underground compilation CD, him being one of the contributing artists and all. Many thanks to you, good sir...
MUSIC REVIEW
BY CATHERS
UNITED WORLD UNDERGROUND
Compiled by Mick Magic
ã2001 Music & Elsewhere
Submitted for review by The Legendary Steve Andrews
This is a compilation album made up of completely different styles. Many tracks have an up-tempo beat. The first thing I thought when I put the CD on was "wow, why does this need reviewing? I'll just give it 10/10!" I was slightly apprehensive about the title "United World Underground" I thought it would be African style music, probably due to the Aztec big head things (if that makes sense!) on the front cover, which is beautifully illustrated. All the tracks have a different style, which you don't always get with compilation albums. As Arthur has been shouting at me, a couple of the tracks are Hawkwind and Jethro Tull style, and all the tracks have a good range of instruments. OK, so here are the downsides; The back cover doesn't have a list of track names or artists, so you have to take the inside cover out to find out what you are listening to, although when you do read the cover there is a good amount of information about the artists, which is put forward in a friendly, witty way. This isn't the kind of music you would want to get up and dance to, maybe have in the background of a social gathering, or something to listen to while you are working reading or whatever.
Don't let the fact that I am a 15 year old girl put you off, I have a wide range of music that I enjoy, and as part of my music GCSE we are learning to listen to the tracks, and the way they are composed, not whether we like them or not. However this isn't the case, and whatever style of music you enjoy there will be something you like on this CD.
Cathers
CD's are available by mail order @ £8.00 each (including P&P) from:
Steve Andrews AKA The Bard of Ely, 22 Parker Place, Ely, Cardiff. CF5 4NS
Cheques / Postal orders to Steve Andrews please.
A Word from the King
The last track on this CD is by The Legendary Steve Andrews, Bard of Ely and Quest Knight LAW. It is a very professional re-working of "Real Love and Communication" Beginning with The Druids Oath with help from Ned Zero and some Heavenly vocals by Deva Den. For those of you unfamiliar with Singer/Songwriter Steve's "Real love and communication" it has in it some very poignant words and closes this fine collection on a thought provoking note.
United World Underground (sampler CD)
Hmmmm, my initial thoughts on receiving this were worried to say the least. Cover reminiscent of a dodgy Ozric Tentacles album, not inspiring to say the least! As a confirmed musical snob I was expecting the worst. Several listens in, I was happy to be dumbfounded! Alright, so one or two of the tracks are on the bad side of mediocre, but there are also some complete gems on this 'un! Covering as many bases as possible, Mick Magic's Music has a sack of eclectic music here to be proud off. Happy Hardcore, Grebo, Trip Hop, Drum and Bass, Psychedelia, Emo, Country and Folk. I enjoyed this sampler immensely, once I had acclimatised to the varying raft of styles on it. You can buy it from Spillers (Cardiff) for £8, which, lets face it, is just 4 pints of the Amber from the City Arms (would you prefer a hangover or musical expansion?)
Special shout goes out to New Welsh Music's Steve Andrews (last on the CD, but very far from least, in a late and great, Kim Foley 'Midnight Tragedy' esque opus called 'Love and Communication', for alerting us to this little beaut of a collection. (7/10)
DL (New Welsh Music)
Steve is, of course, still 110% active, though he doesn't live in Ely any more, he's in Tenerife now. I shall have a word with him to get the latest on what he's up to and where best he can be contacted. Watch this space... (UPDATE)
---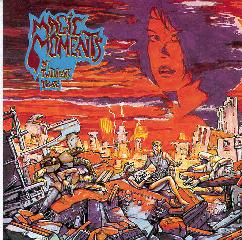 Of course, we've already mentioned the great American spacerock magazine, Aural Innovations, but there's still more to tell. What can I say? Jerry is a busy dude. And strange things happen to him, like getting collared by Dave Gorman in his Googlewhack Adventure, go figure. First though, a review of our "Creavolution" CD dating back to AI's third issue in July 1998, which has somehow escaped reprinting in a UWU Newszine, until now...
Magic Moments At Twilight Time - "Creavolution"
(Music & Elsewhere 1995, MMATTCD1)
MMATT has recorded what for me is probably the first spacerock 'n roll, dance party, sci fi concept album I've ever heard. I mean we're talking Hawkwind on Dick Clark's American Bandstand. The music is performed by Mick Magic on guitars and various synths and electronics, with guitar help from Damien Page on three tracks. Vocal duties are handled by many including Mick, Leonie Jackson, Sammi Taylor, Inga Leru, Gary St. John, and Brain John Doran. I must emphasize that this is space as in spacerock 'n roll. I liked the varied vocals and much of them have a new wavish, and, as we'll see, sometimes humorous feel to them.
The disc opens with "Starship Psychotron", a synth gurgling dance beat tune that certainly inspired the cool back cover painting of the CD depicting a flying saucer hurtling towards Earth with space party folks dancing away. This is the starship returning to Earth and sets the stage for the story to come. The next track, "Lights Turn Blue" begins with an alien voice telling the tale of an old scientist and the nuclear holocaust that has occurred. The tune then launches into a synth spacey rocker with electronic percussion maintaining a furious dance beat and a fiery guitar solo from Damien Page. Other standout tracks include:
"Purple Eyed & Mystified" sounds like a heavier, spacier Blondie with a crunching guitar sound and freaky synths. "Spirit Electric" starts as an acoustic psychedelic piece with dreamy vocals. Then a flamenco guitar is introduced accompanied by the spaced out bubbling synths. The whole thing ends up as a real rocker though the flamenco stays along with the heavier crunch guitar. This is different folks. "The Night