Sometimes, when accidentally typing your own name into a Google search box, you find some really eye-catching pieces of fascination, such as this one on the right. The things that caught my eye was seeing one of my album covers next to David Bowie's legendary "Ziggy Stardust" album cover! Bowie was an absolute teen hero to me and "Aladdin Sane" is one of my favourite albums of all time, so to be on the same page was a sort of "oh wow" moment, whatever the reason. And Stormclouds too! Whoever wrote this had taste, methinks. It's something Greek again, but luckily there was an English translation;
---------------------------------------------
Fantastic musical reality
In the early 1970s, the androgynous figure of Ziggy Stardust landed on planet Earth. The ultimate alien rock star was born from the rebellious instincts of the "wild boys" of Burroughs, the egopatheia of Vince Taylor and died in action "destroyed by the fanaticism he creates" in Bowie's own words. Maybe the duke is our favourite starman even though the musical concept of space was not his own hypothesis as before him Sun Ra had listened to the call of stars releasing a series of albums dedicated to stellar insight.
A decade after the birth of Ziggy the enigmatic figure of avant garde Von Lmo tried to describe the language of the future (future language, 1981) through a fusion punk futuristic vision. At the same time the album "ektakrom killer" of Video Liszt, a project of Richard Pinhas, came out in the stores having on its cover a futuristic costume that reminds me of "Star Wars". Thankfully this futuristic vision is not coming soon. As a result: The Von Lmo in 2007 was imprisoned for committing 2nd-degree robbery and sentenced to three and a half years in prison, while Pinhas went on with more earthy projects!
In the 90's an example of a secular parody, was recorded by the Magic Moments At Twilight Time in their album "Creavolution". The human (;) species had evolved to a wolverine scientist whose psychotron spacecraft travels through time and space. In the same musical scene with MMATT you will find also the Stormclouds, also obsessed with psychedelic pop music.
Apart from our grateful thoughts about space, a futuristic world evolution may be closer to an eschatological approach. On the banks of the river Peneus, in the depths of the pit called Thessaly plain, after a nearly total destruction, a pair of semi-wild ascetics find a radiator (Kalorifeur: Within The Hermitage, 2006), a sample of the culture that existed. Strange symbols etched onto it re-inscribe the garbage from the past to a divine symbol. On the contrary, in Marc Behrens's "Apparatus" (Agxivatein, 2011) the two wanderers still preserve the consciousness of their previous urban life, they know how to handle their credit card, how to drive a car or use the Metro. However they follow their instinct and choose a path backwards.
---------------------------------------------
A blog of some sort is the obvious guess, but thought you may find it an interesting, if not wholly accurate read, I certainly did.
---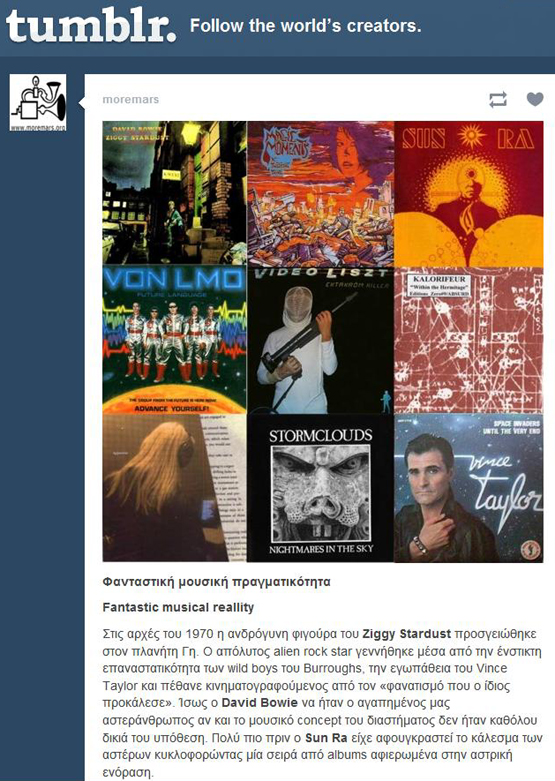 ---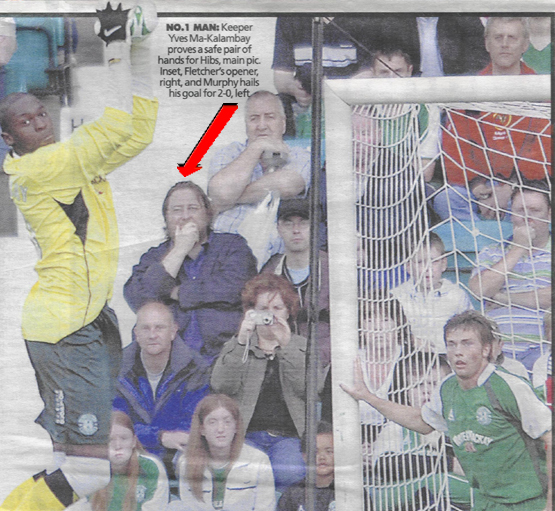 So, we're just thumbing through a copy of the Daily Record one day and who's face do I spot in the sports pages? There in the crowd at a Hibernian game is Zeitgeist editor, Stuart Hamilton! Gosh...