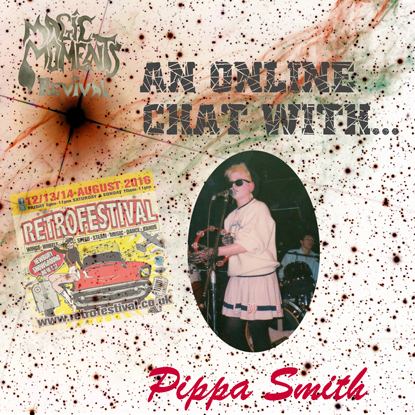 Pippa Smith never really got her chance to shine in front of a microphone with MMATT, she got caught up in what I often refer to as 'The Lost Year'. She did, however, leave one test recording behind to show what a great job she could have done if I'd worked out how many beans made five back then. Luckily, now I know; bean, bean and a half, two beans and half a bean. Currently kicking proverbial butt with cool retro outfit, Get Ready, let's give her the golden opportunity to rub in what I missed. Welcome to the start of 'Zoen Nostalgia Day'...
---
Magic Moments At Twilight Time Good morning, Pippa, how are you at this God-forsaken madly early hour?
Pippa Smith Morning I am good... I think a little tired.. late night
Pippa Smith But thatís rock and roll haha
Magic Moments At Twilight Time I know the feeling, you have to take it even easier when you get to my age! Dare I ask what you were up to?
Pippa Smith We had a gig last night and, in the interests of good journalism and research, new band is actually Self Preservation Society :)
Magic Moments At Twilight Time Great name, catch the retro reference, of course. So who's in the band with you, anyone we might know?
Pippa Smith I wouldnít think so but... Len Picott, John Robinson, Ed (donít even know his last name maybe he doesnít have one haha) and Paul Swarbrick
Magic Moments At Twilight Time Well, you're on Facebook, that's a start. I've 'liked' your page, I'm nice like that.


Pippa Smith Aw thatís nice... Iíll pop you back on the Xmas card list
Magic Moments At Twilight Time So, you've certainly been singing for some years now. It was actually nearly 29 years ago you and I met, September 1989, at the West End Centre. It was a Christ! gig, funnily enough I'm interviewing Philip Hutchinson this afternoon, small world. Do you remember anything about that night?
Magic Moments At Twilight Time What am I on, it was JULY 1989, over 30 years ago.
Magic Moments At Twilight Time Over 29 years ago. Can I go back to bed now? ;)
Pippa Smith Very vaguely...it was my first band...Rising Signs. We were a four piece and pretty green, make that very green. You came up after the gig and spoke about your thang and asked if I would be interested in giving it a go.
Pippa Smith And I just realised how awful that all sounds so I shall quantify by saying all in a musical sense of course
Magic Moments At Twilight Time Rising Signs, yeah, remember you giving me a cassette...
" A R E T H E A L D E R S H O T B O Y S I N ? "
Quite a kind of mod retro thing, I seem to recall, obviously a big taste with you. I always felt kind of guilty for dragging you away from something you are clearly very into, then it not really leading to anything.
Pippa Smith I feel old
Magic Moments At Twilight Time Sorry.
Magic Moments At Twilight Time I AM old!
Pippa Smith Haha itís fine, I am old
Pippa Smith Snap
Pippa Smith Well Rising Signs did carry on a while after so not all bad you can stop carrying that guilt...I multi tasked.. I can do that Iím a laydeee
Magic Moments At Twilight Time The secrets of multi-tasking, I've heard much about it, but Sam refuses to reveal them. So, our meeting would have been only weeks after "Zoen Nostalgia" was released and Shona had gone, hence my being in the market for a new singer. You came over to our old place in Frimley and did a test vocal to the original backing track of "State Of The Art" for us. I was definitely happy with it, especially when you think this was first attempt. Would you like to hear it?
Pippa Smith Of course!
Magic Moments At Twilight Time Have you heard it at all since 1989?
Pippa Smith Absolutely not...itís gonna be weird
Magic Moments At Twilight Time Weird was our trademark! Ladies and gentlemen, this is Pippa Smith, with Magic Moments At Twilight Time, sometime in 1989, singing "State Of The Art"...


Magic Moments At Twilight Time It's a long intro, but it's a short song... ;)
Pippa Smith Still listening :)
Pippa Smith Blimey
Pippa Smith It all came flooding back
Pippa Smith I might post that on my page later if you donít mind :)
Magic Moments At Twilight Time Go for it. Ah, so much promise there, it would have been so interesting developing the next generation of Mmatterial with you up front. Why on Earth didn't it happen? That time seems to be such a fuzz in my head. You know, my marriage was still recent history, but then I had the emotional turmoil of entering into a new relationship (with an 18 year old Sam, ho hum!) and... I was all over the place. La La Land. But seriously, I know I was struggling to find other musicians, which we also needed. Did we get as far as rehearsing or anything, what do you remember?
Pippa Smith I really donít recall. I donít remember rehearsing with other musicians. We should have done...it was so eighties!
Pippa Smith I am so glad you kept that test recording
Magic Moments At Twilight Time Yeah, wasn't it? When we finally got our proverbial shit together and did the second edition of "Zoen Nostalgia II: Earthbound" in April 1991, Leonie was lead vocalist and you weren't around any more. I included your track as a bonus on the album, but I don't know if we were still in touch. Can you shed any light on the situation? I swear, there are times I think I've forgotten more than I ever knew!
Pippa Smith I am so rubbish I remember nothing and regret nothing hahahaha . For sure we didnít get back in touch until a few years ago. I do believe it was Sid Stovold who pointed you in my direction on Facebook
Magic Moments At Twilight Time Social media can be an amazing thing, it's so nice to be in touch with so many people from those early days again. Those that are still talking to me! ;) Sid Stovold will be a familiar name to Music & Elsewhere aficionados, I'm sure, from Who Moved The Ground, had a couple of albums on the label. So, to Pippa Smith - you've obviously never left the stage, but I was really surprised to find out you'd also been doing stage musicals, like here you are in "Jesus Christ Superstar", tell us a bit about that...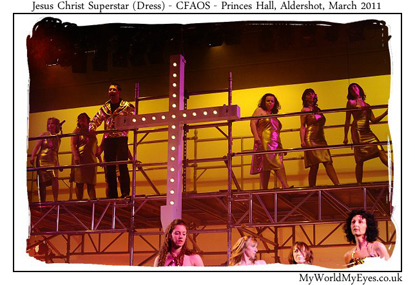 Magic Moments At Twilight Time Top row, third from right.
Pippa Smith Well it started when I lived in the States, mainly because all music seemed to be country or Lynyrd Skynyrd (shudder) and I felt the need to sing really. So I initially took up with a local theatre group who were putting on Sweeney Todd. I got involved as a voice coach (teaching them to speak with an English accent) then someone dropped out of the chorus.. they asked if I could sing and the rest, as they say is history.
Pippa Smith I only played in one show in the UK. Namely JCSS and then got back to bands
Magic Moments At Twilight Time I didn't know you'd ever lived out there. So if you only did the one show in the UK, where was the "Oliver" one?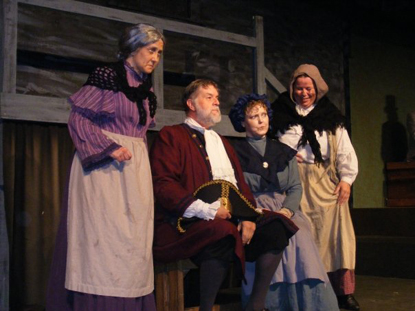 Magic Moments At Twilight Time Excellent make up, incidentally... ;)