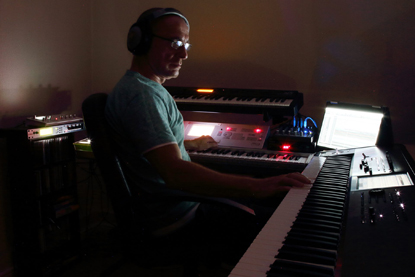 Levente Toth is a talented man who has certainly had an interesting life to date. A member of the Hungarian ethnic minority that had to suffer the joys of living under Nicolae Ceausescu's totalitarian regime in Romania, he now lives in the UK, where he settled after gaining his PhD here. Not just an accomplished musician, also a writer and a very talented photographer, he was certainly a pleasure to have on the UWU Collection, adding so much to it! He wrote a book about life under Ceausescu, entitled "Ears", under the name of Lehel Vandor. If you bought a copy of the collection, you'll have a PDF copy, it was in the bonus extras folder. You'll also have seen a few samples of his photography.
On the music front, he has recently finished a new album called "Lost Works", interestingly inspired by 8 lost, destroyed or stolen paintings. It seems an appropriate idea, his music is easily imagined as 'paintings in sound', such is his skill at transmitting an idea in audio form. If you are a fan of electronic music or even neo-classical, do go explore the creations of the very last artiste to be released on M&E back in the day, I doubt you'll be disappointed.
LINKS:
http://leventeth.wixsite.com/lostworks
Notes From A Nebula is his "blog on electronic music and the music industry", and quite a smorgasbord of reading. In his own words; "Yes, well, it's a very mixed bag, it is sometimes album reviews, tech reviews, and also some musings about electronic music (e.g. analogue revival, or how the perception of what EM is gets narrower and narrower, ironically inside a genre that is limitless etc). And sometimes anniversaries and birthdays of big names." Possibly worth mentioning at this point - April 21st - very fond of marzipan. He was kind enough to include a pre-release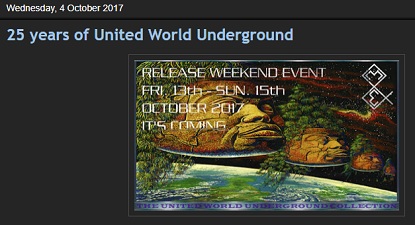 plug for our UWU Collection, here's what he had to say;
"It is a rare occasion when one can celebrate, instead of fleeting flickers of indie music promotions amongst the dominant music industry-driven ubiquitous communications, a 25-year-long consistent history of a huge underground music project.
Music & Elsewhere, the "label for bands who put their music before the money and their souls before the world", has reached a major landmark this year - and its 25th Anniversary Collection of the United World Underground is scheduled for mid-October as a special release.
The movement, with tireless efforts and meticulous curating work by Mick Magic, has been connecting musicians from a huge variety of musical worlds. It is no surprise that the special collection features music ranging from space rock to alternative to experimental to post-punk.
Featuring 33 hours of music, a 64-page PDF booklet, bonus materials including two books, it covers music from 30 countries - the detailed contents can be seen on the special release pages. The release weekend will also have numerous give-aways, including 50 albums (and counting).
From Germany to Thailand, from England to South Africa, the collection covers independent artists from five continents, spanning 25 years of musical output.
The past and present of the United World Underground movement and the Music & Elsewhere label can be followed on its chronological webpage.
With the countdown under way, free music tasters have been posted every day and collected also on the free music page.
The countdown and the release weekend with special giveaways can be followed via the main portal.
In an increasingly 'playing it safe' ultra-manufactured music industry-driven global scene, the new, and often, in a good sense, disruptive, vehicles of the internet era have ensured an unprecedented surge in creative output that refuses to limit itself to rigid labels.
In this novel context, which has broken all the old models and modus operandi of what one knew as the 'music industry', UWU and the Music & Elsewhere label remains an international presence..."
LINK:
https://notesfromanebula.blogspot.co.uk/2017/10/25-years-of-united-world-underground.html