Another veteran of the underground now, the mighty Neil Crud, ex front man of M&E spacepunk legends, Sons Of Selina, featured on our 2017 United World Underground Collection in the shape of the excellent live album, "Now Give Me Back My Cake" (M&E 321, 1995). These days Cruddy is setting the world (well, certainly the odd punk fest in places like the Czech Republic) on fire with Spam Javelin, and if you haven't yet experienced "Nazi Line Dancers Fuck Off", where have you been? Certainly worth checking them out on Bandcamp, of course, and they've recently finished mixing a new album, due for release (on vinyl!!!) in the summer. It's called "Alabama Hot Pocket", which sounds decidedly polite by their normal standards ("Arseholageddon", for example, which Neil promises was in no way inspired by me), but I'd just bet it means something seriously offensive. Shameful...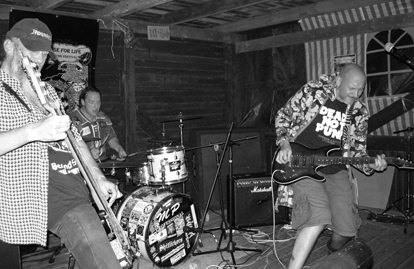 Spam Javelin during their Euro Tour of 2017, Neil on the right
Links:
https://spamjavelin.bandcamp.com
https://www.facebook.com/spamjavelinuk/

Neil also works hard bigging up his home region of North Wales, which is the largest suburb of Liverpool (famous for losing the 1988 FA Cup Final to Wimbledon), situated to the south west of the city. The lion's share of the work towards this aim is done via his Link 2 Wales website, which he's been doing for aeons. It's not exclusively Welsh stuff, rather more Cymru-centric, certainly having no prejudice against anything beyond the borders. I contributed a blog to it briefly, back around the end of 2012 / beginning of 2013. I only did three, but I certainly owe the guy a debt of gratitude for giving me the opportunity, as it inspired to start some serious writing for this website, which I'd started only a few months earlier. Once I really got going with that though, well, it didn't leave much time for writing for anybody else. Dyna fywyd, as they say. If you're local, it's a great source of info for gigs and events, and if you're not, it's a great source of info on releases and stuff from the bands that are. Absolutely years worth of archive stuff to look back on too...
Links;
https://www.facebook.com/groups/link2wales/

M&E Blog Links;
http://link2wales.co.uk/2012/crudblog/blog-mick-magic-music-elsewhere/
http://link2wales.co.uk/2012/crudblog/blog-mick-magic-music-elsewhere-2/
http://link2wales.co.uk/2013/crudblog/blog-mick-magic-music-elsewhere-3/
His other main activity today is as a radio presenter on Tudno FM, a charitable community radio organisation, funded largely by the likes of the Welsh Assembly, Conwy Council and the National Lottery. Neil's show goes out at 20:00 alternate Sunday nights (UK local time), 107.8 FM and via the internet. Worth mentioning that some of the shows and live sessions are archived on Mixcloud too, you'll find a link for that on the Link 2 Wales home page. So what can the listener expect? "The format is to play great music and there are no rules, although the show does lean heavily toward alternative bands and acts associated with North Wales." He's not kidding about no rules; for example, X Ray Pop were one of the bands he picked to play from our United World Underground Collection, not punk, not from Wales, and I'm reasonably sure Doc Pilot doesn't support the Reds! He was also kind enough to give our "Creavolution Reborn" CD a spin recently, "Demonic Attack", I believe. You don't get a playlist as such, but you can follow the show live on the Facebook page...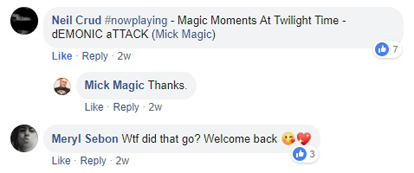 So, what keeps him going after all these years? "Not sure why I do it..." he ponders, "probably through blind stupidity... I never watch TV, it's all music and gigs and gigs and music." Sounds like as good an excuse as any.
Links;
www.facebook.com/groups/198407174055823/
---
For further information, particularly on Sons Of Selina and the M&E era, I interviewed Neil for The Magic Net back in the January of 2013. Back when he had hair. Nevertheless, we remain friends to this day... ;-)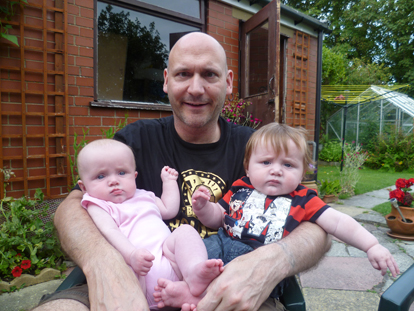 Twizzle Magic (left) and Charlie Crud were actually born on the same day, 12th March 2013, our Twizz just slightly the senior. Neil isn't really cross-eyed, he was just pulling a silly face for our babies...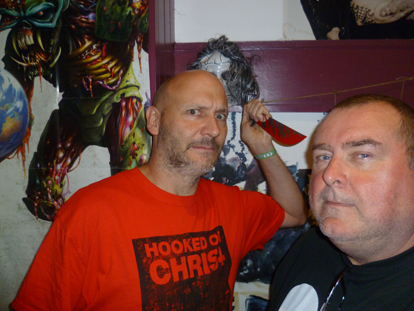 Neil and I remaining friends to this day, meeting up at the Rebellion punk festival in Blackpool in the summer of 2017. I missed him in 2018 unfortunately, somebody had warned him I was going...