We first got to know Kev back in the 90's when he was front man of the exceptionally good psyche / blues band, Doctor Brown, a band we were exceptionally (sorry, there are few other words to describe Doctor Brown) proud to have on Music & Elsewhere. We released the three cassette albums by them, "Live At Hebden Bridge" (M&E 292, our Release Of The Season for New Year 1995), "My Lovely Horse" (M&E 388, 1997) and the lesser known "Look What's Just Got In My Cab" (M&E 575, 2003). All three titles are now available on Kev's Soundcloud and Bandcamp, free to stream or download as your heart desires. Enjoy muchly...
LINKS:
https://soundcloud.com/magiccatlivemusicarchive/sets/dr-brown-live-at-hebden-bridge-1995
https://kevellis.bandcamp.com/album/my-lovely-horse
https://kevellis.bandcamp.com/album/look-whats-just-got-in-the-back-of-my-cab
Back in the day, Kev's network contribution was a zine called The Magic Cat, in which he was kind enough to give Magic Moments At Twilight Time the odd kind write up. Nice man. Sam and I had the pleasure of meeting up with Kev & crew at The Old Trout in Windsor, sometime in the mid 90's, not sure exactly when. I seem to recall it was a Delerium Records gig, Porcupine Tree, with support from Kava Kava, yeah, I remember meeting Richard Allen there too, now I think about it. Nice bunch indeed. Oh, look, we have a rather grainy photo from the evening, from the old days, when it was rolls of film and taking it into Boots for developing and hoping there was nothing incriminating in flower pots on the negatives.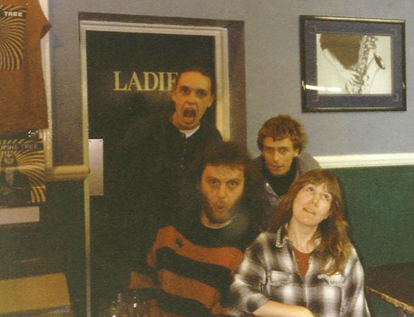 That's Kev in the middle, complete with trademark facial hair and his decidedly cool Dennis The Menace jumper. I have no idea why they were hanging around outside the ladies. But I digress, which is most unlike me. Where was I? I remember; Kev is still busy making music, as well as playing other people's over the ether. When I talked to him towards the end of April, he was in the middle of the new Dubbal album. For the uninitiated, Dubbal (Kev, Nick May and Andy Radburn, ex of Bubbledubble, I'm spotting a theme here) have been together for about six years now, and Kev describes their sound as "positive vibration electronic reggae, dub and ambient", plus a live vocal, of course. A new CD, I'm told, will be available in time for the summer (wossat?) festie season! In the meantime, you'll find Dubbal 1 for sale on Bandcamp, complete with a free to listen to sample track, natch.
LINK: https://kevellis.bandcamp.com/album/dubbal-1
0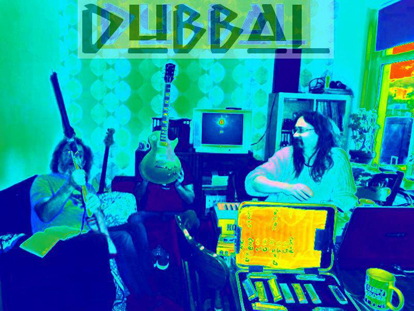 So Kev is keeping himself busy, but still manages to fit new radioshows in around gigs and recording, plus there's an archive on Mixcloud and regular repeats on The Flash on DAB. Still sticking loosely to its spacerock and psychedelic roots, the Kev Ellis Show also includes the odd specials on the likes of notable happenings such as Kozfest. And he was kind enough to slip a MMATT track in on his March 2nd broadcast. Very nice man. I don't know if it's just me, but I struggled to get a playlist up listening on my PC, though this doesn't seem to be an issue if doing it via an app on some other device. Like a smart phone, which I don't have. Or, as Kev suggested, it could just be that Mixcloud hates me. You can laugh, but I have to at least consider it as a serious theory.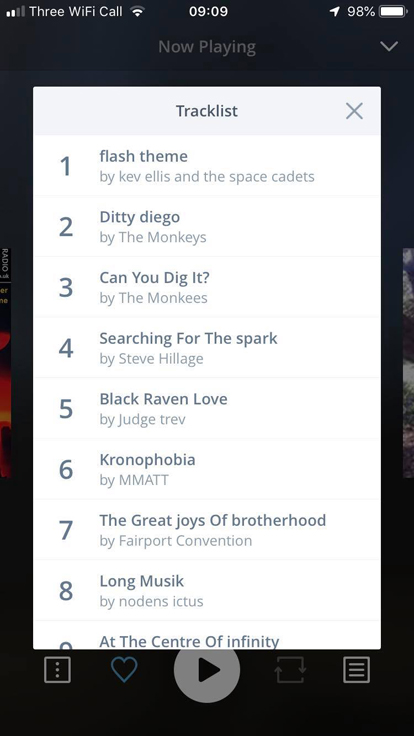 "I can see it on my phone okay, maybe Mixcloud just hates you, Magic."
---
So there you have it, the radioshows will indeed continue into the future, albeit on an intermittent basis, Kev assuring me there will be more for the summer (that word again), which we shall look forward to muchly. At the end here, I shall dutifully place the link to The Flash On Air, Kev's archive of shows on Mixcloud, plus a nice picture link to the 2nd March broadcast which included "Kronophobia" from the "Creavolution Reborn" CD. I'm nice like that. Mostly.
---
LINKS:
https://theflashonair.co.uk/team/kevin-ellis/
https://www.mixcloud.com/kevellis/