THE SUMMER HOLIDAYS;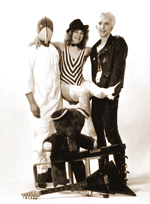 Whew, I can hardly believe this, but after several months of putting it all together, the final monument to the M&E label is almost upon us. It's been quite intensive, so the plan now is to put my feet up for the summer and enjoy the holiday season with our Sammi and Twizz, culminating with a trip to our old south east stomping ground, which will hopefully give us a chance to catch up with my former comrades in this April 1987 vintage photo; Nick 'Morgan' Lewis ("The Eddie Irwin Song") and the one and only Ms. Shona Moments (you know who she is)! Looking forward to it...
THE LAUNCH WEEKEND;
First weekend back at our Knott End-On-Sea base, the big day cometh! As with the previous UWU Collection (M&E 25-01), there'll be a release weekend event on Facebook (Friday 6th - Sunday 8th September), details of which will be announced on that medium in the very near future. It'll feature a few online sessions in which myself and significant others will be previewing and chatting with some of the included bands and artistes. Oh, and I'm confident we can get through the event this year without Mr. Zuckerberg temporarily shutting us down again; for 'posting too fast'! ;-) Should any of you have any questions you'd like to put to participating acts, please feel free to send them in and I'll be happy to ask them for you. For those of you who don't use social media, I'm not quite sure what to do for you yet. There's nothing quite like Facebook for instant interaction and sharing of words, music and images, but I'm open to suggestions and will be giving it a lot of thought in the meantime anyway. I will also, of course, update the website on the day of release, and do my best to keep you up to date with the new social media content (interviews a-la 'Online Chat With', sample tracks etc) as it appears over the weekend.
IN THE MEANTIME;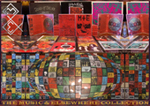 The 60 page booklet that will accompany the collection is free to download as of today (PDF format, 42.7 MB), simply click on the graphic to the left and it shall be yours, a great chance to see exactly what you'll be paying for before you buy a copy, enjoy muchly! The free bonus 'virtual C90' compilation, "An M&E Tribute To The Great Tape Labels", is already available to download as well, courtesy of Lord Litter, who has put it up, along with a brief article, on Hal McGee's excellent Electronic Cottage website. This features tracks by some of the good folk who ran tape labels back in the day, straight from the M&E source cassettes, no digital remastering, praise be the hiss! As for the other bonus material, which includes an exclusive and final MMATT 'Flashbax' album ("Epsilon Psychotronic"), along with a recently discovered recording of the interview I did for BBC Radio 5's "Across The Line" show, way back in 1993; well, for those you'll have to wait! I hope you'll be looking forward to it all as much as I am!
LINK: https://www.electroniccottage.org/lord-litter/music-elsewhere-virtual-cassette-compilation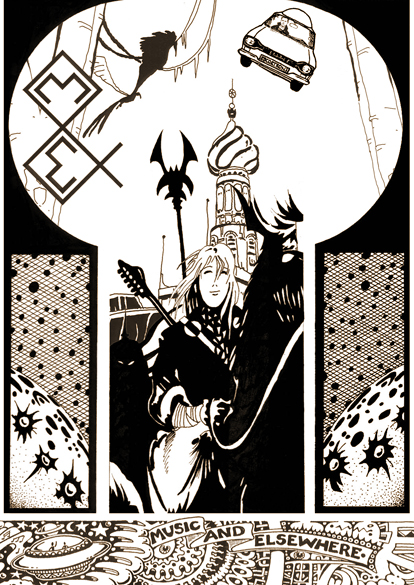 T H E M & E C O L L E C T I O N ( M & E 2 5 - 0 2 )
Featuring over 31 hours of music (and elsewhere) by Magic Moments At Twilight Time, Blacklight Braille, Gurus Of The New Millennium, The Invisible Band, Earth, Into The Abyss, TMR, Titania Moon, Stormclouds, The Conspiracy, Steve Andrews, Sabotage, Communication Union, Dave Munkhoff, Sigis Bruder, Cosmic Dance Society, Scrooge, Holland / Skin / Tunnel, Endymion, The Now, Silverspoon, Karda Estra, Shay, Klangwart, Burning Dollhouse, The Venus Fly Trap, Grass Harp, Sweet William, Ignite, Mimetic, Altair, Daniele Brusaschetto, Trelkovsky, Solanaceae Tau, Naj, Mother Goose, Pseudo Sun, Esperanza, Jackalope, Barking Dogma, Vocabularinist, Hecate's Dreams, Sponge, Cyborg Sex Babies, Sosumi, The Original Mind Band, Animal Factory, Disc, Heiland Solo, Château De Fleurs, Sanity Assassins, The Stone Premonitions Collective, Mr. Quimby's Beard, Jelicons, This Elegant Chaos, Doug Michael & The Outer Darkness, Space Cadet, Star Period Star, Unlimbo, Grover, Ed, Werk, Dopefinger, Otherworld, Robin O'Brien, Terri B, SiRenée, Operattack, Love In A Plague, The Stinking Badger Of Java & Idiom. Plus bonus material!
C O M I N G F R I D A Y 6 t h S E P T E M B E R 2 0 1 9