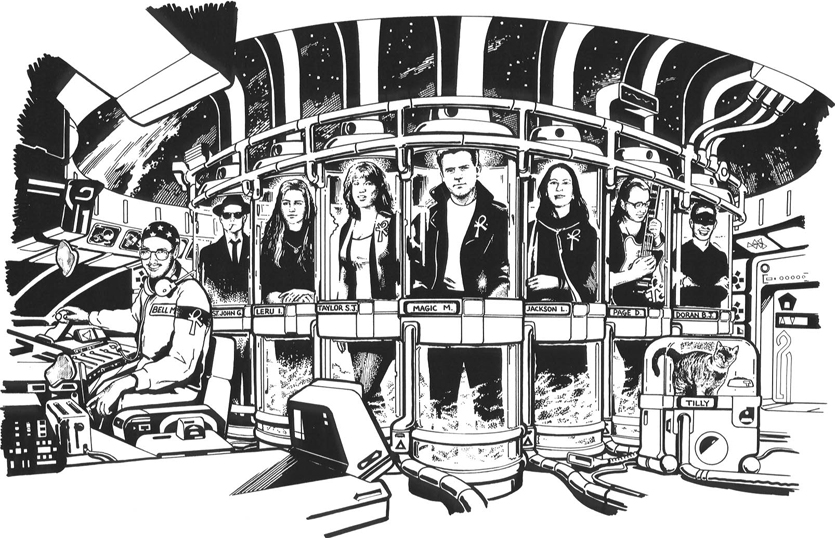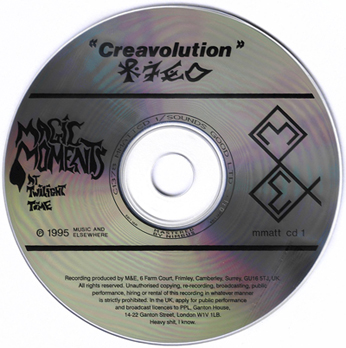 0
Mick Magic - sequencer & PCM programming, electric & acoustic guitars, synthesizers, FX, old TV set, lead vocal (3), whispers (8), alien storyteller (2)
Leonie Jackson - lead vocals & harmonies (1/4/6/7/8), backing vocals (9)
Sammi Taylor - backing vocals (2/10)
Inga Leru (from Twister) - lead vocals (2/5)
Damien Page (from Hecate's Dreams) - lead guitar solos (2/9/10)
Brian John Doran (from Operattack) - lead vocal (9), backing vocals (5)
Gary St. John (from Double Trouble) - lead vocal & impersonations (10)
And thanks muchly to the roomful of sad inebriates at the studio party for their inspired additions to "Rock & Roll Lifestyle", especially Jonny Was & Chris Dors.
Extract from "Summer Lovers" appears courtesy of Candor Music.
All music & lyrics by Mick Magic, all titles published by MMATTERIAL in 1995.
Recorded & engineered by Marc Bell at BRAINDEAD STUDIOS, London.
Produced by Mick Magic, mixed by Marc & Mick, recorded May 94 - July 95.
Mastered by Henry Smithson at Sounds Good Ltd, Theale, Berkshire.
Spectacular cover art by Thayen "Guilfin" Rich, © 1995 MUSIC & ELSEWHERE
This album is dedicated to my dad, who sadly left this Earth on March 7th 1996.