MAGIC MOMENTS AT TWILIGHT TIME - "CREAVOLUTION REBORN"
(TMR Records, TMR CD 8170, 2018)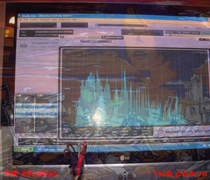 Featuring all ten tracks from the popular 1996 CD, but like you have never heard them before! Lovingly remastered from the DAT's by original recording engineer and Brain Dead Studio owner, Marc Bell, armed with all that first-hand knowledge, 22 more years of experience and some incredible technological advancements. Originally having envisaged a new version in 24 bit HD Audio, which certainly sounded quite amazing in its own right, it was the alternative analogue master that completely won the day and ended up on the CD. It adds a warmth and humanity I've long felt was missing on the original release. So, I asked Marc exactly what the difference was between the 'standard' 24 bit digital and the analogue master. This is what he said;
0
"The 'Analogue Remaster' was transferred in the same way as the 'Digital Remaster' in 64 bit from the original DAT's to Presonus Studio One V4 Professional (latest edition). It was then transferred to ¼ inch reel to reel on a Revox B77 through a Presonus AI 32 Digital desk via the analogue outputs. The only two effects used were a 'Decca' vinyl EQ curve, digitally, and the stereo part of a 5.1 Surround Sound program for modern 'stereo width'. The remastered tracks were then bounced back to a Tascam standalone Wavefile Recorder in 24 bit, without any alteration, effects or compression!"
0
So I just nodded and pretended I understood all that. As luck would have it, it wasn't long after that Lord Litter got his mitts on a copy and put it in layman's terms for me;
0
"... listened to some analog trax... WHAT a difference!!... now the songs have depth!... these digi-analogue mixes are a real optimum!!... WOW... FUCK this is good!!... this is REALLY the best version of MMATT I ever heard!.. total KILLER!"
0
I think he liked it, I know I do. Couple of other things it's probably worth pointing out: First up, you'll notice that "Purple Eyed & Mystified" and "Demonic Attack" have changed order, that's because that's the way they were originally intended to run (and appeared on the infamous bodged first pressing in 1995), so that's the order they come up on the DAT masters, so that's the order in which Marc processed them. Having heard it this way round again for the first time in 22 years, I decided not to ask him to correct it, kind of interesting to have something else different about this version. Secondly, you'll notice an extra track on the end by TMR, rather than MMATT, though I was a guest musician and backing vocalist on it. Marc did this "F.A.M.E. Mega-Mix!" version of "Armegeddon Time", a Thamesmead Rollers dance-mix he'd co-produced with Mike Westergaard of The Blessing, as a 'special tribute' to that abysmal first 'attempt', imitating (and exaggerating, let's be fair about this!) its many flaws. It proved so popular with MMATT fans at the time, it sort of became the unofficial 11th track of the album, so now we've made it officially the 11th track of the album, et voila!
0
For me, this is far more than just a remaster of a 22 year old album, this is catharsis. "Creavolution" may well have been the most successful MMATT album and best selling M&E release ever, but it was always something of a hollow victory for me, overshadowed as it was, at least in my mind, by the bitter legal battle with the original manufacturer, that both surrounded and tainted its release. When you're involved in a civil case like that, at County Court level, it's very hard to keep a sense of perspective, it can easily become very all-consuming, especially when there are no legal professionals to handle everything for you. It had a profoundly damaging effect on my personal life, the aftermath of which Sam and I only just came through in one piece; it was the beginning of seven long years on anti-depressants, which may well alleviate some of the worst symptoms of unending melancholy, but it also fucks with your motivation, drive and ability to concentrate. By the time I came off the damned things, Music & Elsewhere was on its last legs. It would also be 20 years before I recorded another note, and that was just two tracks for MMATT's 30th anniversary in 2016. Even by that point, I'd already been talking about 'one last MMATT album' for at least three years. It just kept not happening. Somehow, I think I needed closure on this one first. 23 years after we finished recording the album, I can finally enjoy it for what it is; "The best damn space rock 'n roll, dance party, sci fi concept album I've ever heard!!!" (Jerry Kranitz, Aural Innovations)
0
Let's just hope nothing goes wrong with the TMR pressing! ☺
Mick Magic (July 2018)
---

CREAVOLUTION - THE LIBRETTO (8 pages, PDF, 8.63 MB)
Now available as a free download, the complete libretto for the album, your chance to find out if the chorus to "Kronophobia" really does begin with "Chateau Pizzas"! Includes full lyrics for all 10 original tracks (didn't include any for the new instrumental, "Armegeddon Time", we figured you'd be okay humming to that one), including an unused verse for "Lights Turn Blue" and the whole of "Storm", the track that didn't make it. Click on the pic for your copy...