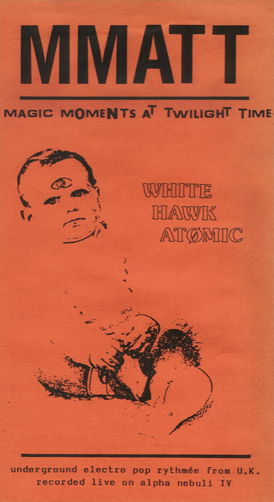 The complete catalogue of recordings by Magic Moments At Twilight Time was probably complicated enough by our habit of travelling back into the past and changing things, right? Well, you have a Ford Escortron, you tend to do these things. Because you can. Now, I realise that's no excuse for all the confusion, that's why I included a definitive list of said recordings on this website; The Mmatterial. You're also probably aware that 'the big three' of our earlier albums (Psychotron 0, Zoen Nostalgia and White Hawk Atomic) were also released on other labels around the world (on the left is the label from the outer packaging of the Krime Sonik edition of "White Hawk Atomic" from France, where it was released as "Le Faucon Blanc Atomique") too, oui? But there were a lot of labels that desperately wanted an exclusive MMATT album, thus was born the Flashbax series. Though there was nothing significant on any of them that you couldn't get elsewhere, they became hugely collectible. Here then are the details of the ten volumes in that series, complete with the original inlay notes, written between 1991 and 1993, enjoy muchly...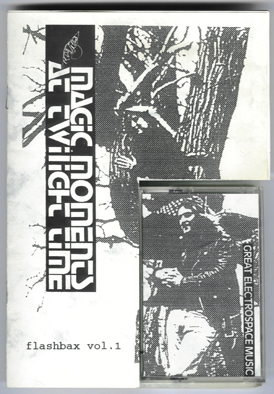 FLASHBAX VOL. 1 (Krime Sonik, France)
The French edition of the first volume of the Flashbax series, issued by Patrice Miossec's Krime Sonik label in 1993, came in an excellent 20 page booklet, including a 9 page interview with me he had lovingly translated into French.
(

FLASHBAX VOL. 1
Acid Tapes (UK)
Harsh Reality Music (USA)
Trost (Austria)
Krime Sonik (France)
Echt Zeit / Tonspur Tapes (Germany)
SPH (Portugal)
Left As In Sinister (Australia)
Trilogie (Belgium)
Wipe Out Records (Greece)
Gendai Records (Japan)
*This album, courtesy of its digitisation by Steve Lines at Acid Tapes (thank you, kind sir) is available for streaming or free download at Reverbnation, albeit with an edited version of "Sister Jody", due to the site's 8MB limit. Just insure your ears and click on the link above...
A1 "State Of The Art" - Recorded July 1987 at Brunhildes Foot in Clapham, London, our studio debut for Earworm Records, released on "Tapeworm Vol. 1" (OHR 031). Features the original line up of Mick Magic, Shona Moments, Kate Twilight and Jay Time.
A2 "Acidic Heaven" - Recorded October 1987, from "The Magic Moments Album". A flaw on the master meant this recording had to be used in two sections. It was still a must for inclusion as it came top in our recent poll.
A3 "Spirit" - Recorded at Raven Studios, Camberley, the music in February 1990 (percussion by Alex Cable of Internal Autonomy), the vocal in October 1990 by the new MMATT singer, Leonie Jackson, or Lulu for short.
A4 "Bewitched" - Back to the original line up. Recorded March 1989 for the album "Zoen Nostalgia". The witches spell done by White Hawk, Sensemillia and Spliff.
A5 "The Soultakers" - Recorded October 1987 for "The Magic Moments Album". Also features the original line up.
A6 "Blitzkrieg!" - Recorded live at our debut gig, June 1987, for the album "Live At Frimley Community Centre".
B1 "Sister Jody" - A real acid jam! This was Jay Time's audition to join the band as bassist... he passed. The recording was made May 1987, originally appeared on flip of live album. Amazing how much noise two people can make, huh?
Additional Notes
i) "The Magic Moments Album" was later expanded and repackaged as "Psychotron 0".
ii) The 'recent poll' referred to was a vote taken from readers of "The Mmattrix" newsletter in 1991 to help determine which songs should be used on "White Hawk Atomic".
iii) The 'flaw' on "Acidic Heaven" is the little jump circa 2:50 where the two parts were originally joined, way before digital editing software existed. One of these days, I'd like to get it rectified and issue a 'perfect' version!
iv) The music track for "Spirit" was originally created by me for an Internal Autonomy track called "Here In Our Hearts", currently available on an excellent retrospective of their works on the Front Cover label (CFD002). We later rearranged and electrified the track into "The Spirit Electric", which appeared on the "Creavolution" CD in 1996. I actually think I prefer this original!
v) The three witches are Julie Howell, Samantha Taylor (who became my wife) and Chree Platt.