Artist: Magic Moments At Twilight Time
Title: "Flashbax Ω Ultimate"
Release Date: 25th October 2015
Label: Klappstuhl Records, Köln, Germany (SP 008)
---
A 'best of' the ten volumes of the "Flashbax" series that were released by dozens of labels around the world, thus also making it something of a best of MMATT's cassette years. The tracks selected for the album are based on a fan poll conducted in 1992, specifically for a proposed 'best of' called "In Search Of Albert", which, of course, never actually happened. So here it is, better late than never, and it was a delight to work with Klappstuhl Records in producing this fine collection, my eternal gratitude to Carsten S for making it happen. Digitally transferred from the original master cassettes here in Mmattland, then whisked off to Frank E in Germany for remastering, and an amazing job he made of it too. The tracks on the bonus album were specially chosen by myself, not because they were second best or anything, more because they tell the story of the band, in their own quirky little style, all the way from the time travelling adventures that made our early existence so confusing, right up to our final track of the cassette era, "Freedom Overflow", used for some years as the theme tune of the renowned pirate radio station. The release comes on a decidedly cool faux vinyl disc in a standard CD case, pricey but nice, and is also available as a download, which now it's been out a couple of years, will only cost you a mere €5,00. Follow the link to Klappstuhl's Bandcamp page by clicking on the stool graphic (it's their logo, you understand). If

you're interested in the hard copy version, you'll find a 'Contact Klappstuhl Records' link to the lower right on it. Say hi from us!
---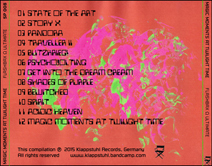 Rear cover art by our very own Twizzle Magic, painted at Huckleberry's nursery, Preesall, at the ripe old age of 2˝. Seriously, she even has her own page on DISCOGS! We have to call her ma'am now...
01 State Of The Art (recorded at Brunhildes Foot Studio, Clapham, July 1987, for Earworm Records, from "Tapeworm Vol. 1, OHR 031)
02 Story X
03 Pandora
04 Traveller II
05 Blitzkrieg!
(from "At Twilight Time", C-4013, November 1987, reissued as part of "Psychotron 0: The Best Of MMATT" (MMATT 20, July 1988)
06 Psychojolting (first released on "Psychotron 0")
07 Get Into The Dream Cream
08 Shades Of Purple
09 Bewitched
(from "Zoen Nostalgia", MMATT 30, July 1989)
10 Spirit (recorded at Raven Studio, Camberley, first released on "Flashbax Vol. 1", Acid Tapes, TAB 089, October 1991)
11 Acidic Heaven
12 Magic Moments At Twilight Time
(from "White Hawk Atomic: Live On Alpha Nebuli IV, MMATT 34, January 1992)
---
"Flashbax Alpha II" (Bonus Album, Available As Download Only);
---
B1 Introduction From Q.E.D. (from "The 21st Century Schizoid Band Q.E.D.", C-4015, December 1987)
B2 Xmas With Jody (from "The Whydoeseverybodydoaxmas Single?" (C-4016, December 1987)
B3 The Time Machine (from "The Time Machine", C-4017, February 1988)
B4 The Cylinder (from "W20... Advance Guard!", C-4002, March 1987)
B5 Sister Jody (from "Volume 4: Live Debut Plus" (C-4010, July 1987)
B6 Freedom Overflow (first released on "The Radio Cracker Tape", MMATT 37, December 1992)
---
"Flashbax Ω Ultimate" - The Booklet
---

A 25 page A4 (landscape) booklet featuring photos, artwork, lyrics, info and tales of time travelling mayhem. Download your free copy here (left)...