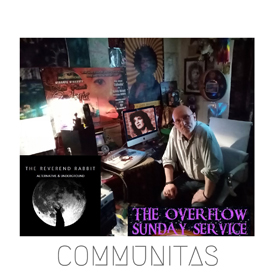 22 - "Unitas IX"
Welcome to the Overflow Sunday Service
We are Magic Bullet
You listen to Terri B and Reverend Rabbit
Terri B and the Reverend Rabbit
Down The Rabbit Hole
On River Gibbs FM
We like
"But to start, we're going to listen to a recording made by the Magic Bullet project, an experimental band from Lancashire, who regularly record for the Alien Research label, and also big John Cage fans."

That last sentence is the voice of John Wills, from his Great John Cage Project In Lockdown podcast series, and we shall be coming back to him later on the album. But first, we'd like to say a big thank you to Terri B (whose north-eastern twang is, I suspect, the voice of the radio clip on the fourth line) and the Reverend Rabbit, aka Tim Jones from Stone Premonitions, for the airplay we've received on Down The Rabbit Hole. The show goes out on the Overflow Sunday Service on River Gibbs FM, so we'll also take the opportunity to give a shout out here to Captain Garry Lee at the helm of The Starship Overflow, whose support for our various incarnations over nearly 30 years is hugely appreciated.

Radioshow Archive: https://www.mixcloud.com/tim-jones20/
The Starship Overflow: http://www.starshipoverflow.com
River Gibbs Network: http://www.rivergibbsfm.com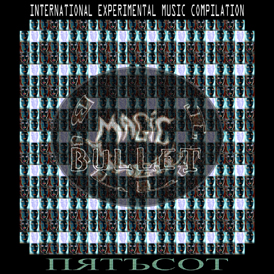 23 - "Пятьсот" - Magic Bullet
This track was recorded specially for inclusion on (we're kinda hoping for the opening track spot!), and to help promote, Alexey Kondart's recklessly ambitious quest to release a 500 track international experimental music compilation on his Broken Tape Records label. In case you hadn't guessed, the title is Russian for 500, and that's where he's based; Vladivostok, to be precise.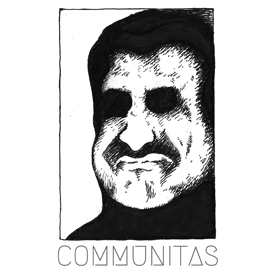 24 - "Unitas X"
ALEXEY KONDART (Broken Tape Records)
This label will, like Shaun Robert's IFAR, always have a special place in our hearts, because it was the first to release a Magic Bullet album, as well as being the first of our new community, we'd never had any contact with Alexey prior to this, unlike the MB Friends featured on Volume I. The label's Bandcamp is an experimental music lover's wet dream, absolutely hundreds of albums, including his own under the rådiövölnå banner, many of which are available on a 'name your price' basis.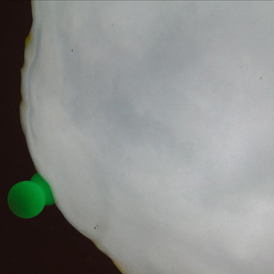 25 - "На Oрбите" - rådiövölnå

1st August:
"Sending track today."
"Received that, thanks. If you can sort out the photo as soon as possible, much appreciated. Accompanying notes and graphic / artwork by the end of this month. Great to have you as part of the project."
"Ok."
21st August:
"COMMUNITAS COMPILATION - 10 DAY DEADLINE WARNING! Just a timely reminder if you'd like to include a few notes about your various projects to accompany your track, please make sure they are with me by the end of this month, thanks."
"Ok, no problem."
16th September:
"COMMUNITAS RELEASE BEGINS IN 15 DAYS!!!! I NEED THOSE 'FEW NOTES ABOUT YOUR VARIOUS PROJECTS' AND / OR LINK TO A BIO IMMEDIATELY!!!!! Please. :-)"
"Ok."
"Thanks, sometime today would be good."
27th September:
"I'm doing the liner notes for the volume of Communitas you appear on NOW!"

It's really not going to happen, is it? Great track though...

https://brokentaperecords.bandcamp.com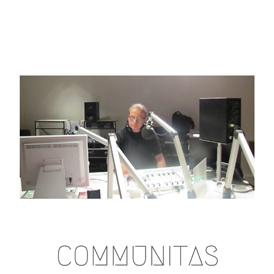 26 - "Unitas XI"

The voice of Carsten Olbrich (don't expect a transcript, it's in German!) on his 'Jet Set, die Radio Escobar mit Herr Ebu' show. Carsten's been a friend, Music & Elsewhere artiste and supporter of our projects since the mid 90's, long ago lost count of how much airplay we've had, but grateful for every minute of it. Danke, und mögen die Radiogötter Ihre Kopfhörer für immer erleuchten!

Radioshow Archive: https://www.mixcloud.com/HerrEbu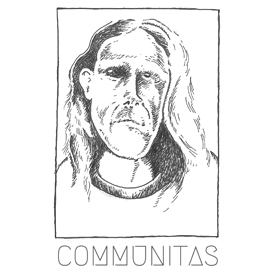 27 - "The Cool Chris Phinney Theme" - Magic Bullet

Originally recorded for an Electronic Cottage compilation tribute to Chris's label, Harsh Reality Music, one of the serious giants from the golden age, it seemed an appropriate intro for the man himself...

CHRIS PHINNEY (Harsh Reality Music)
We've known Chris on and off for three decades now, way back to when Harsh Reality were the first label Stateside to release one of the old Magic Moments At Twilight Time 'Flashbax' series. We had a few of his projects on M&E too, my personal favourite of which was Viktimized Karcass. And what do you know, 30 years on and we still appear to like what each other are up to!