The man behind Electr0nic Cottage, Hal McGee, was already a veteran of the global cassette underground when I first got involved in 1991. He's the man that effectively set the four pillars of the movement; contact, community, collaboration, compilations. He's been a very highly respected name in that underground scene for a very long time now, he's one the folk I'm referring to when I talk about "those giants on whose shoulders I built Music & Elsewhere." So when he talks, people listen. His Hal Tapes label had already survived into the digital age, although the magazine that originally bore the name of Electronic Cottage had not. However, a few years back, Hal decided to revive the name in concept as a website-lead online community, digitally mimicking the network of bygone days, albeit on a smaller and more personal scale. A few months passed and it expanded on to social media, courtesy of a Facebook group, where it soon became a part of my everyday life.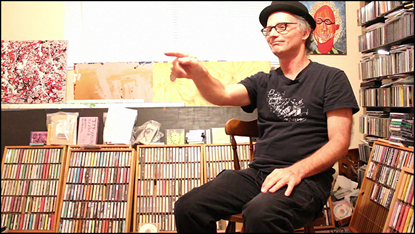 Hal McGee in a still from William Davenport's 2015 documentary film,
"The Great American Cassette Masters" (Talk Story Films)
In retrospect, I kind of regret not getting more involved when it was just website-lead, it was such a noble idea and so very worthy of support. Many of the leading lights of the halcyon days set up profiles on it and produced some great articles, but time always seemed against me, busy as I was with M&E and a website of my own to keep up. As luck would have it, I wasn't completely absent, thanks to ardent supporter of the project, Lord Litter. He interviewed me for Electronic Cottage in the summer of 2018, probably the most in-depth interview I've ever given, and still a full year before the start of the Magic Bullet thing. It was nice to be in there to whatever extent, though my full involvement didn't come

until that Facebook group. Not because I'm any great fan of Facebook, I'm really not, but simply because it allows you to drop in or out as your spare time permits, even if that may just be a few minutes on some days.
LINK: https://www.electroniccottage.org/lord-litter/mick-magics-united-world-underground
July 2020 - Hal spoke - we listened. The EC Splits idea was simply a must do, quite the most ambitious underground project I'm personally aware of. Hal's plan was that participating EC members should make half an album (any length you like, so long as it's between 29 and 31 minutes!) in collusion with one other member, who would be carefully selected by Hal, aiming to ensure that the two contributions would have enough in common to gel, whilst being different enough to keep it interesting. I dread to think of his workload if EVERY member had been up for it, like it wasn't enough trying to co-ordinate the efforts of 57 (yes, that is indeed an odd number; Girls On Fire graciously did it twice to cover a no-show) disparate musical projects and their accompanying egos, assemble the finished releases and upload them all to Bandcamp, along with their plethora of accompanying notes, credits and artwork. It makes one wonder what Mr. McGee does in his spare time. "Yes!" Said the Bullet, "We would like to be making the EC Split with someone of your choosing!" It really is an absolute privilege to be part of something like this, and Skit and I couldn't wait to get going on it...
THE CONCEPT;
Inspired by the idea of working on a complimentary basis with another EC member, I think the first phrase that came into my head, and thus the first suggestion for a working title, was "Mi Cabaña Electrónica, Tu Cabaña Electrónica", which I thought was really quite clever, but Skit couldn't spell it, so it got simplified to the more traditional "Mi Casa, Su Casa". The idea was to make a track for each room of our house, using only those household appliances (and/or other objects designed to make sounds) that were in them. It was a beginning, but we really wanted to pull the whole thing together into more of... well... a concept album. My teens were in the 70's, sue me. Skit pointed at me, then at himself.
"Yes, we do look alike." I nodded in a very patronising manner.
"Not what Skit mean," he had that look in his eye, but he wasn't holding a drink, so I relaxed, "you and Skit, counterparts from parallel dimensions, what if house have counterpart too?"
"Skit," I exclaimed, "you're a fucking genius!"
"It Skit's curse." He shrugged.
Thus we came up with the idea of the inhabitant of the Asgard of another dimension coming to visit this one (Asgard is the name of our house, we're not like Norse gods or anything, honest). This may strike you as somewhat unrealistic, but under the current circumstances, you'd have to admit that there's more chance of this happening than Bryan being able to visit us from the other side of the Atlantic! Now where did I leave my hammer...
---

"Get Into The Dream Cream", digitally remastered by Klappstuhl Records for the 2015 best of MMATT set, "Flashbax Ω Ultimate" (SP 008)
THE PAIRING;

I'm sorry we can't build the excitement up a little more here, but you've probably already been to the album page, so you'll know we got coupled with Bryan Baker. Now that was something of a surprise; I'd only ever known Bryan as the editor of Gajoob magazine, been in touch on and off for some 28 years, but I had no idea he made music! A few swapped links later and I was discovering what I'd missed. Excitedly, I told him all about our concept, explaining that my mind always races ahead like this, part of the joys of Asperger's, and sorry I hadn't waited to talk to him about it first. Fingers crossed. Tick tick tick. As luck would have it, he liked it, we were ready to begin! Still amazes me he'd never mentioned that he made his own music in nearly three decades though! Actually, he published a copy of my very first letter to him in Gajoob's online archives a while back, and in spite of its rather manic nature (to be fair, I have calmed down a lot over the years!), he responded positively and we became friends. Actually, funny story; the next tape I sent him after that was our Magic Moments At Twilight Time album, "Zoen Nostalgia", hoping to pick up a review and a bit of airplay on his radioshow. Now, looking back, he wasn't to know that we had a rather offbeat sense of humour, and I probably should have warned him, but really didn't think about it at the time. And he probably should have given it a thorough listen before choosing a track for broadcast coz he liked the title. The song he picked was "Get Into The Dream Cream", and I can see the broad grin on the faces of fans of the band now! So there he is in the studio, he presses play, and to his utter horror, the airwaves of Salt Lake City became filled with the lyrics; "Masturbate me, come fellate me, fuck me, suck me, make me groan, fornication, copulation, lick me, dick me, scream and moan." Oops...
LINK: Letter to Bryan Baker, 2nd September 1992
http://www.mickmagic.net/Images%202016/F-G-Letter.jpg