I became an instant fan of Roxy Music when, at 14 years old, I saw them do Virginia Plain on Top Of The Pops in the summer of 1972 (interesting days, Hawkwind's Silver Machine had been on a few weeks before). Even in an era when most bands were trying to be different, Roxy Music were different in a field of difference. Nearly 50 years on, I still love those first two albums, and although it may not be immediately obvious (oh, come on, State Of The Art, "this way", where do you think it came from!), they were a big influence on Magic Moments At Twilight Time. I was disappointed when Eno 'left' the band after For Your Pleasure, the third album was still pretty damned good, but something was definitely missing, and my money was on Eno's technical wizardry with the VCS3 (blessed be) and his general box of tricks. Consequently, when he released his first solo album and the 1974 tour was announced, there was no way we were missing out on it. We (myself and a nice young lady called Jill, my girlfriend at the time) saw him at the now sadly demolished Guildford Civic Hall (same place I first saw Hawkwind too, by some strange coincidence) on Wednesday 20th February 1974. We were fortunate, as it turned out, the tour dates not even reaching double figures before Eno was hospitalised (it's okay, he celebrated his 73rd birthday on May 15th, so he did make a full recovery). Brilliant night, as I recall. Man, was that really nearly half a century ago?
Mr. Eel's call out for tracks for this tribute collection quite naturally grabbed my attention.
"While this is an open call based on his entire output," he said, " I would encourage artists to focus on the lyrical material."
That suited. While I was familiar with some of the latter day ambient stuff, it was the Roxy period that still held my affection.
"I'd like it if most of the material doesn't sound like a cover version."
o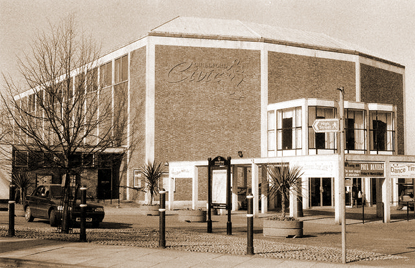 Guildford Civic Hall in its heyday, sadly closed down in the January of 2004
Now you're talking the Bullet's language! Skit came up with the rhythm section, basically comprised of some crackle samples from an earlier musique concrète project and the trusty Stylophone. We used solo piano notes (again sampled and lightly processed, we can't leave anything alone, you know us!) as a nod to his ambient output, the man all but invented the genre, you can hardly ignore it. That was also the idea behind having the chattering of a crowd in an airport diner constantly in the background. It was actually the only cover version we'd done at the time (not counting John Cage's 4'33", of course), and I hope we achieved Mr. Eel's ideal of it not sounding like a cover version. I hope Eno himself gets to hear it one of these days too. And I still want a VCS3...
o
ENO LINKS:
To ensure you don't end up with the English National Opera or fast relief from acidity...
http://music.hyperreal.org/artists/brian_eno/
o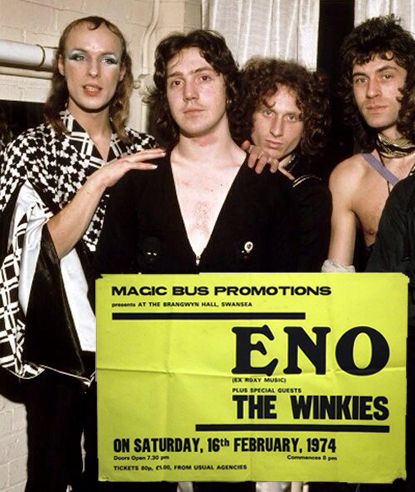 Magic Bus Promotions proudly present: Eno & The Winkies On Tour!