THE MAGIC BULLET
Multiplicitas
M&E
Aye, aye. Are you up for an hour long electronic psychedelic experimental track called "Lengthy Audio Work With A Pretentious Title In Russian". To be fair, it sounds a lot more impressive in the original Russian – "Длинная Aудио Pабота C Претенциозным Hазванием Hа Pусском Языке". You may ask why a Lancashire immigrant from the wilds of Surrey is releasing an hour long electronic psychedelic experimental track called "Lengthy Audio Work With A Pretentious Title In Russian". It's a fair question and, apparently, the rather prosaic answer is "the internet". Mick Magic (for it is he) saw a request from Russian label oligarch Alexey Kondart asking for just such a thing for his Broken Tapes label. Unable to resist a challenge that handily kept him locked up in his mini studio, Mr Magic set about the business of messing with ones head. Which makes up one of the two discs here – "Solidarietas". More on the second disc later. And if you are the kind of person who likes a lot of drone, some KrautLanc and the sound of your brain flushing away then this will make you very happy indeed. It's certainly challenging and I'd stay away from it if you've been isolated for several months. I made that mistake and found myself in the garden chatting to the magpies about the Song of Solomon (one for the Popol Vuh fans there). It's actually very good but I found a 10pm listen in the attic record room with a lava lamp was the best environment for me taking it all in. If that weren't enough the second disc – "Curiositas" pulls together several strands from the wonderful world of MM looking back to the halcyon days of Magic Moments At Twilight Time and travelling through said twilight time to more recent affairs. It's where people looking for dark techno takes on Austrian Christmas carols should be heading rapidly. Yes, really. You also get a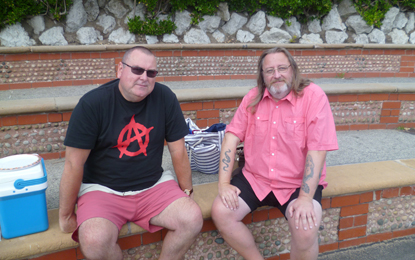 Stuart has indeed been a visitor to M&E Headquarters, and although we
took him on a day trip to St. Annes, no money did change hands, honest!
---
paean to the all conquering AFC Wimbledon, a splendid electronic romp through "Dance, Freak" and a couple of Easter EBM numbers. There's even a radio session from that time the Welsh decided that life wasn't hard enough. It's certainly never dull and in a fairer world "Solidarietas" would be attracting a lot of attention.
Nepotism alert. I have been a visitor to M&E headquarters on more than one occasion but no money changed hands despite my fervent belief in #cashonly #norefunds Maybe next time.
No video so here's something from MMATT.
https://www.youtube.com/watch?v=-IMUDysgTE0
PUBLICATION LINK - 15th July 2020:
https://therocker65.wordpress.com/2020/07/15/reviews-roundup-mandoki-soulmates-jon-strahl-band-hellgrimm-the-magic-bullet-badge-calum-ingram/
Reviewed by Stuart "Mr. H" Hamilton

Magic Bullet –
"Solidarietas" / "Curiositas"

It got my attention that the last album of new music from the world of Mick Magic was the 1996 (CLASSIC!) Creavolution album by his band Magic Moments at Twilight Time (M.M.A.T.T.). But in October 2019, Mick spotted a call for contributions to a musique concrète compilation, the theme being animal noises, and the length having to be exactly 4:33. The result was Mick's contribution as Magic Bullet to IFAR's Animal Form compilation. Having subsequently worked on what would become the first Magic Bullet album, Mick made contact with Alexey Kondart of the Broken Tape Records label, which led to the Solidarietas album.
This is NOT Magic Moments at Twilight folks, but rather a 1 hour (exactly) extended adventures in sound experimental piece. It's a hell of a ride too, with lots of ambience, soundscapes, and a general air of exploratory niftiness. The themes (as they conjured themselves in my brain) range from swirling aquatic and meteorological action in space, extraterrestrial communication, screechy yet stubbornly productive rusty pulleys, and oodles of cosmic maelstrom fun. And it all comes together within this hour long, gradually developing, volume and intensity varying excursion.
The companion album, Curiositas, is an altogether different
beast, which Mick describes as a collection of oddities, curios, and side projects. The opening track, 'M.M.A.T.T. 33 Mashup' sets the tone for these tracks. Mick pretty much nails this one in the album notes, explaining that it's a mashup of old M.M.A.T.T. tracks, mostly from the (CLASSIC!) Creavolution album.
And on we go, from the M.M.A.T.T. styled space-punk of 'The A.F.C. Song', with its Magic Bulletized soundscapes and effects edge, plus football crowd cheer samples craftily placed throughout. 'Dance, Freak' takes the Creavolution space rock party spirit and adds a collaged, mashed up, dance all night at the industrial rave edge. The traditional Christmas song 'Stille Nacht' (Silent Night) combines piano melody with a rhythmic, 'sorta' grooving stumble through the woods, before transitioning to a more lo-fi, mechanized synth/electronic style. 'Jesus Is Dead (Let's Eat Chocolate!)' demonstrates what an influential daddy Mick is by guest starring his 7-year old daughter Twizz. 'Jesus Is Risen (Let's Mow The Lawn!)' is just as fun, being a collaboration with Stan Batcow of the Pumf label. Howl In The Typewriter fans will instantly recognize Stan's voice. The set is rounded out by a live session with Neil Crud on Tudno FM from late December 2019, featuring a whacky zany edit of Magic Bullet appearances on the show. Fun stuff!
A 2-disc set with both albums is available from www.mickmagic.net

PUBLICATION LINK - 30th July 2020:
https://www.facebook.com/aural.innovations/posts/10160483778110620
*Jerry Kranitz is the former editor of Aural Innovations and recent author of "Cassette Culture" (published by Vinyl On Demand)