kind of winged it with an E-Bow, leading to some quite unimpressive results, thus in keeping with the rest of the album. But I did a bit of synth stuff too and we had a craic doing backing vocals together, a great weekend all round. What seriously impressed me was how hard you worked, I don't think you stopped all the time I was there. Where does that drive and work ethic come from, how much do you feel that has contributed to your success and do you ever just wind down and chill?
MB: So it was all because you wanted to shag our local icon, Kate Bush!? I did actually get to visit a couple of times and am very pleased she's out performing live again this year! But I prefer Patti Smith myself…. I thought the guest solo on 'Armageddon Time' was pretty cool, it fits the track just how I envisioned it. A wall of noise! I think you actually played some Moog too if my memory still serves me? For the 'Too Old To Rock' album, Mel Hogan insisted we did pre-production. So we demoed over 20 songs (in about a month) and he helped us select the best ones. This was also our first serious collaboration with Mike Westergaard, he helped us with the vocals & engineered some of the material. The work ethic comes from a sad story. When I was 17 and still at school, I was given my cousin's recording equipment. He wasn't 19, had his first well paid job, everything to live for & died in a car accident. Today I still usually do 18 hour days, but I do find time to chill out….. I go rock climbing, caving, hiking. At home I have the garden & allotment and I like to relax listening to my vinyl collection with a few beers.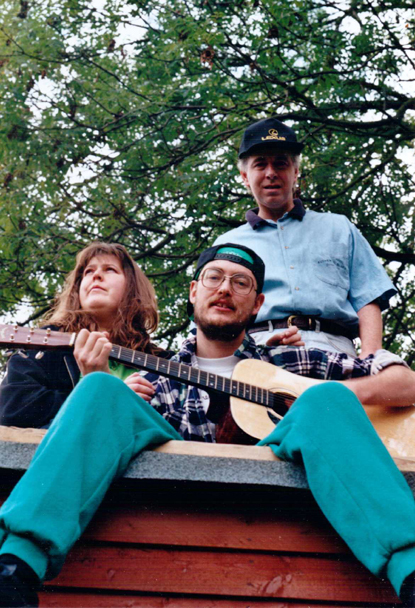 The cover photo for "Too Old To Rock" (M&E 272, July 1994). I got a credit on the inlay for guitar and synths. It took me ages to rub it out...
---
MM: I left with the impression that you thought, lived and breathed the music business, I also left with a box of 100 Thamesmead Roller promo tapes to distribute free with orders, you were clearly very serious about it all. I say that coz when I first heard you, I'd thought it was a piss-take like The Barron Knights. Especially when you let Derek sing, bless him, it's like Michael Bolton on Philosan. But I digress, which you'll recall is quite unlike me. I had been very impressed with what I had experienced that weekend. I shook your hand and promised you a fairer review for the next album, and not to mention in the M&E News that your house was infested with rats. I am such a little liar. In April 1994, that next album, "Early Years" (M&E 252), went straight in to our best sellers chart at no. 1. Not just the M&E chart, it actually outsold all our own productions too, MMATT included, the first album to do so. I like to think it was my E-Bow solo that made the difference, but what is it about that particular album that you think made it such a hit? And why did you let Derek sing?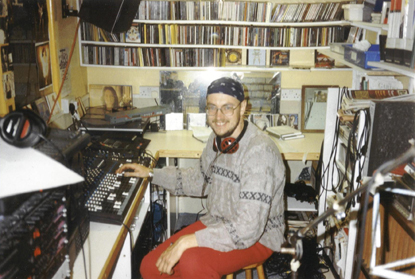 Marc at the helm in the Brain Dead studio, circa 1994/95, but definitely some time after the invention of electricity...
---
MB: Lived and breathed? In that respect you were probably right….. I'd just got my Masters in Music Business Studies a few years earlier and that helped me focus. The trouble was I'm more into the artistic side rather than the commercial. As long as the bills get paid I like to make music I enjoy… the business gave me freedom to do that. Hey, Derek usually only sings lead on 1 track per album, and until recently that was a piano ballad. And bless him, he has more hair than Michael Bolton these days. I still never listen to any of our finished tracks or official releases (or on-line these days), I prefer to pick up a guitar and play them myself. "Early Years"? Cool…. It was great to be a No. 1 seller on M&E and to outsell your own MMATT productions. And twenty odd years later to do it again on the last 'M&E Showcase', with 'Angel Of Light'. Fuck me, a recommended track on Soundcloud almost hitting 5000 plays in a handful of months! And the new one, 'R.U. Sure' following fast in its footsteps…. With everyone slagging us off again! It's a great feeling when some kid e-mails you and says I played that song 10 times on my mobile I can't get it out of my head. I think the secret is in the songwriting, we're not the Barron Knights, but we try and make our tracks have that familiar 'you've heard it before sound'. Usually there's a catchy hook, a sing along chorus, the verses tell a story and a big ending. We try and keep the production simple and not overload with instrumentation. The rule of thumb being 'can it be played live?'…. Stripped to basics it's 2 guitars, bass, keyboards, drums & 3 vocals. The story about the rats has some truth, the area is infested with rats, due to a cracked main sewer, that our wonderful council still can't afford to fix. But these days I have 2 cats to decimate the little bastards. One is our studio cat, 'Little Pud', who was born deaf and sits in the studio on amps smiling while the music is blasting out!
MM: Lucky Little Pud. By this point, you'd also become a signed band, picking up a deal with Chris Dors' Candor Records label. I understand it was a clause of the contract that Derek could only enter the studio with his mouth covered. Like they say, silence is golden, duct tape is silver. How did that record deal come about; was it the result of sending out a demo or had you been spotted live? Incidentally, it must be dead handy being able to travel free to gigs using your bus pass. How did the deal work out for you ultimately and do you think the clout of a 'proper' record label helped bring better quality material out of the band?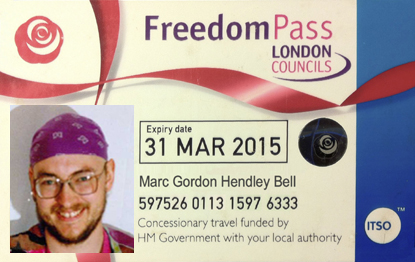 Marc's bus pass. I don't just make this stuff up, you know...
---
MB: It was a bit of a shock signing to an Indie outfit like Candor Records. It was part of the Else Group, at the time one of the largest Indie distributors around, so he got our crap music in all the retail outlets except Woolworths. This led to me getting my own P.R.S / MCPS company membership. It was actually one of his friends, Val, who