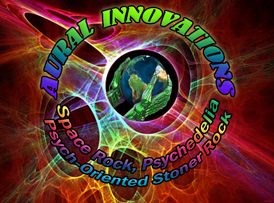 AURAL INNOVATIONS (U.S.A.)
So, do we start our round-up of what's going down in the underground on a joyous and upbeat note? Sadly not, we start with tragedy; the news that one of MMATT's most enthusiastic supporters, for the best part of two decades at that, has decided to cease activities. Originally a magazine, Jerry Kranitz started Aural Innovations from his home base in Columbus, Ohio, back in 1998. Being natural bedfellows, we soon made friends, the review of our "Creavolution" album (reprinted opposite) was published way back in issue #3 (July 1998). Within a couple of years, it had earned the reputation as the underground's finest spacerock zine and was always a truly great read for the more cosmically-minded amongst us. Amusingly, Jerry got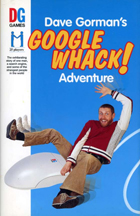 caught up with another strange guy from our side of the pond soon after the turn of the millennium, ending up as part of "Dave Gorman's Googlewhack Adventure". If you've never read the delightfully anal British comedian's 2004 book, treat yourself, the man frequently leaves me sat in a puddle. Though, to be fair, my age probably gives him a significant advantage. While I think of it, worth mentioning that Dave Gorman also did a live show based on the book, the whole of which is currently up on YOU TUBE, should you wish to spend a couple of hours laughing and a couple of minutes smugly going "Jerry, spacerock, yeah, I know who that is!" Anyway, this is about Jerry, not Dave Gorman (guess how many other Dave Gorman's he found in the world?), so back to business; sitting comfortably? Excellent. Jerry also produced the Aural Innovations Spacerock Radio show, for quite some years if the playlist numbers are anything to go by. When we (M&E, rather than MMATT) began releasing again after our 10 year 'sabbatical', Jerry was right behind us once more, giving a welcome airplug (I make these words up, you know) for our 2013 megacompilation, "Decadion 2" (bottom right). More recently, Jerry has been kindly playing tracks from the MMATT 'best of' collection, "Flashbax Ω Ultimate", at the end of last year.

Magic Moments At Twilight Time - "Creavolution"
(Music & Elsewhere 1995 MMATT CD1)
From Aural Innovations #3 (July 1998)

MMATT has recorded what for me is probably the first spacerock 'n roll, dance party, sci fi concept album I've ever heard. I mean we're talking Hawkwind on Dick Clark's American Bandstand. The music is performed by Mick Magic on guitars and various synths and electronics, with guitar help from Damien Page on three tracks. Vocal duties are handled by many including Mick, Leonie Jackson, Sammi Taylor, Inga Leru, Gary St. John, and Brain John Doran. I must emphasize that this is space as in spacerock 'n roll. I liked the varied vocals and much of them have a new wavish, and, as we'll see, sometimes humorous feel to them. The disc opens with "Starship Psychotron", a synth gurgling dance beat tune that certainly inspired the cool back cover painting of the CD depicting a flying saucer hurtling towards Earth with space party folks dancing away. This is the starship returning to Earth and sets the stage for the story to come. The next track, "Lights Turn Blue" begins with an alien voice telling the tale of an old scientist and the nuclear holocaust that has occurred. The tune then launches into a synth spacey rocker with electronic percussion maintaining a furious dance beat and a fiery guitar solo from Damien Page. Other standout tracks include:
"Purple Eyed & Mystified" sounds like a heavier, spacier Blondie with a crunching guitar sound and freaky synths. "Spirit Electric" starts as an acoustic psychedelic piece with dreamy vocals. Then a flamenco guitar is introduced accompanied by the spaced out bubbling synths. The whole thing ends up as a real rocker though the flamenco stays along with the heavier crunch guitar. This is different folks. "The Night Fantasia" and "Love Let Thy Name Be Darkness" stand out for their haunting vocal harmonies. "The Torch", with its pounding rock beat, features Brian John Doran's humorously operatic vocals accompanied by Leonie Jackson, and a bouncy, slightly blues tinged solo from Damien Page. A crowd screaming "Its paaaaaarty time!" leads off the closing number "Rock & Roll Lifestyle". Gary St. John carries the tune with his Elvis-like singing backed by, what I call, the party chorus. And, of course, the synths bubble away occasionally to remind us this is a sci fi adventure. I gave MMATT a thumbs up for offering something of a twist to my conception of both space, and rock 'n roll, as well as producing music for a cosmically damn good time. For more information visit the Music & Elsewhere web site. Music & Elsewhere has been aggressively releasing cool indie music of all stripes for years. Check them out!!!
Reviewed by Jerry Kranitz
I can't tell you too much about why Jerry has quit with AI (though you're welcome to try marzipan bribes, of course), suffice it to say he's given 2016 over to working on a new project that he wishes to keep low key for the time being. Whether or not AI will be reactivated afterwards, I honestly don't know, not sure Jerry does yet. In the meantime, the
AURAL INNOVATIONS WEBSITE
remains online as an archive record of all that fine publication has offered to the space cadets of Planet Earth. Along with 18 years worth of reviews and other spacerock wonderment from the publication itself (from all the printed years, as well as the latter day online version), the site also hosts