ZEITGEIST / THE ROCKER
(UK - FOR NOW)
We first made contact with Stuart in the Spring of 1998, back when Zeitgeist, like all the other fine zines of its day, was produced on this strange wood-derivative called 'paper' (ask your dad). Stuart Hamilton, mastermind of this noble venture, was a great support from the start, writing groovy things about all sorts of M&E releases. Nice man. Nowadays he tends to go by the name of Mr. H (short for Hamilton, cunning or what...) and hides behind a pseudonym on Facebook, but it's no use, the Po-Liss (that's what they call them in Scotland) will find him eventually. In the meantime, he's still very active on the underground network, producing Zeitgeist's modern day equivalent online (to save him "the bother of dealing with real people", but then I've always said reality is a soft option for people who can't cope with psychoactive drugs), under the moniker of THE ROCKER, and the thing that has taken the name of ZEITGEIST, but which isn't a magazine anymore, The Rocker is the magazine, Zeitgeist is a radioshow (on which he's been kind enough to air some of our stuff, very nice man), something he's not inexperienced at doing, having presented a show on Get Ready To Rock Radio for several years previously. He actually does a lot of freelance writing too, listing contributions to Scottish Memories, Blues Matters, Instant, Shindig!,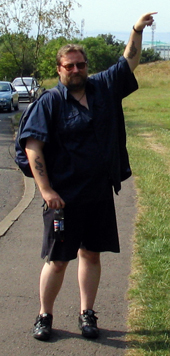 Record Collector, Darker Than Blue, Colossus, Acid Dragon and others, on his CV. He doesn't actually have a CV, I just thought it made him sound really professional and not like a man who lists his specialities as "will work for cash" and "will do anything for a Baynes bean and potato pie". They have such a low sense of aspiration in Scotland's second city (Edinburgh), move up to Greggs, man! But I digress, which is quite unlike me. Stuart did a nice review of "Flashbax Ω Ultimate" in The Rocker last November, and there it is opposite. Very very nice man. Last time we were up in Edinburgh, he even let me take a photo of him doing "I'm A Little Teapot". You can contact Stuart via either website, or by E-MAIL, natch. Oh, and say hi from us!

MAGIC MOMENTS
AT TWILIGHT TIME
Flashbax Ω Ultimate
Klappstuhl
Many (many) years ago, I made the mistake about saying some kind words about a cassette (ask your Dad) album released on Music & Elsewhere. That was a label run by one Mick Magic who seemed determined to use up the world reserve of audio tape by putting out as many albums as humanly possible by as many weirdos who had access to a microphone. And there were a lot of them. Ever since then, I have been stalked on an irregular basis by said Mr M, and all these years later he's still at it with a CD anthology of his own band, Magic Moments At Twilight Time. They actually put out a proper CD back in the day, "Creavolution", but this Flashbax (as opposed to all the other Flashbaxes) sees him heading back to the pre CD era, with a newly mastered compilation of tracks from all their albums and some rarities from 1987 to 1992. And, you know what, there is some really good stuff here. I'll regret saying it, but if space rock meets punk meets lo fi Krautrock seems like your thing, then there is plenty here to keep you entertained. It's more Inner City Unit than Hawkwind, so tunes like 'Blitzkrieg!' will certainly keep you up at night. But when they go more "mainstream" spacerock on 'Acidic Heaven', well, that's when I get a bit moist. The entire package has 18 tracks and 2 hours plus of music, with the first 12 tracks on a CDR and a download code for the rest of. There's also a 25 page PDF booklet with a band history and lots of pictures, which should serve as a warning against just about everything. A fun ride.
https://klappstuhl.bandcamp.com/album/flashbax-ultimate
---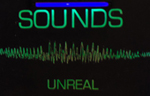 Just wanted to add a thank you in here to long time MMATT fan, Alan Bartlett, courtesy of whose SOUNDS UNREAL heavy rock disco, we get some pretty cool public airings of our stuff, not least at the recent Hawkeaster 2016 in Devon. Really appreciated, coz at banging volumes with a laser light show is the only legal way we think "Acidic Heaven" should be appreciated. If you're staging a groovy cosmic event (or want to freak out people at your wine festival), you can contact Sounds Unreal via their website or FACEBOOK. Thanks again, guys, and to everyone else who helps further the cause!