MM: As positive as I had been that "Dive In Deep" would never be popular with an M&E audience, it was effectively our top selling title within a year of release, reaching no. 4 in our Rise '96 chart, only outsold by the "Creavolution" CD and a couple of M&E comps. It must have felt deeply satisfying when you first saw that chart, tell us what you remember of the moment and how the spread of your music through new avenues was affecting things?
SA: Naturally I was very pleased indeed but not really surprised because I know I write damned good songs if I say so myself whether they ever get the success they deserve or not. I still believe this and am still performing many of my old numbers and I can see that they are quality songs because new audiences and young people who have never heard of me before enjoy my performances and material. I will give you an example of a day I felt really proud. It was in 2009 when I was working in a Spanish school in Tenerife and my old song "Real Love And Communication" had been accepted as suitable for the school's celebration of Peace Day. Now they had all already learned John Lennon's classic song "Imagine" but one 10-year-old boy called Juan said, "Steve, you know I think your song is much better than this John Lennon one." That was one of the greatest compliments I have ever had. Fast-forward to 2013 and whilst visiting the UK I played a set at venue in Cardiff called the Andrew Buchan and I included "Superhero", "Kingfisher" and "Real Love And Communication" and the audience there loved what I was playing. But moving back to your question and what M&E gave me at the time, besides a great feeling of satisfaction, was a whole lot of new contacts and friends in the music business. Sid Stovold (Who Moved The Ground?) was one in particular I would like to mention because my friendship with him led to me performing at the West End Centre down in Aldershot. It was at one of my gigs there that I was befriended by a bunch of girls who said I inspired them and that went on to form The Somethings who backed me on the recording of Johnny Rotten's "Still My Hero".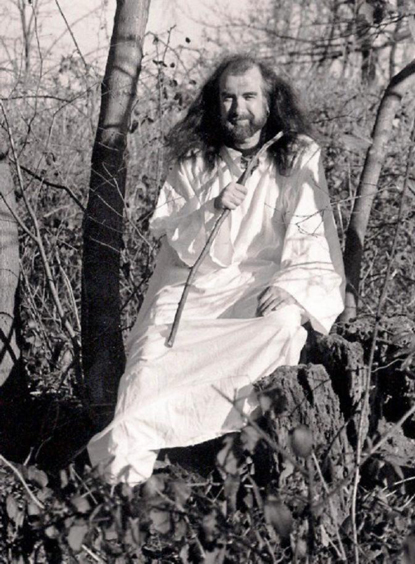 At a push, we're almost sure he could walk on water...
MM: Unconvinced by "Dive In Deep" only being our top selling M&E title of 1996 and outselling our own "Zoen Nostalgia" album (told you nobody would like it!), I thought I'd be a sport and give you another chance to prove me wrong (ho-hum). We released "From Venus With Love" in November '96. And didn't even have to wait till the next M&E Newszine to see how well that was going to do; it entered the chart at no. 8 on advance orders alone! There was a story behind "Venus", I seem to remember, based on your belief that some kind of spiritual beings live on that planet. Can you expand on the story a bit and explain how you became involved with people who held such uncommon views?
SA: I actually had a short-lived band called the Venusian Priests. The name was chosen to help promote my song "Priest Of The Venusians". The band fell apart though because Pixi the lead guitarist became part of the Newbury By-pass protest camp and failed to show up for rehearsals which annoyed Aled the drummer a lot that did. I realised it was clearly impossible to be fronting a band doing gigs in South Wales with a guitarist many miles away in a protest camp. But to explain about Venus, and indeed any other planets that are said to be not suitable for supporting life, this only applies if you are talking about one dimension or plane of existence. There may well be beings living on other frequencies besides the physical one. There are millions of people on Earth known as Spiritualists who believe in life on other planes of existence here and in communication with these spirits. I don't know if you have heard of the Ukrainian model Valeria Lukyanova, who is also known as the "Human Barbie," but she has said that she used to think she came from Venus. Perhaps she did? She would make a perfect Priestess of the Venusians!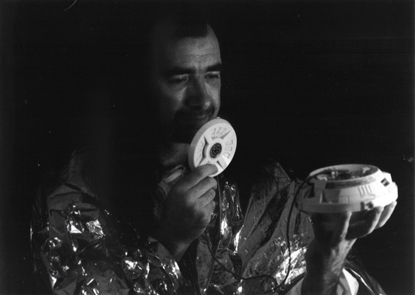 Earth calling Venus, Earth calling Venus, come in please, over...
MM: You heard it here first! Actually, you probably didn't, she's quite famous. Anyway, within a couple of years of "Dive In Deep" appearing on M&E (and I don't say that to give us the credit, I know it was far more down to your own hard work), your name seemed to be everywhere. You had the excellent vinyl LP "Sound Of One" out on the Very Good Records label (I got it) and just about every compilation in the world had a Steve Andrews track on. The fact you ended up as our second biggest selling artist ever speaks for itself, but how do you feel about your own musical achievements across the years and do you ever foresee any circumstances that may make you stop?
SA: Well, gratifying as this has all been the unfortunate side of it is that I still am looking for that very elusive "big break." I listen to a lot of albums by my favourite acts and often think I have as good a quality songs as theirs but the difference between them and me is that they have become world famous and were signed with big labels that promoted them well. In the end it comes down to the amount of marketing and publicity a singer-songwriter gets for him or herself and their material. Quality and talent is not enough. You need that "break" and you need media publicity on a wide scale for your songs. I have seen this happen many times in the music business that an act suddenly gets signed and goes from playing their songs to a handful of people in some small club or backroom of a pub to having hit singles and albums and headlining festivals. It happened with The Stereophonics. Those guys used to play the local circuit in South Wales but as soon as Richard Branson signed them to Virgin they became almost a household name as successful rock stars. So because I still haven't found my big break I will go on looking for it. And I am well aware that even after you have become a huge success in music with hits and fame and wealth that you may still need to make a comeback if, for whatever reason, you drop out of the public eye. Boy George (who is one of my favourite singer-songwriters as well as all those previously mentioned) is currently doing this with his new single "King Of Everything" from the album "This Is What I Do". He has top quality new songs and is back with a new look – he is now sporting a goatee beard.
MM: Maybe there's your answer?
SA: It really does come down to the fact that you have to keep on keeping on, even if you make it to the top!
MM: Personally, I'd love to see you on 'X Factor', that would be amazing! And for the record, I think you'd have made a much better Doctor Who than Matt Smith. But I digress. Now, your final release on M&E was "Changing Faces Of Steve Andrews" in the New Year of 1999, an interesting collection of curios and oddities (I loved the grungy