THE BORDERLAND
A zine produced by Devonian, John M. Peters, who was kind of my internet guru when I first got a PC way back when. John was actually the very first person I ever exchanged e-mails with. Well, how else could you be sure they'd arrive? Exactly. Send one to someone you trust. Someone who knows their way round a computer. Then ask them if they got it okay. He did. The rest is history. And whatever hasn't happened yet... well, it will be history one day. But I digress, which you'll recall is very unlike me. A fervent supporter of M&E, here's a few reviews that graced the pages of John's zine over the latter months...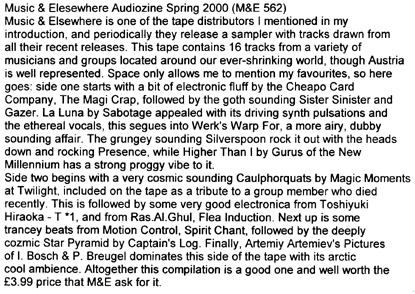 =====================================================
Various Artists - The United World Underground
Audiozine: New Year 2001 (M&E 574)
With a new nom de guerre that conjures up images of the Men from U.N.C.L.E. fighting a new criminal mastermind [Mick Magic - World Dictator & taxi driver extraordinaire - "There's something of the night about him" - Ann Widdicombe], it's time for another sampler tape from those slightly crepuscular people at Music & Elsewhere - just what is the Mickster brewing up in those underground missile silos deep in the bowels of Surrey?
Anyway, as before the c90 tape continues to purvey a wide range of musical delights and riches. This time there are tracks from Lord Litter, The Conspiracy* [local boys based just outside The Borderland's home turf of Plymouth], Mr Quimby's Beard*, Gurus of the New Millennium*, Ras.Al Ghul*, Delphium*, Vocabularinist, Eye*, Don Campu & Achim Treu, Blaine Jones, Blacklight Braille, Karda Estra*, Idiom, Solanaceae Tau, The Stinking Badger of Java* [this has to be the best name of any group ever!], Terri B, Tutsis, Acidfuck and the M-ster's own Cheapo Card Company.
All told there are twenty tracks of audio gold on this tape, and the hit
ratio is [for me] better than 75%, so lots of goodies to savour. Anyone with an * after their name is highly rated by me. Musical styles vary: pure electronica, industrial, acoustic, old fashioned rock, tape loops and
ambience. Just about anything goes, and at just £3.99 [UK Sterling] a tape, gotta be the bargain of the last five minutes.
=====================================================
Various Artists - United World Underground (MMATT CD2)
So Mick Magic finally got off his duff and produced the first UWU compilation for his Music and Elsewhere distro. Hurrah! I say, and with multiple knobs on... UWU, as a compilation is nothing if not eclectic, with most of the artists spread out across the world: Greece, Germany, Australia, Portugal, America, the UK, and Huddersfield. All very cosmopolitan. UWU features fifteen tracks of unmitigated wigginess and cosmic jive, starting with the funky sounding Into The Abyss and Lunar Drive. More spacey stuff by Dark Star with Masterplace, a rockin' slab of krautrock that should get you up into orbit. Then from the land of Oz there is Eye, and another funky bit of agitprop electronica, Perspective. Have to jump around to my other favourite tracks now: I only recently discovered Ras.Al.Ghul, so finding a track I didn't have was very cool - and Qual is an extremely cool and stylish bit of ambient electronica. Getting my vote as the weirdest track on the CD is Joch McGregor by Idiom, I can only describe this tale of Scottish murder and mayhem as a cross between the Third Ear Band and The Evil Dead's ghoulies and ghosties! Love Freak by Lord Litter gets my vote as best blues track. Best group name goes to The Stinking Badger Of Java with the eloquently title Pissing Diamonds! One listen to the operatic funk of Neo's Master And Slave begat the reaction "You're taking the piss, mate!" Sister Jodi by T.M.R is full of brooding attitude, though that could be the sampled belching... If nothing else UWU provides the proof that the major labels don't have all the best musicians, that pockets of highly active resistance exist throughout the world. The success rate with this CD is very high, very few tracks rate less than interesting, with several straining towards 'God Like Genius'. For the very reasonable asking price UWU is a must for any self-respecting musico. Buy it and bliss out.
=====================================================
It looks like The Borderland website is still up there, so all I have to do is send an e-mail to John and see if he's still behind it... (UPDATE)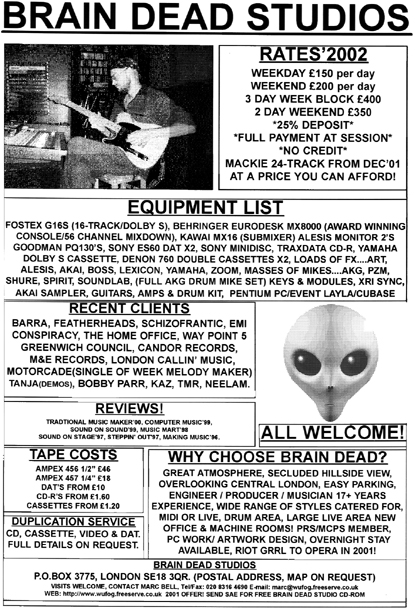 This is where we recorded our "Creavolution" album in that glorious summer (remember them?) of 1995, did promise Marc I'd put this ad in when I next did an issue. But that promise was made a long time ago and all these details will be out of date. The studio is still there and I'm still in contact with Marc on Facebook, so I'll have a quick word and find out where you can get all the latest info from... (UPDATE)
---

Chinchilla Music was the project of one Englishman called Chris Ward, who then moved all the way across the world to Australia and had become Chris Chinchilla by the time of our finding him a decade or so later. Anyway, I have a couple of reviews what he did write filed away, so here they come...
------------------------------------------------------------
Magic Moments At Twilight Time - "Creavolution" (MMATT CD1)
Mick Magic is best known for his tape label, Music+Elsewhere, but every now and then he and a few friends get together and do some recording of their own. Some may say it's strange how his album always seems to top the M+E charts, but that's another story. I don't know if all his records are like this or if they change styles each time. This one is sort of heavy rock crossed with synths and drum machines. In musical terms the songs are good but it's how they're done that irks me a little, I don't know if they're intentionally cheesy but I found myself wanting to be in the recording studio saying, "No no, you've got something good going on there, don't do that with it, do this..." and so on. May be I've been listening to music that's too conventional and Mick has something a little different in mind, or possibly he enjoys making us suffer and wanting his songs to be doing something else. Anyway, rock on Mick.
United World Underground - Various Artists (MMATT CD2)
Mick Magic has been running his label, Music & Elsewhere, for as long as anyone cares remember, always releasing Tapes / CD¹s from interesting and eclectic artists hailing from far flung corners of the globe (Well usually Europe...). United world underground is a compilation featuring some of Mick¹s favourite bands plus a few more recent additions to the stable. One thing I will say about a lot of the Music & Elsewhere acts is their tendency to be a little overly eccentric, bordering on the ridiculous and cheesy at times. However this is one of the more interesting compilations I've heard this year and as is the nature of compilations, there's hits, misses and absurdity.
------------------------------------------------------------
Clearly not a fan, but the underground has always been bigger than any one band and any one label, so maybe we shouldn't have arranged his deportation for implying our charts were fixed. Sorry, Chris, hope all that sunshine out there isn't playing havoc with your skin. I'm not sure if Chris is still active in the field. Not sure I even want to ask him now I've re-read those reviews. Hmmph. He's got big ears anyway. Suppose I could message him on Facebook. If I must. Then we can see what the nasty man has to say for himself... (UPDATE)