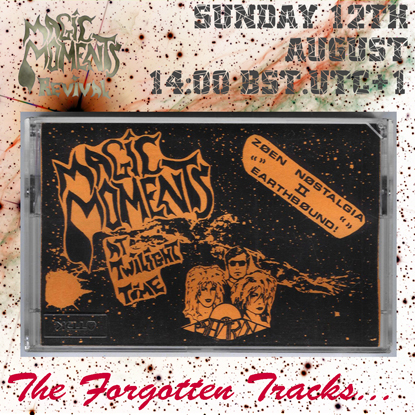 And a very warm welcome to Zoen Nostalgia, the album hailed by the influential Organ zine as "the greatest concept album ever!" Personally, I would doff my cap to Captain Lockheed & The Starfighters, but thanks anyway! So, where do we begin with these tunes ne'er before digitised...
---
Magic Moments At Twilight Time At the beginning, this is "Theme Zoen", the opening titles, as it were...



Magic Moments At Twilight Time I do like that track, works really well as an opener. Of course, "Zoen Nostalgia" IS very much a 'concept' album, telling a particular story - that of the end of Magic Moments At Twilight Time. It was, after all, supposed to be the last MMATT album...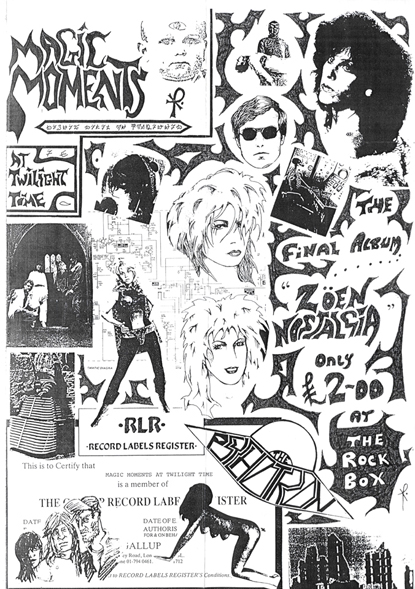 Magic Moments At Twilight Time So, the whole idea was to make it a retrospective over those last months, the 'rewind' sounds connecting tracks symbolising looking backwards. I don't really know where the 'ansafone' idea came from, just seemed a good way of driving the story along (they are all 100% genuine), and added both humour and poignancy to the album. I find the little message from Shona at the beginning kind of comforting and sad all in one.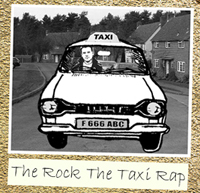 Magic Moments At Twilight Time The second track, "The Rock The Taxi Rap", is about the job I'd taken at the time, driving a taxi part time to help make ends meet while I was desperately trying to build up an independent music label, originally named Magic Moments At Twilight Time as the band had (briefly) become The Psychotron, but later we changed that to Music & Elsewhere. Ansafones on here may well indicate that I've never been much of a morning person, "The Rock The Taxi Rap", vocals by Miss Shona Moments...

Magic Moments At Twilight Time Think we'd have to acknowledge a bit of Sigue Sigue Sputnik there, eh?
Magic Moments At Twilight Time Yup, that was me oversleeping and being late for my shift again! If this stuff sounds vaguely familiar, well... yeah... that was the point. These are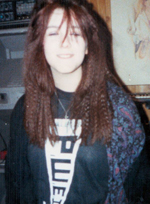 actually old MMATT backing tracks in reverse (hence the 'Nostalgia'), as Scott Wood so kindly pointed out in a review in his Gossville Arsonist at the time (I'll let it go one day, promise)! ;) "Theme Zoen" is a section of "Return Of Jody", the same backing track we also used to create the track called "Magic Moments At Twilight Time" by Magic Moments At Twilight Time. Confusing? Then have a heart and respect me for at least TRYING to keep up with my own stories! "The Rock The Taxi Rap" is the reverse of a lesser known track called "Us Weirdos Gotta Stick Together", originally written for Julie White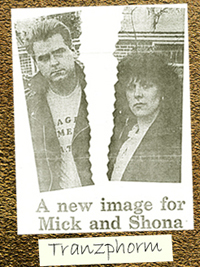 Hawk.
Magic Moments At Twilight Time Within a few weeks of my getting the label officially set up and registered, it all started to fall apart. Jay Time had already left the band in the April of 1988, the first batch of 'official releases' on the label went out on July 2nd, then Shona left me on the 24th, Kate Twilight drifted away as everything became quite unstable. It took the reversal of "Zen Sequent" to tell the tale, this is "Tranzphorm", vocal once again by Miss Moments, daft ansafone by my mum, who was doing her best to look after me in her absence, oh dear... ;)


Magic Moments At Twilight Time Bang.
Magic Moments At Twilight Time There's a missing track at this point in the story, utilising the inverse of "Trois", that I had no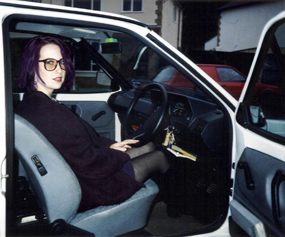 idea was so difficult to sing when I came up with the idea. Shona had a really good go, but it unfortunately went beyond her range and we had to knock it on the head. So, on the release version, we just skip straight to "Get Into The Dream Cream", but the original plan was to have been for a track called "Shazdanz" to go in first. As luck would have it, when the band had a second life in 1991, new singer Leonie Jackson (photo) had been classically trained and could break glasses! Finally, I was able to have this little tale of a Christmas nightmare realised...

Magic Moments At Twilight Time And the little bit at the end, that was Shaz, my first dalliance with a member of the opposite gender after Shona, and I hasten to add NOT the person "Get Into The Dream Cream" was... er... 'inspired' by! You probably know the next bit of the story quite well, a certain party in Lightwater; "I said goodbye with eyes closed"...