"Reborn", now I come to think of it), the 'Opening Tale' runs straight in to track 2, but I separated it on here for the sake of clarity. So on we go to track 2 proper, this is "Lights Turn Blue"...


Magic Moments At Twilight Time With Leonie unavailable, I plundered the Music & Elsewhere catalogue for the ideal guest singers. Inga Leru-Kelly (who I interviewed a few hours ago, see photo collage) took vocal duties on this one, borrowed from Twister. The lead guitar solo on this was provided by Damien Page, borrowed from another M&E band, Hecate's Dreams. I'll be talking to him at 18:00 BST/UTC+1, so won't go into any more detail here on that one. The little girl on my knee is Marc Bell's daughter, Heather.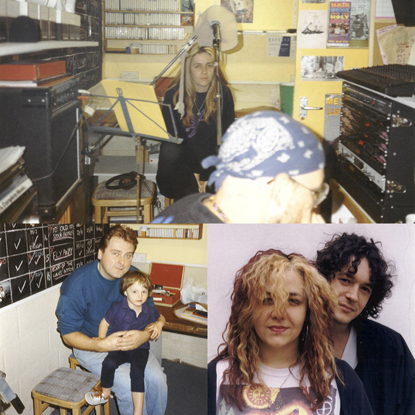 Magic Moments At Twilight Time There was the one track that nobody seemed to be able to sing the way I had heard it in my head though, "Kronophobia". It was a song about 'Old Father Time' mocking man for thinking he could cheat mortality, and I wanted it done with a sort of sarcastic disdain, so in spite of being no singer of any quality, I ended up doing it meself (the 'march of time', geddit? ;) ...


Magic Moments At Twilight Time Note the skilful 'telephoning' of the voice to make me sound much better than I really am! :)
Magic Moments At Twilight Time On the original release, "Kronophobia" was followed at track 4 by "Purple Eyed & Mystified", but not so on "Reborn". For this one, as it's based on the original Brain Dead DAT masters, we've reverted to "Demonic Attack" at track 4, where it was first intended to be. It was only after the hashed first production run that we took the opportunity to switch them round the other way. I think maybe the better way; as Leonie shouts "mummy" at the end of "Purple Eyed", the sinister bass of "Demonic Attack" menacingly cuts in. Nevertheless, track 4 on here is the latter. Turn out the lights, the time of night is here...


Magic Moments At Twilight Time Lead vocals (not to mention the wonderful simulated orgasm) again by Inga Leru-Kelly, who's been a naughty girl indeed!? ;) Then somebody else came along and added an even darker element to this song that really brought it all together. That man was operatic baritone, Brian John Doran. I'd borrowed him from M&E band, Operattack, thinking him perfect for the lead vocal on "The Torch" (and he was), but as he was in the studio, I asked if he fancied giving this one a bit of enhancement too. "Best thing we've done all day" was his opinion on finishing!
Magic Moments At Twilight Time Ooh, ferocious!
Magic Moments At Twilight Time So, I feel like we're going backwards now, coz track 5 is what used to be track 4! For quite a while after Inga had completed her vocal duties, the whole project was put on hold while I searched high and low for someone to do the few remaining female vocals. In the interim, Leonie had become pregnant and given birth to a daughter, Thea, which obviously hadn't helped my situation. That sounds selfish, of course, but as much as I was happy for her to have that little bundle of joy in her arms (I understand it even more these days, natch), I really wanted to find a new singer to finish the album. To my surprise, Leonie just phoned out of the blue and said "If I can help out with the vocals, just let me know." Before long, we were back up at Brain Dead and she turned out the first of her contributions ("The Starship Overflow" was a late reworking), so here is track 5, "Purple Eyed & Mystified", featuring the voice of Leonie Jackson...

Magic Moments At Twilight Time And here's the lady herself at the microphone at Brain Dead...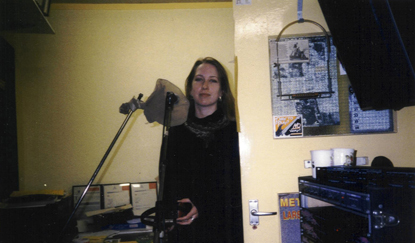 Magic Moments At Twilight Time The next track she did for the album was "Spirit Electric". As the title implies, it was an electrified version of an earlier acoustic piece, simply called "Spirit", which we'll come back to. Her vocal range on this one (listen closely to the chorus) was impressive, even though there was better to come. Track 6, "Spirit Electric"...


Magic Moments At Twilight Time For some years, I've always thought the credit for the inspiration on this one went entirely to Alex Cable of Internal Autonomy. Let me tell you the story; it actually goes back to the December of 1989 when Al invited me to his Raven Studio to add some synths to a few tracks for their forthcoming album, "Inquiry"...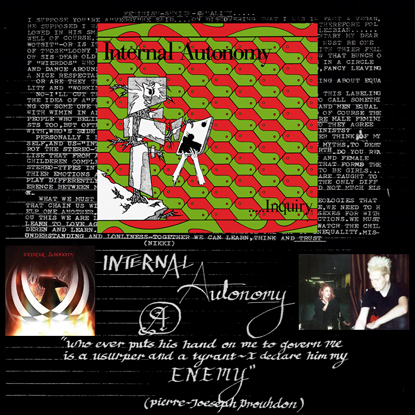 Garry Lee Always loved the Internal Autonomy releases. Still have them! This is a superb album.
Magic Moments At Twilight Time The first of these tracks was one called "L.S.D.", and there's a tale with that one too...


Magic Moments At Twilight Time The vocalist on this was one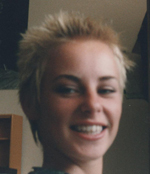 Anna Haigh. I'd first heard a primitive and embryonic demo of it on cassette some years earlier and the vocal had really stuck in my mind. So, when I was looking for a full time singer with MMATT on trying to put a band together in 1987 to back The Charles, I called Anna. She rehearsed with us a couple of times and sounded wonderful, but her stay with the band was a mere 11 days and there are no recordings to show for it. Consequently, to have her and I on the same recording is kinda cool for me...
Magic Moments At Twilight Time And, as luck would have it, she also sang on this one that I did synths for, this is "Awayday To Auschwitz"...


Magic Moments At Twilight Time Love the drum patterns on this one.
Magic Moments At Twilight Time Long enough for me to have a wee too... :)
Magic Moments At Twilight Time And my final contribution to Internal Autonomy's "Inquiry" LP (vinyl, yes!) was this one, vocal by Nikki, tis called "Poor Little Rich Girls" (next page on edit for website)...