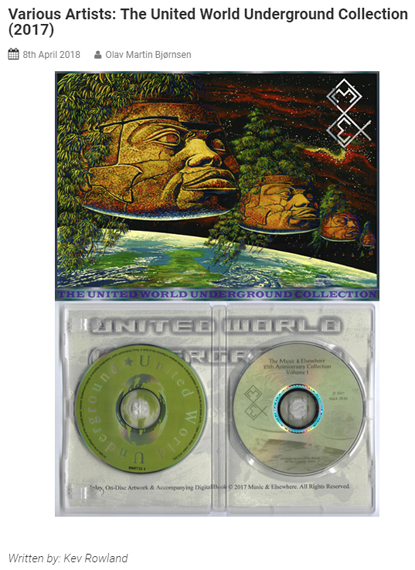 Various Artists: The United World Underground Collection (2017)
8th April 2018 Olav Martin Bjørnsen
Written by: Kev Rowland
Some time back in the Nineties I came across Mick Magic, his band, and his work with the underground scene and his cassette label (Music & Elsewhere). Back then I thought I knew most of the main players, but in reality I was only dealing with the subset that was the progressive underground, while Mick seemed to know everyone who was anyone, and even those who weren't! I reviewed the CD his band, Magic Moments At Twilight Time, released, and although we kept in touch it became less and less frequent over time. Fast forward a few decades, and Mick somehow found me through Facebook. By this time I was living in New Zealand and he had moved from Surrey up to Scotland, but he was still involved with the underground scene, and had decided to put together a collection to celebrate 25 years since the first release. Of course, this is a label that made its name back in the heyday of tape swapping, so it was never going to be a high profile commercial entity, but what Mick has put together in a digital format is quite staggering.
This collection is presented in a double Amaray clear case, and according to Mick (and he should know, to be fair) contains some of the best, most original and interesting music (and elsewhere) they released, featuring thirty bands/artistes from thirty countries. The set consists of a data disc (DVD-R) containing thirty albums (mp3 format at 320kbps), 50 bonus tracks, three books (PDF format) and an accompanying 64-page illustrated booklet (also PDF format); plus a CD of the original UWU compilation from 2001. All in all that is 33 hours of underground music with the following bands: Magic Moments At Twilight Time & The Charles (England), X Ray Pop (France), Glass (Scotland), L.G. Mair Jr. (U.S.A.), Galactic Lilah Et L'Orchestre-Fantôme (Belgium), Sons Of Selina (Wales), Mana ERG (Italy), The Flowers Of Romance (Greece), Karg (Austria), Pornorphans (Finland), Jaws Of The Flying Carpet (Canada), Rotton Kidz (Thailand), Zartipo (Belarus), Ir Visa Tai Kas Yra Gražu Yra Gražu (Lithuania), The Witches (Poland), Elza (Ukraine), Trespassers W (Netherlands), Toshiyuki Hiraoka (Japan), Religious Overdose (Switzerland), Sister Sinister (Norway), Dark Side Cowboys (Sweden), Anima Mundi (Spain), The Legendary Poptones & M. Nomized (Bulgaria / France), Space Invaders (Croatia), Artemiy Artemiev (Russia), Levente (Romania) and Sphinx (South Africa). The CD features songs by another three bands, Lord Litter (Germany), Eye (Australia) and Ras.Al.Ghul (Portugal). I don't think I know any of the above apart from MMATT, but even that is a joint release with The Charles who I haven't come across prior to this.
The booklet is incredibly informative, giving a great deal of history about the bands involved, and even bringing it up to date with people saying what they have been doing since those heady days. It is quite a piece of work to have pulled this together, and in the mind-set he had all those years ago, Mick is making all this available for just £15 GBP. For information on how to order this, and also to see what else is happening in Mick's rather unusual world, then visit Mick's website.
Rating: 9/10
Track list: 30 albums – too long to detail
LINK:
http://www.framemusic.online/2018/04/08/various-artists-the-united-world-underground-collection-2017/
---
Above is Kev Rowland's review for our UWU Collection, as it appeared on the Firebrand's Rock And Metal Express website back in April. In answer to the obvious questions it raises; no, I don't know who Olav Martin Bjørnsen is or why his name appears on a review Kev wrote, nor do I know why he thinks I live in Scotland. But I like the element of mystery those things add to the review. ;-) I think Kev and I first crossed paths around the time of The FAME Wars, late 1995, when I was seeking reviews for "Creavolution" first time around! When I discovered Mensa had its own rock zine, I was quite surprised, so how would that all have come about? I put the question to Kev just recently and got the whole story, from his first falling in love with the world of prog right up to the present day. Nice man, much less work for me to do! Well, maybe he was being nice, maybe he simply didn't trust me not to make stuff up about him coming 3rd in the All New Zealand Mick Magic Lookalike Contest of 2015 again, which I freely admit was utter rubbish. He came 4th really. If you're sitting comfortably, we can all put our feet up, relax and read it together...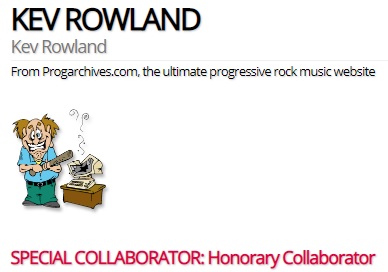 ---
"At the end of the Sixties, musicians realised that they were no longer constrained by having to fit into defined musical forms and the three-minute single. Instead, the only limits were their musical ability and imagination: this led to an explosion of music as styles as diverse as jazz, blues and classical crashed headlong into electric and eclectic instrumentation. Progressive rock was born, and not only was it embraced by fans worldwide but also by critics (at least for a while) and bands as diverse as Jethro Tull, Genesis, Pink Floyd, King Crimson, ELP and Gentle Giant among many others found huge success and sales. However, 1976 was year zero for prog, with punk supposedly sweeping away the 'dinosaurs' of music.
As far as the clear majority of critics (and it must be said many fans as well), this was the end for the prog scene, although some bands from the Seventies still found huge success in both albums and ticket sales. The only newer prog band recognised as such to gain major success within the UK was Marillion, but once Fish had parted ways they also suffered the same fate and died, (as far as critics were concerned). One wonders if anyone had been brave enough to tarnish Radiohead with the 'progressive' label if they would have had success.
After leaving university in 1984, I soon found myself working in London, and I thought that if I joined Mensa I might be able to make some new friends. Although I felt I had little in common with many of the 35,000 members, I soon discovered that there were small sub-clubs called Special Interest Groups, and in 1988 I saw an advert asking if there was anyone interested in rock music. Enough people replied, and there was soon a new group called Rock SIG. I wanted to be involved, and having written an article on Carmen for the Jethro Tull fanzine 'A New Day' had the taste, so inundated the secretary with reviews and pieces for inclusion. The first Rock SIG newsletter came out in October 1988 and at 28 pages was respectable enough but inside #5 (April 1990) the secretary announced her resignation. I had enjoyed writing and thought that I would give it a shot. After all, it couldn't be much hassle, right? I produced #6 in Nov 1990 - it came in at 60 pages and I soon realised that this length could not last. I was right. It got bigger!
I was out with another Mensan one night, and he asked if I was aware of the underground progressive rock scene? This was 1991, when the music press refused to acknowledge that such a thing dared to exist, and was pre-internet. He lent me some music by Galahad and Twelfth Night, and some copies of a fanzine called 'Blindsight'. I loved the music I heard and wrote to Galahad to buy a copy of their CD and cassette, and was soon corresponding with Stu Nicholson. Shortly thereafter, a demo tape arrived, 'From The River To The Sea' by Big Big Train. I knew nothing of the band, but they were sending me music. What would happen if I used the addresses in the back of Blindsight and wrote to bands to see if they wanted me to write about what they were doing? I could never have imagined what would happen.
A reader poll in #11 gave our newsletter a name and over the years 'Feedback' grew until it reached a peak with #50, which gave postal workers hernias in August 1998 and was some 284 pages long! I became very involved with some bands, trying to get gigs for both Freewill (and running their newsletter) and Credo, and writing the blurb for a Galahad compilation. In 2006, some sixteen years, 80+ issues and more than 11,000 pages of print later, and heaven knows how many reviews and interviews, I stepped down, as we moved to New Zealand, and stopped running Feedback (which was then renamed Amplified after I left, at my request). I still wrote about music of course, but I will always look back on those days with many fond memories, back when the prog world seemed to be a club that was for a select few, but those of us who were members were fortunate enough to hear some incredible music.
Although I stopped writing and reviewing when I came over here, I was gradually brought back into the scene (initially kicking and screaming until I accepted my fate) and started contributing to many different sites and magazines. I was heavily involved with the Crossover sub-genre team on Prog Archives, wrote the booklets for the Red Jasper reissues, and generally tried to be as involved in the scene as I had some 20 years previously. However, I stopped this in 2014 to start work on a book containing all of my progressive reviews from Feedback, and finally finished this at the end of 2016, after more than half a million words! (To be published in three volumes by Gonzo Media in the next few months, watch this space!)
My aim for 2017 was to review every album I have been sent over the last three years, but even though I managed to knock out more than 600 I still have plenty more to get through! It looks as if 2018 is going to be even more crazy than 2017, and as of the end of September I had already exceeded last year's total with 670 completed! I fully expect 2018 to feature between 800 and 900 reviews at the current rate - from acoustic and jazz through all types of progressive rock, melodies rock and hard rock, through to the most extreme metal and most out there avant garde and noise that people can imagine.
All my reviews appear in the hard copy UK fanzine Amplified (still going after 30 years), and are also submitted to the weekly e-magazine Gonzo, plus Mały Leksykon Wielkich Zespołów (where Artur is posting a couple of my reviews each day in the English language section), the mighty Power Of Prog, House Of Prog, Progressor and others. I also contribute to the French progzine Acid Dragon, and if the band is listed, then it will appear on Prog Archives, all metal on Metal Music Archives and jazz on Jazz Music Archives. Phew!
To keep track on what I am doing, visit the...
LINKS:
http://www.progarchives.com/Collaborators.asp?id=5626
http://www.metalmusicarchives.com
http://www.jazzmusicarchives.com
Kev Rowland, October 2018"