And from Lord Litter to another of the good people who inspired my wholesale commitment to the global underground movement back in the early 90's, Don Campau. His own musical career goes back to the late 60's, just about the time I'd have been jumping around the living room to those Hallmark 'Top Of The Pops' LP's, not to mention paying a little 'young man interest' in the album sleeves (ask your dad ;-)! As with Lord Litter, there's an interview on this site that will go into quite some depth. Um... about Don's musical career, not my pre-teen fascination with tacky album covers, I hasten to add. Oh, you'll find links to both under 'The UWU Network' on the sidebar.
In the modern day, as well as being Programme Director at KOWS Radio in his home California (which, if you've been paying attention, you will know broadcasts Charles Rice Goff III's "Deprogramming Center" show), he is also still presenting "No Pigeonholes", which must surely be the longest running underground radioshow out there, no? He was playing MMATT stuff on it as far back as 1991, that's for sure. It's remained true to its remit throughout that time, filling the airwaves with what he describes as "home recorded and obscure independent music in many genres." Don very kindly played a few tracks from our 2001 "United World Underground" compilation CD on his show last December (which I understand was considerably easier than trying to fathom out what kind of baffling and torturous promo pack I had created, for which I can only apologise profusely and head for the corner with the pointy hat on), specially to mark the release of the new collection of the same name, tracks from Eye, Grass Harp and Love In A Plague finding favour on this occasion. Bands and artistes wishing to submit material should note that the details they need are on the home page of his website.


Trespassers W - "No Pigeonholes Jingle" (1995)
---
Aside from his fine work on the radio, he continues to curate the excellent online museum that is The Living Archive Of Underground Music. Covering cassette culture from all four corners of Planet Earth, it includes a wealth of features, articles, photos and music from throughout the golden age of the underground movement. And here's the lowdown from the man himself;
---
"The Living Archive was established on 1 August 2009 to document the underground music movement called 'Cassette Culture'. Simply put, 'Cassette Culture' was a group of individuals worldwide who recorded their own music at home and distributed it themselves. This all began at the beginning of the 1980's when home recording devices became affordable and cassettes were plentiful and cheap. These were not 'demos' but fully realized art projects primarily traded with other like minded artists around the world. This was a decentralized scene although there were publications that addressed it at the time. In fact, because of these publications home tapers were able to get postal addresses to strike up friendships by. This was the first time home recording musicians could take control over every aspect of their art without having to bend to record company pressures or in the case of avant garde music, an ability to get their art out at all. The Living Archive is not meant as a comprehensive history but more about my personal relationship with the people who participated in this home recorded music scene. That being said, there is a history to be gleaned from these memories and of the others who have helped me out here. Although this site is about the narrow niche of home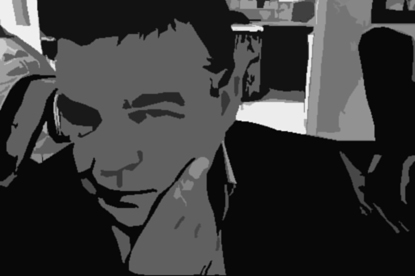 recording enthusiasts from approximately 1980 to 2000, I'd like to include information about current events and make it germane to the present. I welcome your participation, all points of view, memories and related information. This is not about me but relating this personally is the only way I know to bring this into being . Not as an academic exercise, but as a breathing, Living Archive."
---
A noble undertaking indeed, and exactly where he finds the time for it all remains something of a mystery. For the full story, it's time for the...
LINKS:
http://livingarchive.doncampau.com
https://www.podomatic.com/podcasts/doncampau
https://www.podomatic.com/podcasts/nopigeonholesexp
https://doncampauartworks.shutterfly.com
o
Worth mentioning that the last of those links is to a gallery of Don's artworks, which is a relatively recent addition to his repertoire. I nabbed one off it to give you an idea of the kind of work he's doing, this one was my favourite. Okay, out of about the first 50, there's over 1,500 in all, gimme a break! This really stood out that far in, very stylish. Do go explore when you have some time put aside, there looks to be some very nice stuff in there. Word of warning though; if you want to download yourself a copy of a picture (which I think you can do for free), Shutterfly will insist you sign up and become a member. Or you can be a rebel like me and remember your keyboard has a 'print screen' command... ;-)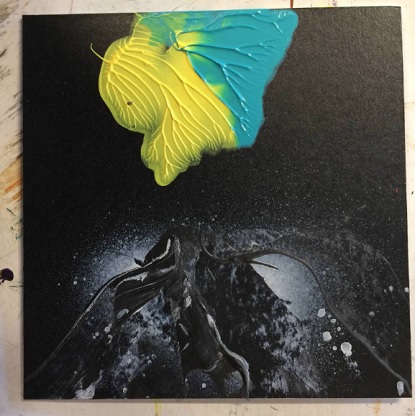 ---
UPDATE: NO PIGEONHOLES RADIOSHOW IS COMING TO AN END IN DECEMBER
---
"The countdown to the end of my show begins, so tune in for the last few months. More information coming and thanks for listening and participating in the longest running programme of it's kind in the world. Everything comes to an end sometime. After 35 years of home taper and underground independent music, "No Pigeonholes" will retire in December. But, then the archiving of past shows will begin in earnest. Stay tuned at my social media via my web site." (Don Campau, 14th April 2019)
---
And I'd like to take this opportunity to thank Don for all his support for our projects over the decades. (Mick Magic, 7th June 2019)