I've known Stuart Hamilton, better known to most as Mr. H, for a little over 20 years now, going back to the days when Zeitgeist was a paper magazine. He always used to write very supportive reviews and things about MMATT and M&E in its hallowed pages. Nice man. We first met up physically in a Glasgow pub in the summer of 2001, just as M&E was sadly on the wane, not that I blame him for it, of course. Five years later, he showed us some hospitality, Scottish style; he took us on a nice walking tour of his native Edinburgh and got us shouted at by a mad jakey on the back streets of Leith. Then took us to a Hibernian friendly against Charlton Athletic, where we were looked upon with mistrust and suspicion throughout the entire match, in spite of the fact we were cheering for their team. Albeit in Home Counties accents. A couple of years after that, we repaid with a bit of the English variety; the posh seats at Wembley, with hospitality in the Corinthian Suite. The comfort must have been absolute torture for him. ;-> Oh, not an England match, I couldn't have been THAT cruel to a Scot (Corinthian Casuals 125th Anniversary match, they lost 8-1). Though we did keep teasing him with fruit on his visit last weekend. "Have a nice juicy orange, Stuart, yum yum." But I digress, which is most unlike me.
Nowadays, the Zeitgeist name belongs to the radio station Stuart owns, though he does still do a magazine, tis called The Rocker and it lives on the internet. Don't they all these days? He was kind enough to review our UWU Collection in it last November, having already done a decent plug a couple of weeks earlier, here's what he had to say;
---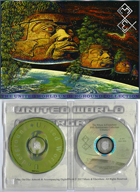 Various Artists
M&E 25th: The United World Underground Collection
Music & Elsewhere
A long time ago, in a far away land, a strange man started a vicious campaign against me with a deluge of cassette tapes blocking my way in and out of the house. In order to escape this persecution I started listening to them and found out what "underground" actually meant.
It's kind of an aural care in the community thing where assorted nutters give vent to their inner demons, and Mick Magic and his Music & Elsewhere label were the outlet for a decade or more. Then he retired. Or so we thought.
Fast forward to the present day and he's decided to "celebrate" the 25th anniversary of the label with this release. Which in finest M&E fashion involves pruning the 600(!) albums he released over time to a more manageable 30 tunes from 30 artists from 30 countries. Yes, really. So if you've got a couple of days to spare settle down with that, 50 bonus tracks, 3 books and a compilation CD and prepare to be amazed at the range of truly eclectic sounds of the underground. For sure, there are a lot of bleeps and swooshes in there, along with scratchy guitars, indie punk and an array of people who were obviously off their meds at the time.
But that's the whole point. So if you'd like to go exploring click on the link below.
---
And there was a link below, but you're on the website it lead to, so it would be a bit pointless me just leaving it on the bottom of the review, wouldn't it? Having said that, it would have taken less space and effort than the explanation for its absence has. Still, we live and learn. Or so they'd have you believe. I suspect a conspiracy myself. Okay, I'm digressing again. Apple? Pear? Aside from calling us "assorted nutters who were obviously off their meds at the time", Stuart also produced an hour special show for Zeitgeist Radio (yeah, I think he liked it really). As he put it on the website;
---
"Friday on Zeitgeist Radio – 7pm – A Band On Hope – artist of the week. Actually, this week it's label of the week, as we pay tribute to the United World Underground who're celebrating their 25th anniversary with a huge collection of music which you can get here (Editor's Note: That was a link again, actually on the word 'here', how cool is that). You can hear 60 minutes worth on Friday 17th November at 7pm with a repeat on Sunday 19th November at 9pm.
We're spinning tunes from Elza, Religious Overdose, Anima Mundi, Glass, The Witches, Sister Sinister, Trespassers W, The Flowers Of Romance, X Ray Pop, Pornorphans, Mick Magic & Chris Carter, Space Invaders, Galactic Lilah Et L'Orchestre-Fantôme, Zartipo, Toshiyuki
Hiraoka."
---
And so it was. One of the rare times I got to listen to a show live (coincided with Twizz's bedtime), a whole hour of cool music with no DJ gabber. Different, but kind of interesting. So, having Stuart here as a guest in sunny (I think we saw it once) Knott End-On-Sea for a long weekend, I finally had the chance to talk to him about the state of play. He had a seriously tough year in 2017, for all my moaning about our 'Year Of Hell' during the FAME Wars, it cuts nothing against losing a much beloved wife to cancer. So Sam and I invited him down for a change of scenery and that couple of extra degrees of warmth we get here. And to tease him with fruit, natch. Kiwi? "So, assorted nutters who were obviously off their meds at the time?" I said. Turns out that 'nutters' is barely an insult in Scotland, and having been to Leith, I could see why. He has a quite acerbic sense of humour, he's a funny guy. "Funny how?" "Get the fuck out of here!" I got my own back, I took him to see AFC Wimbledon capitulate to Blackpool, he admitted it was one of the worst football matches he had ever seen. And he has a season ticket at Hibernian. ;-)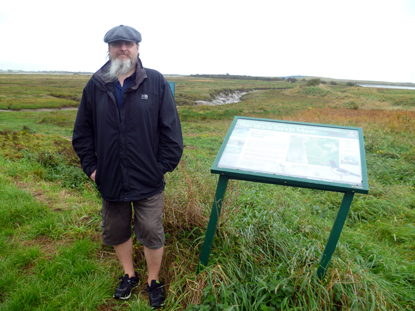 And I took him for a nice walk round the brine fields on the Sunday. Luckily, being from Edinburgh, the bitter wind blowing ice cold rain directly into his eyes was what he was used to anyway. And having bored, soaked and frozen him, as a final act to put some cheer back into his heart, I gave him a copy of the new MMATT CD! Be interesting to see what level of abuse we get in the review of that one! Bit of airplay would be nice as well, Stu, or we'll take you to another AFC Wimbledon match. He's actually not sure about the future of the radio station at the moment. 24 hour broadcasting, as you can probably imagine, takes up quite a bit of time, then there's the licence fees to contend with, and it's pretty much a one man show. Which was the real reason not all the broadcasts include him talking, though sitting 24 hours a day by a microphone couldn't be much more boring than watching our performance against Blackpool last Saturday! At the moment, he's leaning towards renewing for another year and seeing how it goes, and I hope he sticks with that, it's not like there are dozens of truly underground friendly webzines and radioshows out there these days. Pleasure to see you again, Mr. H. Oh, and nice hat...
LINKS:

http://www.the-rocker.co.uk
Finally, as a memorial to his wife, Linda, Stuart has set up a fundraiser for St. Columba's Hospice, Edinburgh. If any of you would like to make any kind of donation, I'm sure they would welcome it.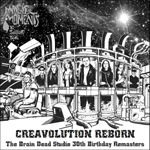 MAGIC MOMENTS AT TWILIGHT TIME
Creavolution Reborn
TMR Records
Fancy some Giorgio Moroder influenced space rock? Naw, me neither. But Mick Magic (for it is he) has went to all the bother of getting a 23 year old record remastered and rejigged so it would be impolite not to say some kind words about it.
The one time leader of the United World Underground was a weel kent face back in the days of cassette labels but when this emerged on CD after a court case it was never quite how he envisaged it. But with the help of original recording engineer and Brain Dead Studio owner, Marc Bell, it's now been (technical term alert) tarted up with all mod cons. And it's a fine listen. Assuming that the aforementioned Donna Summer meets Tim Blake for a Friday night kebab vibe is one you're looking for. I was so had a grand time listening to the bubble machine party that is 'The Starship Psychotron', the swooshing spacerock proper of 'Kronophobia' and the epic drone of 'The Night Fantasia'.
It's got a new cover, a slightly altered running order and a bonus track from The Thamesmead Rollers which features said Mick Magic. But now it's over to Mr Magic for a fuller explanation;
"For me, this is far more than just a remaster of a 22 year old album, this is catharsis. "Creavolution" may well have been the most successful MMATT album and best selling M&E release ever, but it was always something of a hollow victory for me, overshadowed as it was, at least in my mind, by the bitter legal battle with the original manufacturer, that both surrounded and tainted its release. When you're involved in a civil case like that, at County Court level, it's very hard to keep a sense of perspective, it can easily become very all-consuming, especially when there are no legal professionals to handle everything for you. It had a profoundly damaging effect on my personal life, the aftermath of which Sam and I only just came through in one piece; it was the beginning of seven long years on anti-depressants, which may well alleviate some of the worst symptoms of unending melancholy, but it also fucks with your motivation, drive and ability to concentrate. By the time I came off the damned things, Music & Elsewhere was on its last legs. It would also be 20 years before I recorded another note, and that was just two tracks for MMATT's 30th anniversary in 2016. Even by that point, I'd already been talking about 'one last MMATT album' for at least three years. It just kept not happening. Somehow, I think I needed closure on this one first. 23
years after we finished recording the album, I can finally enjoy it for what it is; "The best damn space rock 'n roll, dance party, sci fi concept album I've ever heard!!!" (Jerry Kranitz, Aural Innovations)"
Details from http://www.mickmagic.net where you can download it for free – here https://bit.ly/2yPVufT – or email marcbell386@btinternet.com for a shiny CD copy for a fiver AND you can also download his book, "The Second World – Chronicles" – direct link is https://bit.ly/2Rw7z0s – that should keep you busy.
LINK: https://therocker65.wordpress.com/2018/11/04/reviews-roundup-mia-klose-vs-magic-moments-at-twilight-time-vs-emily-johnson-vs-parlor-snakes/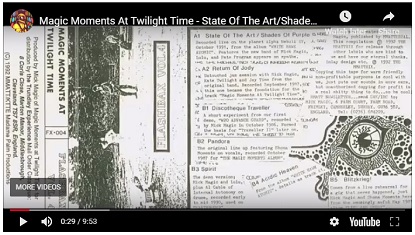 ---
Many thanks to Stu for the write up on the CD, for spinning "Love Let Thy Name Be Darkness" on his Zeitgeist Radio station, and at least trying to review my book but getting bo further than "WTF". I might use that. Nice man. Mostly. When not accusing me of being off me meds. But soon, it seems, Zeitgeist Radio shall be no more, coming off the air at the end of December. He's already deactivated his account on Facebook, although 'mrhtou' remains on Instagram, should you wish to witness his descent to madness in picture mode, especially for the benefit of those young and groovy fuckers amongst you who actually know what Instagram is. The Rocker webzine will probably have around another year of life, and then it too will bite the dust. Say hi to Aural Innovations when you're filed in The Great Library In The Sky. Thanks again for all your support over the years, Stu, here's wishing you every happiness and success in whatever the future may bring. Oh, and may it not take another 114 years for Hibs to win the cup again!