Billy Yfantis is something of an enigma; an experimental musician who runs a webzine that is there "to offer an equal amount of promotion for shining and wannabe music stars." I find that kind of unusual, but in a positive way. Most of us in the underground don't tend to care much for fame-seekers, most webzines that cater for them don't tend to be underground friendly. So Billy's an interesting one in my book, doesn't conform to any of the stereotypical expectations. Good man.
To be honest, we're still at the 'getting to know you' phase, in spite of first being in touch 15 years or so ago. M&E went into meltdown around that time, so a long silence followed, though I did make a point of looking him up again when I returned to the fold in 2012. He's come quite some way in terms of his own personal musical career (there's a nice pic from a recent television interview above right), Skylight is looking seriously more professional, but he still appreciates the value of the human touch. I asked him to put together a few words on his webzine for the benefit of the uninitiated;
---
"Skylight webzine was founded online in 1998 and got an official domain name in 2000. The formation of the website was an outcome of some IT lessons that I was involved with in the late 1990s, before the 'dotcom bubble era' in the early 2000s.
Technology as a medium and music as an inspiration led me to form this website based on old school programming code (HTML). On a music journalism level, I was already familiar, with my writings in several printed fanzines, and a radio show since the middle 1990s. The scope of the website was (and still is) to offer an equal amount of promotion for shining and wannabe music stars. That's why the initial graphical background of Skylight was a starry sky, which was representing the stars (artists), the light (artist's potentiality) and the sky (music scene).
When Skylight was founded, it was one of the few musical websites in Greece that covered rock and metal music. I think there were approximately 5-7 websites all over Greece because everybody was more interested in the paper format of the magazines than the web format. Nowadays, where everybody is involved with web, I still run my webzine on it, but I am still searching for the next big thing (new format) that will host Skylight."
---
I sent Billy a promo pack for our UWU Collection about a year ago. Yes, the promo pack that seemed to confuse the hell out of everyone, especially those to whom English wasn't a first language. Billy's Greek, and I think my 'innovative' promo pack may as well have been to most people to whom English WAS a first language! Oh, the shame. Anyway, when I got in touch again recently to find out what kind of review he'd given it, there didn't actually seem to be one. I don't know if it was a case of it having slipped through the net, I know that can happen with busy publications, but I'm still blaming myself for that bloody promo pack! Anyway, when he realised, he got something up online really quickly, bless him, which was very much appreciated. And here's what he said;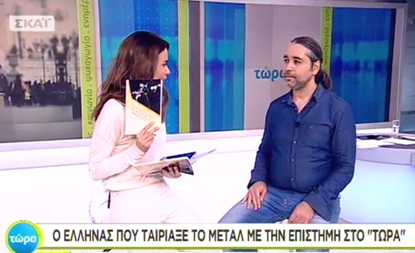 Various – United World Underground (Music & Elsewhere)
This is a great compilation from Mick Magic who runs the DIY label Music & Elsewhere and has been around since the 1980s as a musician and label boss. True to his underground roots, he presents in CD format several of the bands that he has distributed in the past through his label.
This is a compilation that features bands from all over the world and I am sure that you will enjoy this mix of Alternative Rock, Goth Rock, Space Rock, Acoustic, New Age, Dark Ambient, Dub and Electro music.
Support this effort and remember why underground music should stay underground, due to its originality and potentiality to remain a valuable good for our culture. Do you prefer to buy an online compilation or a compilation from someone who has spent an amount of his time to curate, record and distribute the compilations from his own hands?
---
I think possibly he mistook the free bonus compilation CD for the whole release, but then I mistook my promo pack idea for one that would make sense to people! A lesson to be learned for bands and labels everywhere; either send people exactly what you actually expect them to review or send them nothing at all. Fortunately, he's very understanding and added a link to the detailed contents page on this website. Nice man. As I said, underground friendly. Oh, his own stuff, yeah; his latest effort is called "The Mysterious Trip", a digital single release he describes as "an exploration of the analogue synth sound as it was defined by artists such as Tangerine Dream, Vangelis, Klaus Schulze and other pioneers of experimental electronic music." Seemingly something of a departure from his normal experimentation with "strange sounds and machines." Having said that, his next project is a duet with an animal, though he didn't mention the species. Oh yeah, there's a video goes with "The Mysterious Trip" too, enjoy muchly!
LINKS:
https://billyyfantis.bandcamp.com/track/the-mysterious-trip
https://www.youtube.com/watch?v=ryqPCnYW81E
So now all I have to do is see if I can get him to review "Creavolution Reborn" by sending him a copy of the actual CD I want him to review... ;-)

Magic Moments At Twilight Time –
Creavolution Reborn (Nimbit Music)
This is an analogue remastering of the album Creavolution Reborn that was originally released in 1995. The music style reminds me of the post punk of the early 1980s or even the Hawkwind works when the band adopted futuristic music moods. The futuristic concept of the Magic Moments is being implemented by using either chaotic dance grooves or sonic attacks to add some adventure to the whole musical result. The apocalyptic synth sound is one piece of the puzzle and the female vocals is the other piece that embeds the cinematic element during the listening experience of the album. I guess that the listening pleasure depends on your potentiality to experiment with a mix of moods and genres including classic rock and electronica.
Info: http://www.nimbitmusic.com/tmrrecords
https://www.facebook.com/magicmomentsattwilighttime/
Tags: Hawkwind, Magic Moments At Twilight Time
---
LINK:
http://skylight.gr/index.php/2019/01/04/magic-moments-at-twilight-time-creavolution-reborn-nimbit-music
---
Well what do you know - sending people the actual CD you would like them to review works! This one was published on the Skylight Webzine right after New Year, ta very much. Okay, a little on the brief side, but I guess it gets the idea across, and a Hawkwind tag is hardly gonna hurt our reputation! All support is, of course, very much welcomed.
---