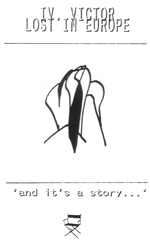 To Cologne in Germany now, and to a label which has been a great supporter of MMATT and M&E for more than two decades, ever since main man Carsten S. included "Spirit" on a Klappstuhl compilation tape called "IV Victor - Lost In Europe" (TRISM 9), back in the troubled year of 1996. Like ourselves, it is a label that has returned to the fold in recent years and concentrated on making sure much of the great music (and elsewhere) that we were all releasing in that golden age of the underground does not get forgotten. There's an excellent remaster of Solanaceae Tau's "Outdoor Expressions" (SP 004, originally on Irre Tapes, but also released as M&E 023 in April 1992) for example. Then there was the excellent job they did on the 'best of the MMATT cassette years' retrospective collection, "Flashbax Ω Ultimate" (SP 008), the download

version of which is available for a mere €5,00 via their Bandcamp. The hard copy version may be a little pricey, but that only reflects the work that went into it. No factory pressings here, this is genuine handmade underground, faux vinyl CDR and beautifully packaged to boot. Further information can, of course, be found elsewhere on this website;
LINK: http://www.mickmagic.net/Flashbax%20Omega%20Ultimate.htm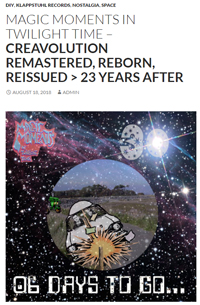 Klappstuhl ("Different music for different people and different situations") doesn't have its own website per se, but the job is effectively served by Carsten's blog, which is published under the name of Framed Dimension. There he writes about new releases on the label, plus anything else that he believes will be of interest to his readers (our thanks for the advance notice from August 2018 for TMR Records' "Creavolution Reborn" CD, a facsimile of which appears left), not to mention an absolute plethora of the most worthy of links. Some great exploring to be had here, made easy by its inbuilt search box. I really must learn how to do one of them so I can include it on The Magic Net. I mean, this will make 344 pages on here, that's a lot to find you're way around, innit?
LINKS;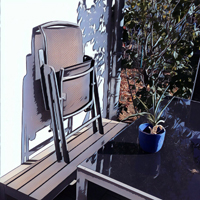 VARIOUS ARTISTS
KLAPPSTUHL 'TO GO'
(SP 022, Oct. 2018)
Carsten has recently released this fine free download sampler compilation, can't beat these as a way of getting to know what labels do. This collection runs at a little over 50 minutes and contains tracks from their releases by Magic Moments At Twilight Time ("Pandora" from "Flashbax Ω Ultimate", nice man), DsorDNE, Mr. Concept, CyborCosis, Gerstein, IOS, MIK@, Rasalasad (the work of Fernando Cerqueira of Ras.Al.Ghul, who will be familiar to M&E fans, having been featured on our "United World Underground Collection"), M. Nomized (he was one of ours too, also appears on that amazing M&E 25th anniversary set with The Legendary Poptones), Kallabris and Glove Of Bones.
Like myself, Carsten first got involved in independent music when writing fanzines in the mid 80's, setting up the label in 1988, originally conceived for his own musical projects, again like me. So what keeps him going three decades on? "Sometimes just the wish to add my voice, through supporting, by my means, artists too good to be unheard." He sees it as something of a civic duty to curate a small niche for music which can be a little hard to categorise (and long may it remain so), and to communicate with and give pleasure to like-minded spirits. Frankly, I couldn't have put it better myself. The spirit of the underground, it seems, is not quite so dead and buried as some would have you believe.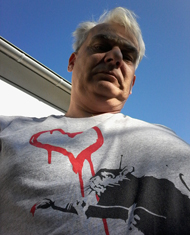 Aside from running Klappstuhl and servicing his Framed Dimension blog, Carsten (right) is also a keen contributor to the Discogs website, that most incredible catalogue of the sounds of Planet Earth (like a Wikipedia' for music (and elsewhere). He's personally responsible for many entries in both the MMATT and M&E sections, recently detailing "Creavolution Reborn" for the site, not to mention listing the whole of our "United World Underground Collection"... seriously... ALL 422 TRACKS OF IT!!! I told him he must be mad, but then he pointed out that I was the one who actually assembled the collection in the first place, so I snuck off into a corner to rock back and forth gently and wait for them to come and take me away. One of the good guys, say hi from us!
LINKS;
https://www.discogs.com/Magic-Moments-At-Twilight-Time-Creavolution-Reborn/release/12700446
https://www.discogs.com/Various-The-United-World-Underground-Collection-/release/11995446