Marc Bell, on the other hand, I've known since time immemorial! Indeed, I still have an original copy of The Thamesmead Rollers' "Wasted Years" on an Edison wax cylinder. Time certainly flies. Marc and I, of course, go back to the early days of M&E when he used to send us demos of the Rollers. My best efforts failed and we ended up releasing them just to shut him up, and in spite of my piss-taking reviews (and I hold my hands up, they would have had a lesser man sobbing in dark corners), they had no. 1 after no. 1 on the M&E chart best sellers chart, making me look like I hadn't a clue what I was talking about. Stop smirking this instant. And thus was born our enduring friendship, and as well for me it was, as Marc has been an absolute stalwart for us over the years. I interviewed him for The Magic Net about five years ago, so I'll add the link to that here, rather than repeat our entire history.
LINK: http://www.mickmagic.net/Marc%20Bell.htm
Marc is, was, and always will be a workaholic. It was never enough for him just gigging and recording with The Thamesmead Rollers, so like us, he self-released demos on his own tape label. That started nearly 40 years ago, a good few years before the idea of M&E had ever fired a neuron in my head. Now, TMR Records is a well established independent label, cleverly bridging the vast gap between the mainstream music industry and the subterranean world, specialising as it does in European commercial music, plus punk and metal reissues. Not to mention their largely live classical catalogue (Samizdat), which it also covers with quite some success. In spite of being members of the key industry bodies, such as PRS (they are also regular donors to the PRS Benevolent Fund, a registered UK charity) and MCPS, a concept which probably seems quite alien to most of us on this side of things, TMR also features a growing roster of underground bands and are not afraid to take risks. I guess a real case in point here is Marc's excellent analogue remastering of our "Creavolution" album last year, something he invested a lot of time and money in to get it up to scratch for release on CD. I don't know of many labels that would be prepared to take that kind of risk on such a leftfield band as Magic Moments At Twilight Time, but bless him for doing it! No skimping on cheap production either, the plant that did the manufacturing was the same that handled the recent David Bowie reissues. And I have to admit, Sam and I were blown away when we sat down to listen to the CD for the first time, Marc's audio engineering talents have given it a totally new lease of life. Sounded a world away from the album we finished recording 23 years earlier. Oh, worth mentioning you'll also find material by two other popular names from the golden years of M&E on the label, both The Conspiracy and Titania Moon having had albums released on TMR.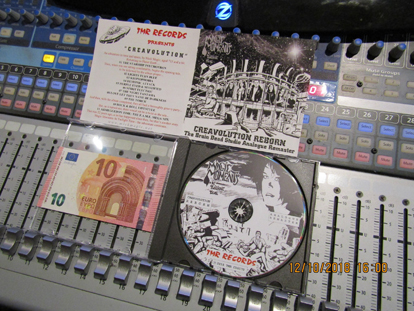 The other part of the operation is Brain Dead Studios, where we actually recorded "Creavolution" originally in the early 90's, and oh, has it come a long way since then! I remember an 8 track ¼ inch reel-to-reel in those days, now it's a real state of the art modern studio. I asked Marc to put together a few notes on what he has on offer there and would certainly recommend it to bands based within shouting distance. Here's what he had to say, and if booking, give him a fist-bump from us...
Brain Dead Studios were established 35 years ago
Weekday Recording: from £20 per hour (min: 4 hour block)
Weekend Recording: from £25 per hour (min: 4 hour block)
Mastering (all tracks on TMR Records were mastered at Brain Dead Studios): from £30 per hour (min: 2 hour block)
Analogue Mastering (e.g. the process that transformed "Creavolution"): prices on request
Rehearsal (when space is available): from £15 per hour (min: 2 hour block)
Brain Dead Studios is a purpose built facility with a large live area, separate control room & office/studio 2.
Recently fully acoustically treated with 'Auralex' products, inc: full ceilings! The only studio in the SE London area with an acoustically isolated 'floating' floor.
32 gig purpose built PC running PreSonus Studio One Professional V4.5 (full install), with Melodyne. Bench tested at Carillion Computers, it out performs all Apple Mac's in its class.
2 linked PreSonus AI32 digital recording desks with analogue insert points. Providing up to 64 channels of live recording (no bedroom studio break-out boxes)!
Monitors to industry standard: custom rebuilt Alesis Monitor 2's, Studiospares SN10's, JBL Control 1's & a 12-inch KRK Sub-woofer.
Perfect for:
• file transfer from almost any source (reel, cassette, mini-disc, DAT, wav)
• high quality audio restoration, EQ problems, hum & noise removal etc
• vinyl to digital transfer (& clean up if required)
• digital mastering
• analogue mastering using the Revox B77 reel-to-reel (digital plug-in's just don't sound the same!)
Large equipment list; Blackstar, Bugera, Harkte, Fender amps, Oberheim & Yamaha keyboards, Pearl recording drum kit. Most industry standard microphones from Neumann, AKG to Shure (inc: ribbon mikes). Large outboard FX collection. Retro equipment inc: 16, 8 & 2 track analogue recording, DAT, Minidisk, cassette & CD
Security & Police Central Station CCTV & alarm by C&C Securities.
Relaxed atmosphere, outdoor patio, BBQ & recently extended roof garden with hillside view over Central London. Studio 2 can be booked for pre-production & demo recording for as little as £50 per day.
Listed in all major trade directories and advertised on the TMR records Twitter feed.
We have a large (plus international) client list and are virtually fully booked 52 weeks a year, where possible we try our best to slot in new customers.
Clients have included major labels & publishers, including EMI, Alanis Morrisette, The Mission, Slade, HADEZ and, of course, The Thamesmead Rollers! We are currently working with 'Black-listed', on UK tour with Coolio in 2019.
Contact Marc Bell: tel. 0208 316 4690,
e-mail marcbell386@btinternet.com or via TMR Records on Twitter.
---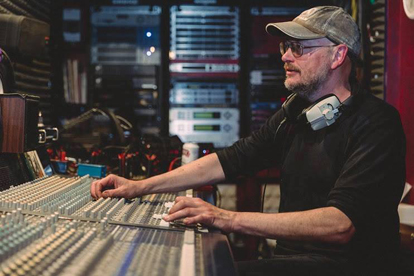 The man himself: Marc Bell at the helm of the Brain Dead mixing desk
---
LINKS:
https://twitter.com/marcbell386