I've probably only been in touch with Barry four years or so, which is quite a different state of affairs to the 20 years plus it seems to be in most cases on here. Nice to know there is still new blood out there, good people playing our kind of music (and elsewhere), because we always seem to be losing some of the old ones. It was Brian Tawn of Hawkfan who first pointed me in Barry's direction, and having listened to a radioshow or two, going under the spacily inspired moniker of "Earth Calling", I had a feeling we might just be singing from the same proverbial hymn sheet. Yeah, four years it is, he first played some MMATT stuff (from "Flashbax Ω Ultimate") on his show circa December 2015, right there in the Rise 2016 M&E Newszine. More commonly known as DJ Bazza, he also goes under the name of Barry JaMM, producing a show called "Sonic Explorations", mostly featuring unsigned bands of a broad spectrum rock ilk, for Captain Garry Lee's Overflow Sunday service. Oh, and I "may wish to omit such info" (snigger, he doesn't know me that well yet ;->), but he also helps out with travel and traffic on local community radio, Ambersound FM.
♪ ♫ T i m e w e l e f t t h i s m o t o r w a y . . . ♫ ♪
There's nowt wrong with that, Barry, it's good honest work. He also does a classic rock show for them on Wednesday nights at 9, street cred restored, methinks.
0
LINKS:
http://www.starshipoverflow.com
Another string in Barry's bow is his synthesizering (is that a proper word?), currently plying his trade with Sonic Trip and a side order of Doctor Hasbeen (I know how he feels), previously flying the soundwaves with the interestingly named vert:x. Latest projects reported are a 3 piece band called The Ornot, who I am reliably informed "will be" opening at Sonic Rock Solstice on Friday 21st June. Yes, it really has taken me that long to get my proverbial shit together and write this article. Slack fuck, I know. Not like I even have the excuse of having assembled and released a 30 hour+ underground extravaganza collection in the interim, is it? Oh, Barry tells me he also does a bit of depping with the likes of Civilian Zen and the wonderfully named Peoples Free Republic Of Pandemonia (which is how I describe life with a 6 year old). Ooh, and a 'small world' thing; he also does a bit of recording (remotely) for Schroedingers Cat (who both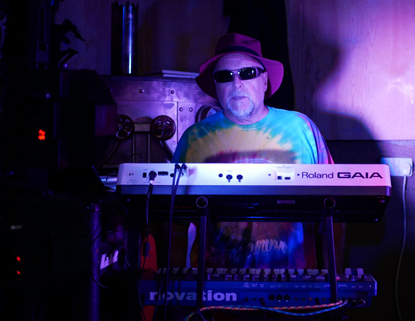 exist and don't exist at the same time), which is the creation of one Iftakhar Sebastian Khan, who used to produce Hawkzine, which was previously done by Dietrich Pless, who used to give us masses of printed support back in the day! But I digress, we were talking about his "Earth Calling" radioshow, weren't we? Most unlike me...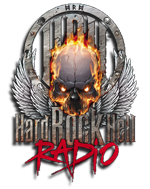 "Earth Calling" goes out on Hard Rock Hell Radio 2-5pm (UK local time) every Wednesday. He describes the playlists as 'no rules, as long as it rocks', and it does pretty much what it says on the tin, lovely selection of subterranean friendly space and psyche with an occasional surprise thrown in. After broadcast, the shows are archived on Mixcloud, so you can enjoy them whenever you so desire.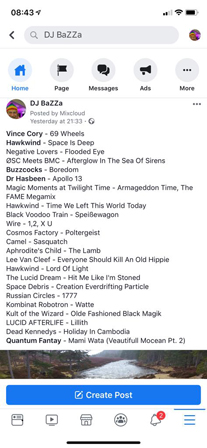 Now, if you're trying Mixcloud on a PC, you might find it hard (for 'hard', read 'impossible') to find a playlist in the first place, as we've previously discussed in the Kev Ellis article. If you're using the app on a smart phone (no, I don't), however, no problemo...
Well, apart from possibly crediting the one track on "Creavolution Reborn" that wasn't primarily by us as being by Magic Moments At Twilight Time. Marc Bell will be spinning in his grave. He's not actually dead, it's just what he does when others get the credit for his work. It was, of course, by TMR (though I did do some synths and guitar on it), rest easy, Marc, the ordeal is over.
Some months after this, I realised you can just get the playlists off his Facebook page, but how much fun would that have been? So anyway, I now know he played some other MMATT stuff as well. Nice man. And I know this because I have the gift of reading.
LINKS:
https://www.facebook.com/DJ-BaZZa-702310923190908/
ARCHIVED SHOWS WITH M&E OR MMATT STUFF:
https://www.mixcloud.com/barry-mart/earth-calling-6th-december-2017/ featuring four tracks from the UWU Collection; "Joch McGregor" - Idiom, "Masterplace" - Dark Star, "Real Love And Communication" - Steve Andrews & Ned Zero and "Guardian Angel" - Cosmic Dance Society
https://www.mixcloud.com/barry-mart/earth-calling-3rd-july-2019/ "Armegeddon Time", ho hum...
https://www.mixcloud.com/barry-mart/earth-calling-10th-july-2019/ "Purple Eyed And Mystified" / "The Starship Psychotron"
https://www.mixcloud.com/barry-mart/earth-calling-21st-august-2019/ "Traveller II"