O c t o b e r 2 0 1 8 - M a r c h 2 0 1 9
---
Greetings!
It's time, I think, for a long overdue update on what's going down in the underground, it's got to be a year and a half since the last one, and a year and a half is a long time in the subterranean subculture we inhabit. Our "United World Underground Collection" (M&E 25-01) has been out for a year now, so it's interesting for me also to review what folk have been saying about it and what impact it's had in general. Now our second biggest selling title ever (a feat which took it only 44 days), it was certainly well received by the M&E faithful. There's not been a huge amount of reviews, but then I guess a 31 album collection would be a great demand on the time of even the most dedicated of bloggers! Even the 'promo pack' featured some 4½ hours of stuff to wade through, not to mention confused the hell out of a number of reviewers, so back to the drawing board for me on that one! Excellent radioplay though, been very popular on the airwaves, and spreading the music (and elsewhere) is, after all, what it's always been about.
Strangest place I've seen it get any attention was on Pinterest. I don't have an account there, so no point in going looking for it, but I was in the process of checking out several other social media sites to see what might work for us. So I get to Pinterest and there it was, undoubtedly due to the power of bloody tracking cookies or something equally sinister, but top left as I got there was a thumbnail of Alan Arthur's stunning cover art. Why? Only clue was "This Pin was discovered by David Jewitt." Not a name I recognise, I thought, and to explore that further; I would have had to register and set up an account etc etc; and there are only so many hours in the day; and I have a five year old who thinks she's entitled to the benefit of most of them.
Oh, while I remember, another piece of interest I found on Amazon, whilst accidentally typing 'Magic Moments At Twilight Time' in to the search bar (ahem), was a copy of the old Secrets Of Sound EP! For those that weren't around that far back, it was put together by Neil Crud back in 1993, featuring a track from each of Sons Of Selina, The Original Mind Band, MMATT and Frank's Dad. Something in the region of 100 copies were bought up by the German My Way zine (whatever happened to Uli Gernand?) and given out as freebies with a special edition, think that may account for it being marked as an import on here. It's an interesting curio from our viewpoint, being the only time MMATT have ever appeared on vinyl. Guess we shouldn't sniff at it selling for £10 either, think it was only £1.50 at the time. Wonder what I could get for my white label test copies? ;-)
Right, without further ado, let's see what lights have been shining out from the furthest depths of the underworld...
Mick Magic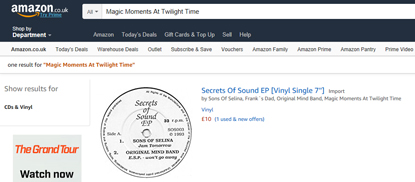 I n d e x (*click on the image links)
---

Mike Pougounas' Blackout Radioshow / Tribe4mian's Weblog
Never let yourself fall into oblivion...
---

Kim Harten's Bliss / Aquamarine
Online fanzine dedicated to underground and independent music, focusing on folk, psych, indiepop and related...
---

John Armstrong's Tuning Up / Psonic Psundays
Two eclectic and underground friendly weekly radioshows, presented by The Speed Of Sound front man...
---

Charles Rice Goff III's Deprogramming Center / Magnetic Bungalow Radioshows
Avant garde radio reborn in the 21st century...
---

Kev Rowland
Former publisher of Feedback and freelance reviewer for the Prog Archives and many more...
---

Levente Toth's Blog
On electronic music and the music industry...
---

Garry Lee's Starship Overflow
The home of alternative and underground music on the radio...
---

Lord Litter's Magic Music Box, International & Radio On Berlin Shows
The true spirit of the underground burns ever onward...
---

Don Campau's No Pigeonholes Radioshows & The Living Archive Of Underground Music
Musician, radio host and archivist, and so very much more...
---

Stuart "Mr. H" Hamilton's Zeitgeist Radio & The Rocker
For work, for play, for life, but not for fruit lovers...
---

Billy Yfantis' Skylight Webzine
The underground friendly broad spectrum music magazine run by an experimental musician...
---

Stan Batcow's Pumf Records
Eternally dedicated to the task of continuing to find and release the strangest music on the planet...
---

Carsten S' Klappstuhl Records
Different music for different people and different situations... and a new free downloadable label sampler compilation to boot!
---

Carsten Olbrich's Radio Escobar & Ebus Music
Herr Ebu's monthly radioshow on Radio X out of Frankfurt am Main, and the label from the golden age...

Tim Jones' The Reverend Rabbit Show
Alternative and underground radio, featuring classic rock, progressive, psyche, jazz, folk and independent sounds...
---

Didier Becu and Ann Cnockaert's Luminous Dash
A music website that tries to be more than just a music website, and not exclusively in its native Belgium...
---

Blue Fred's Radio Session ('John Peel')
Inspired by the late DJ, Fred presents a show with the underground ideal that even the smallest labels count...
---

Barry Mart's Earth Calling
Cosmically inspired 'no-rules-as-long-as-it-rocks' underground friendly radioshow from DJ Bazza...

Neil Crud On Tudno FM
An alternative radioshow that aims for great music and no rules, with just the slightest bias towards North Wales...
---

The Kev Ellis Show
Space and psychedelic rock radio and podcasting from the former Dr. Brown frontman...
---

Marc Bell's TMR Records
There are some genuinely underground friendly record labels out there, and this is one of the best...
---