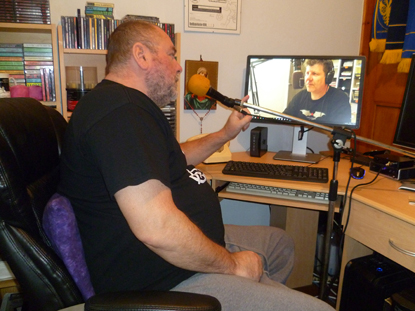 Mike Pougounas is one of that original generation of underground networkers who I feel as if I have known forever. Probably because I have! We first released his old band, The Flowers Of Romance, on M&E way back in 1992, and he was writing a lot about our label and MMATT in a number of Greek zines at the same time. Never just a passenger, never just out to promote his own interests, he's a kindred spirit who has always been a keen proponent of spreading the proverbial word.
To me, the Flowers were a given for inclusion on "The United World Underground Collection", not just because their music was great, but also because Mike was so much a part of the system the collection sets out to celebrate. And he was right on board when it came to helping us spread the word about it, starting out with an announcement on his Tribe4mian's Weblog on October 12th 2017, the day before its release;
"Long before the internet, back in the 80s and 90s, there was an underground movement. It was called The Cassette Movement and it was a network of musicians, radioshows, fanzines, live clubs, festivals, record labels and distributors being in touch like a community. One of the main label/distributors in England was called Music & Elsewhere and the name of the man behind it was Mick Magic. The label started in 1987 and as he says: It was 'the label for bands who put their music before the money and their souls before the world…' A few months ago, Mick started working on a special Music & Elsewhere 25th Anniversary Collection titled 'United World Underground Collection'. It is presenting 'key' releases of his 80s/90s distribution and it will be released with a weekend long online festivity with News, Pictures, Postings, Music, Videos, Freebies and Downloads."
LINK: https://tribe4mian.wordpress.com/2017/10/12/me-25th-anniversary-the-uwu-collection-release-weekend/
It's a really quality and varied publication, very worth a read. The Blackout Radioshow likewise is well worth a listen, an eclectic selection of sounds, and extremely underground friendly to boot. He gave our collection a most welcome boost on his broadcast from 23rd November 2017;
"We have a one hour special about the 'Underground World United Collection' that Mick Magic put together featuring releases of his label Music & Elsewhere. So this will be a nice introduction to this underground Cassette scene that was active in the 80s and 90s. I am spinning the following artists from it: The Charles, Space Invaders, Dirty Planet, Sister Sinister, Pornorphans, Mana ERG, Ras.Al.Ghul, Toshiyuki Hiraoka, Lord Litter, Eye, The Witches, Glass, Levente, Religious Overdose and I will have Mick as a guest on one of my future shows."
And he was good to his word, coz the very next week;
"On this week's Blackout I have a special guest: Mick Magic will enlighten us regarding the Cassette scene of the 80's and 90's, his band Magic Moments At Twilight Time and his cassette label Music & Elsewhere which became the main English distributor of the Cassette scene. All songs will be taken from the compilation 'United World Underground Collection' which he put out recently, introducing us to 30 albums that the label released back then… All these on Wickedspinradio.org (UK), Madwaspradio.com (UK), Faschingwebradio.com (Canada) and KOWS 92,5FM (USA-CA). Don't miss it."
And I didn't! And neither need you, simply click on the play link (top left) and enjoy the whole 2 hour UWU Special! Well, one hour, fifty-four minutes and six seconds, but let's not get picky...
In the UK, Mike's radioshow goes out via Wicked Spins Radio, run by one Shaun Histed-Todd, who we are just in the process of getting to know, so I can't tell you much more about that for now. It also gets aired on Mad Wasp Radio, who very kindly put a link up for us on their website and very nearly got the title right. ;-)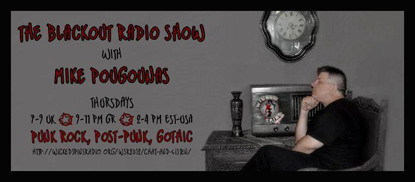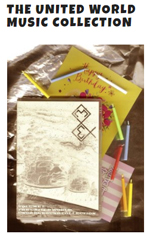 They describe Mike's show thus; "Broadcast from the exotic climes of Greece, Mike's Blackout Radio Show places its focus largely on underground artists, though there will also be the odd classic from bygone days thrown into the mix. Among the varied genres that Mike covers are punk, post punk, goth, psychedelic rock, prog rock, electronica, industrial goth, alternative, soul, funk, jazz, reggae and dub – though he draws the line at heavy metal and hip hop!"
Again, I can't tell you a great deal more about the set up there as it's a fairly recent relationship, swapped a few e-mails with a very nice lady called Dee Webb, but am unfortunately still waiting on a reply to my last one from 30th June, in which I asked about the great deal more I wanted to tell you! Don't be put off by that though, it looks like a fairly professionally run set up and certainly has a very broad range of programming. Dee was talking this time last year about doing a piece on our project for their website, so fingers crossed that comes off at some point soon. In the meantime, here are the...
LINKS:
http://wickedspinsradio.org/wsr2012/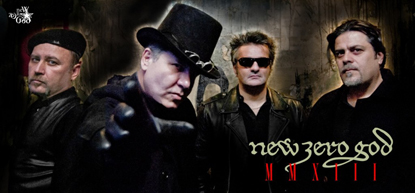 Aside from his writing and radio work, Mike still performs, these days fronting gothic post punksters, New Zero God, who have now been together for well in excess of a decade. Their latest album, "Short Tales & Tall Shadows", completely smokes, excellent use of ya music budget, trust me. There's a couple of sample tracks on "The United World Underground Collection" actually. Small world. Highly recommended contact, this guy is pure underground, he'll stay pure underground, don't expect to see him in a tuxedo singing "Moon River" anytime soon. Oh, and say hi from us! Fuck me, I got through a whole feature on Mike Pougounas without mentioning the time he got me bladdered on ouzo on Shepherd's Bush Green...
LINK: http://www.newzerogod.com
P.S. It's not actually the first time I've been interviewed by Mike (not counting "Are you sure you can stand up, Mick?" on Shepherd's Bush Green), he first put me in the hotseat in September 2010 for his blog site. It's kind of interesting reading it again, I'd just bought the 'mickmagic.net' domain at the time and was obviously intending to do the website fairly soon, but as we now know, it would be another 18 months before it happened. There's also talk of a MMATT album project with the working title "Last Star Falling" (I still like that), but a note that it would probably end up being called "Rose Of Erin". Wrong on both counts, it's 8 years later and I've done nothing more than write Mmatterial for a new album so far, one song of which is called "Rose Of Erin"...
LINK: https://tribe4mian.wordpress.com/2010/09/15/an-interview-with-mick-magic/
---
Below: What manner of skulduggery is this? Surely it cannot be? Ah, but if it hadn't been a genuine live recording, there would almost certainly be a rather sweary out-take or two around, wouldn't there... #$%&£*!►