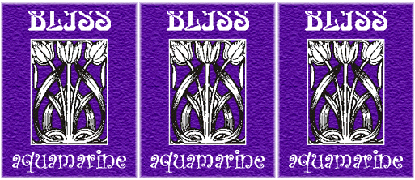 Kim Harten has been involved in the underground network for something in the region of a quarter of a century now, going back to the Bliss tape label in 1993, on whose compilations a fair few MMATT tracks found their way, ta kissy kissy, and the Aquamarine zine in 1994, in the pages of which many an encouraging word about both MMATT and Music & Elsewhere oft appeared. The tape label is, like most of the others, just a memory these days, but its name is kept alive with that of the paper publication's on the website, which Kim describes more fully as an "online fanzine dedicated to underground / independent music, focusing on folk, psych, indiepop and related subgenres."
LINK: http://www.blissaquamarine.net
Earlier in the year, she was kind enough to feature our UWU Collection, and this is what she had to say;
---
VARIOUS ARTISTS - THE UNITED WORLD
UNDERGROUND COLLECTION VOLUME 1
(MUSIC & ELSEWHERE)
A bumper collection released to celebrate the 25th anniversary of Music & Elsewhere, perhaps the biggest and longest running tape label with a catalogue of over 600 albums, which has now expanded into digital releases. This set comprises a data disc with 30 albums of 320kbps mp3s, 50 bonus tracks, 3 pdf books, a 64 page illustrated pdf booklet, and a CD of the first United World Underground compilation originally released in 2001. You get 33 hours of music and extra visual material for just Ł15, including P+P worldwide.
Music & Elsewhere celebrates eclecticism and underground creativity. There are no genre boundaries here, and fans of most non-mainstream styles will find something they enjoy on this album. There's the kitsch, quirky and fun DIY electropop of X-Ray Pop; the angular and manic art-rock of Ir Visa Tai Kas Yra Gražu Yra Gražu; the film score-esque electronic composition of Artemiy Artemiev; the ambient spacerock of Mick Magic and Chris Carter; the gothic psychedelia of The Flowers of Romance; and the spiky experimental prog rock of Zartipo.
Trespassers W's Carmen Miranda is a kind of lopsided cabaret-folk-pop with a Latin American twist. Glass make darkly atmospheric music that straddles the boundaries between gothic rock and dreampop. Rotton Kidz sounds like the name of a punk band, but their Southeast Asia Peace Circle Dance is actually a very lovely world music piece with a ritualistic tribal feel. Karg's Himmel is a bizarre though effective mix of doomy, sludgy drone-rock, scratchy fiddle and death metal screams; despite my usual aversion to metal, I found this an engaging listen. Magic Moments at Twilight Time bring together experimentation, spacerock, punk, and rock 'n' roll in their medley Introduction/Trois/Blitzkrieg! Toshiyuki Hiraoka combines frenetic 1990s video game-like electronic music with plaintive acoustic guitar, creating a listening experience that is both brooding and fun all at once.
Three of my favourites from M&E's days as a tape label are included here. Mana ERG's Another is a true classic of the label, combining lilting psychedelia, ferocious noise-rock, and a free thinking creative attitude. Pornorphans' Innocent is dark, intense and emotional alt-rock with a strong memorable melody. The Witches' Bliss is brilliant folky, dark-edged pagan rock sure to appeal to folk-rockers and goths alike.
Over on the CD there's Into the Abyss, whose brand of underground rock takes on board goth, spacerock, prog, classical and Middle Eastern influences; Grass Harp, with a floaty, Eastern-tinged, proggy / psychey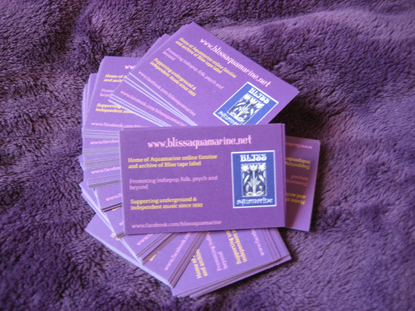 number; the laid-back country-rock of Blacklight Braille; cassette culture icon Lord Litter with a slightly off-centre take on US-style folk-rock; The Stinking Badger of Java with their brilliant bendy choppy-changey quirky rock; the dark and frenetic electronica of Cosmic Dance Society; and Steve Andrews, another icon of the cassette underground who more recently went on to bigger things with an appearance on Britain's Got Talent, teams up with Ned Zero for a dance-rock reworking of Steve's classic track Real Love and Communication, in which intense psych-rock guitar is effectively interspersed with thumping electro beats and vocoder.
LINK: http://www.blissaquamarine.net/uwu30.html
---
We actually thought we were going to lose her from the network completely a while back, that would have been a really sad day for us all after her being an integral part of it all for so long, so I can't tell you how pleased we are that she's decided to keep fighting the good fight. Though it comes at a cost. Kim explains; "In an effort to keep my review backlog under control, I only accept promos in physical formats: CD, CDR, vinyl, and cassette." So if you're not in a position to provide those, you may find you have to work much harder to get her attention in the first place! Contact can made via the website or via her Facebook page.
LINK: https://www.facebook.com/blissaquamarine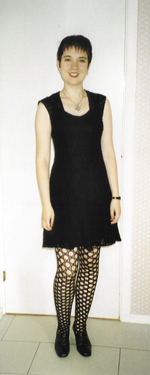 Necessarily, Kim has had to limit her work to reviews only (for the most part, there are occasional features on bands or labels), she says; "I don't really cover news / what's happening type stuff but do have a newsletter with a roundup of recent website additions." And you can subscribe to that via the website's homepage, should you so desire. That's where you can also find news of Kim's own musical projects (yes, this was the first I knew of her involvement too!), she actually sings with a rather kitsch folk-pop outfit called Fly Away Sorrow, who knew? We all do now, and if you want to take a listen, here's the relevant...
LINKS:
https://soundcloud.com/flyawaysorrow
https://flyawaysorrow.bandcamp.com
https://www.facebook.com/flyawaysorrow
0
---
Right: Kim Harten, stalwart of the global underground scene, a classic 'back in the day' pic from the mid 90's, dutifully nabbed from the 'United World Underground' photo album on the M&E Facebook page. Et voila!
MAGIC MOMENTS AT TWILIGHT TIME
Creavolution Reborn: The Brain Dead Studio Analogue Remaster CD/Download (TMR)
Magic Moments at Twilight Time had been mainstays of the DIY cassette underground since the late 1980s, but took a different route for their 1995 album Creavolution, which instead of being recorded on 4-track and released as a homemade tape, was recorded at Brain Dead Studios and released as a factory pressed CD. The album has now been remastered by its original engineer, Brain Dead Studios' Marc Bell, and is available as a free download or cost-price CD. The CD is again professionally duplicated, and comes with an 8-page booklet featuring great cover art by Thayen Rich, featuring the band and Marc on a spaceship, as well as extensive liner notes about the album's history.
MMATT are a spacerock band, but one with a unique approach that takes on board an effective eclectic mix of other influences. The Spaceship Psychotron features swooshing and bubbling spacey synths and a Giorgio Moroder-esque electronic pulse as backdrop for a song that seems to gain inspiration from a mix of Blondie, 1950s rock 'n' roll, and sci-fi B-movies. Demonic Attack is a creative slice of gothic spacerock that incorporates a growly guitar sound, bleepy sci-fi synths, an opera singer, and orgasm noises! Purple Eyed and Mystified is a long time favourite of mine from
this album, featuring tinges of Blondie alongside crunchy rock guitars, a dancey electronic beat and swirling analogue synths. Spirit Electric sets ghostly lyrics to a flamenco-influenced arrangement ornamented by electronic whooshes. Love Let Thy Name Be Darkness, another of my faves, is an inventive, well-crafted piece that manages to be poppy, spooky and spacey all at once - a true classic.
The album is full of original ideas, and despite the dark elements in some of the songs, still retains a strong sense of fun. Great to see it getting another outing in this new remastered form. The album is available from Marc Bell, whose contact details are included on the Music & Elsewhere / MMATT website www.mickmagic.net
LINK: http://www.blissaquamarine.net/albumreviews31.html
---
And our undying love to Kim for that review, nice lady. It's probably worth pointing out though that the free downloads won't be available forever, as far as I know it's just till Xmas. Believe me, Marc's done a lovely job on it, so I hope you'll all go for the CD anyway. As for "The Spaceship Psychotron", a pointy hat with a big 'D' on will be delivered by courier to Kim's workplace right in the middle of her staff Christmas party. By a male stripper dressed as Donald Trump. She won't be making that mistake again... ;-)