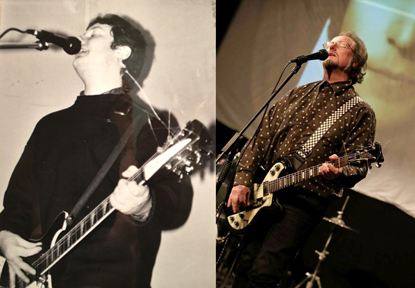 As the 'now and then' pictures imply, John Armstrong has been around a while. Amazingly though, he and I only crossed paths for the first time around a year ago, when Lord Litter put us touch with eachother. As well as making some rather cool 'garagey indie post punk' (to paraphrase Kim Harten's reviews) music with The Speed Of Sound (depends on the medium, I looked it up), Manchester based John (yes, we're almost neighbours) also hosts a couple of radio shows, the main one of which seems to be Tuning Up, broadcasting weekly on Mad Wasp Radio, on which you'll also find Mike Pougounas. Small world. Well, actually it isn't, it's quite big really. But not as big as space, that's a bit on the large side. But I digress, which is most unlike me. It's a very underground friendly show, also taking in some better known names, but quite an eclectic circle, all the way from the Dead Kennedys and the Jim Hendrix Experience to Julie London and Ivor Cutler. And that's just looking at the handful of shows material from our UWU Collection was broadcast on after its release last October! The official blurb on the Mad Wasp website reads thus;
"Having failed to get the part of The Master in the new Dr Who (perhaps due to neglecting to apply), John has instead created his show Tuning Up. He has been broadcasting in his adopted home of Manchester for a number of years and has, since the 1980s, been part of the underground music scene there and beyond: Performing live and hosting visiting bands' gigs, in addition to writing for Florida-based Rock At Night website and the occasional piece elsewhere. Tuning Up comes in from the cold, its coat pockets bulging, stuffed with succulent eclectic choice cuts of independent, neglected, new and not so new non-mainstream sound."
Tuning Up doesn't have its own website, but he does archive all the shows on Mixcloud, so you can peruse back and listen whenever you like. Shows 36, 39 and 41, if you'd like to find a few familiar M&E names. All curiously without the social media links that seem ever present for all the other artists. We shall have to have a word with him about that. We do have a Facebook page, John. Just click on the 'Contact Zone' link on the sidebar, see? There, that's told him. Sorted.
LINKS:
https://www.mixcloud.com/john-armstrong6/
https://www.facebook.com/TuningUpMadWaspRadio/

He's also involved with a broadcast called Psonic Psundays on All FM 96.9 (and online) in Manchester, which he co-presents with Miles Walton and (occasionally) Zac Gale. Going out from 19:00-21:00 (UK local time) every Sunday, I've not seen playlists from this one, but I gather from what John has said, you can expect a similar field of sounds and the emphasis remains on underground artists. Though he does add that they have to adhere to Ofcom broadcast rules on this show. I'm sending him "Get Into The Dream Cream". Worked on Bryan Baker... ;-)
LINK: https://allfm.org
Intermittently, he says, when time allows (I have a five year old daughter, I know all about that one), John also writes for the Florida based webzine, Rock At Night. This is something I didn't know about until I received his latest updates, so hopefully be able to tell you more next time round. It looks to be, in the most part, gig reviews (presumably in Manchester, where he seems to be associated with live events), the odd album review, Q&A's, stuff like that. There's instant access to all of his articles on the magazine via the...
LINK: https://rockatnight.com/author/john-armstrong/
And finally, should you fancy exploring some of John's audio output, The Speed Of Sound have a long history and a not insignificant web presence to match, all of which you will find links to on their official website. We had a couple of tracks on the somewhat shortlived online M&E Showcase too. Shame that idea didn't really work out, it's always a pleasure sharing music you like with others, but there is simply SO much out there these days, all vying for your attention. Actually, while we're here, let's just give their latest single (seven inches of vinyl, love it!) a bit of a plug coz it's a benefit one for an excellent cause; Manchester Women's Aid / The Pankhurst Centre. It's a double a-side, featuring "I'm Real" and "I Don't Want Your Attentions" and can be ordered via their Bandcamp. Download option also available.
LINKS:
https://thespeedofsound.bandcamp.com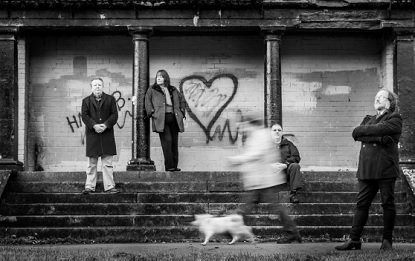 The Speed Of Sound: Either they are very lazy, or the man with the dog is hyperactive, now which of those concepts appeals to you most...
Photo by Paul Husband Photography