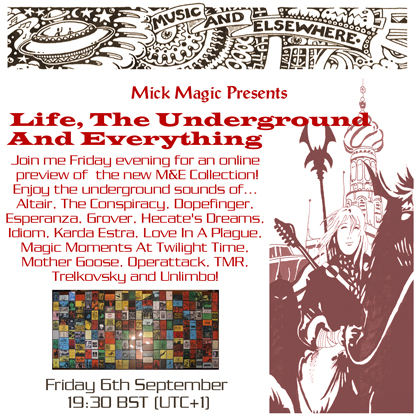 A warm welcome to the first of our special M&E Collection launch presentations. Make yourself comfortable, get your sound sorted, pour yourself a drink, the action starts here in 10...
---
Music & Elsewhere Testing, testing, 1-2-3... ;)
Music & Elsewhere GREETINGS!
Music & Elsewhere Hard to believe, but after all those months of hard work putting it together, The Music & Elsewhere Collection is finally with us, 30+ fantastic hours of underground sounds by 70 of our finest bands, and all for less than 1p per minute. Ordering details are on the front page of the website.
Music & Elsewhere But this evening, it's just an informal chat (feel free to comment and join in!), look at some pix and share some sounds, so to band no. 1 on the playlist...


Music & Elsewhere The first track we're going to listen to tonight is "Tenderhooks", the E-Bow Mix...
Music & Elsewhere TECHNICAL PROBLEM - 2 MINUTES!


Music & Elsewhere Sorted, here ya go...
Music & Elsewhere You still out there, Duncan?
Music & Elsewhere The Conspiracy were actually our best selling English band. Here they are...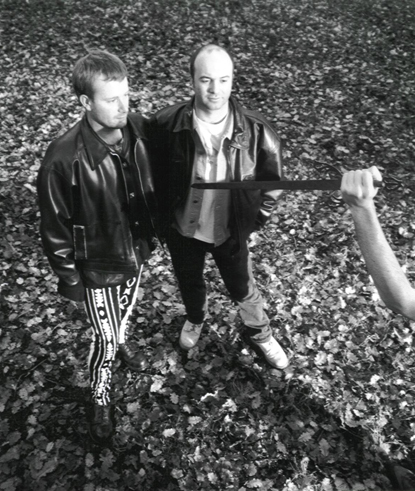 Music & Elsewhere That's Duncan on the left. With Dave Bell, I presume. I feel like I'm alone in the world, with just their picture from company. Somebody say something... :)
Jan N. Kremski Duncan - who's that - I'm listening - like that track - got anything heavier?
Music & Elsewhere Sorry, missed this, FB shows it umpteen lines behind now. Thanks for listening. See what I can do! :)
Duncan Pope (The Conspiracy) hello
Music & Elsewhere 9 minutes and one technical fault already, bloody computers! And I know Duncan is around, been texting me for the last half hour. Says to tell you that aside from being on our new collection, there's absolutely shitloads of TC stuff been remastered by TMR Records recently, for which I will search out and add the link when this is edited for the website. Pretty promise.
PRETTY PROMISED LINK: http://www.nimbitmusic.com/tmrrecords/#theconspiracyanthology
Duncan Pope All the newer Conspiracy music is on TMR Records via Marc Bell...new double album in 2020!
Music & Elsewhere Will look forward to that, fancy telling us anything about it?
Music & Elsewhere Duncan says he's having problems with sound. If you click on one of the mp3 links, it should play, no?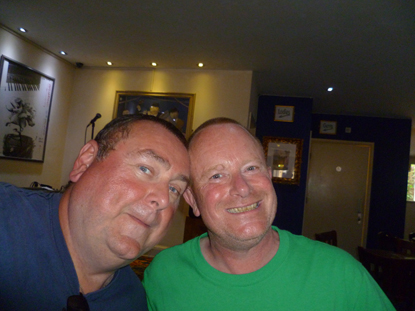 Music & Elsewhere Ooh, look, here's a nice picture of me and the Devon dumpling from Rebellion last year...
Duncan Pope Yeah, lovely Marc has remastered our CAGED Lp (2006) and PREDATOR Lp (2016), and re-released on TMR. Nice man!
Music & Elsewhere What shall we listen to next then? How about...


Music & Elsewhere Right, Grover, longer track now,
this is "Fernando Rey"...
Duncan Pope You still out there MM???
Music & Elsewhere And this is Grover...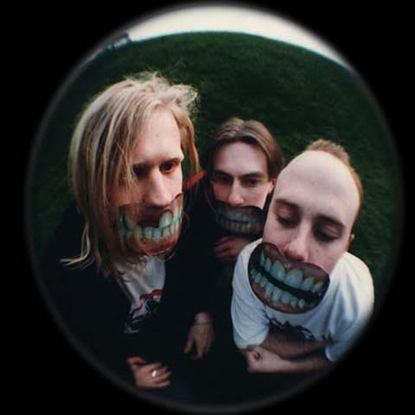 Music & Elsewhere Strange picture, excellent band from the beginnings of the British post-rock movement. Annoyingly, don't seem to be able to tag anyone in a Facebook event, either pictures or here in comments. Such is life.
Music & Elsewhere Message from Marc Bell of TMR;
"Hiya Mick, I was hoping to at least say hello tonight, but FB appears to have banned me? I'm working in the studio tonight & Saturday..... but would love to be around on Sunday.... if it can be sorted out?????"
Who's been a naughty boy? :)
Music & Elsewhere Ah, told you we had some great bands on here, didn't I? This is great through headphones. Next band, as he's not allowed to listen...


Music & Elsewhere This is the title track from their excellent "Ghosts" album"...
Music & Elsewhere And here's a nice shiny picture of Marc...
0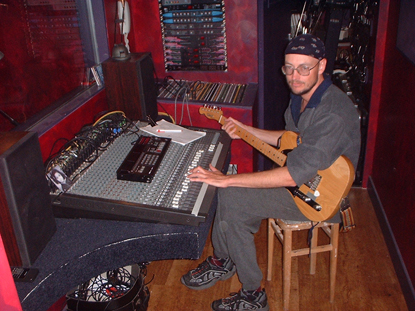 Music & Elsewhere He also runs the TMR Records label that released "Creavolution Reborn", which I have a trick to be able to link to on Facebook now, here it is...
HOW TO TRICK FACEBOOK DIRECT LINK:
https://t.co/MDAt29K390?amp=1
Music & Elsewhere Na na Zuckerberg! ;)