Music & Elsewhere Another great personal favourite of mine,

and a choice of track here to pick the tempo up a bit, this is "Husband And Wives". Don't think Jack Jones though. Shit, have I just given my age away or what? ;)
Music & Elsewhere The voice belongs to Sigi Ecker, and what a voice it is. The other half of the duo was Klaus Filip, seems to be little he couldn't do with sound! This is the pair live at Das Bach in Austria.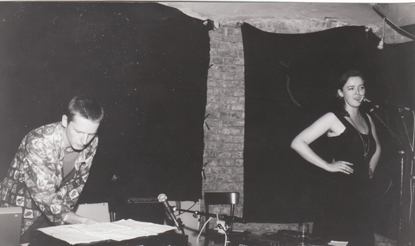 Music & Elsewhere Guess the obvious segue here is the Trost label, from whence we got SO many great albums to release in the UK. And that's where the next young lady on the 'playlist' (surely he jests) came to us from too...


Music & Elsewhere The song is the title track from her CD album,

"Distance", also, of course, released as a cassette on M&E...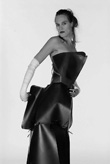 Music & Elsewhere Renée Stieger was first on M&E as half (the more creative half, I gather) of the Trost duo, BDF (Bild Der Frau). Definitely has an ear for the strange. Also a talented artist, both performance and actually making artworks, a model, the list goes on...
Music & Elsewhere She's another one we had the pleasure of meeting when she visited the UK, I think in the late 90's. This is she (and gentleman friend of the time), in our old place in Frimley. We liked them, Tilly The Space Cat didn't seem so sure...
0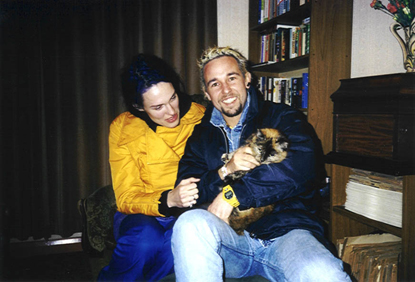 Music & Elsewhere Staying on the Trost theme, yet another of my great personal faves...


Music & Elsewhere I could have quite happily put the contents of both CD's I own on the M&E Collection, but 25 minutes +/- 10% was the guiding rule, so! The track I've picked for this presentation isn't on the collection, which is true of everything I'm playing (consider it value plus!), this is "2nd"...
Music & Elsewhere Amazingly creative band, driven by the excellent rhythms of underground super-drummer, Günther Castanetti (you may also remember Those Who Survived The Plague?), but on this particular session courtesy of the very unique voice of Regina Ausserwöger, which really kind of defines the sound.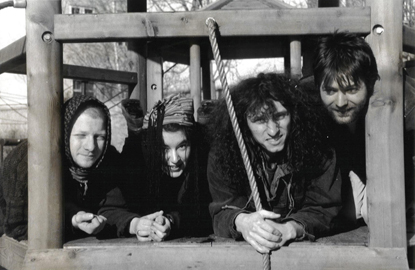 Music & Elsewhere Oh, it's finished (for me, kinda depends when you hit the link and press 'play', don't it?), shame, I was enjoying that. "Earthfake" is my fave, that's on the collection. Staying with Trost and Günther Castanetti (I confess the man is one of those underground names
that really carries some weight for me), the next band up is a little less strange, but no less interesting...


Music & Elsewhere From the album "Unpleasant Things", which is certainly no way to describe the tracks, this is "Water"...
Music & Elsewhere Again, in this presentation by merit of a somewhat unique vocal stylist, who goes simply by the name of 'ink' on the credits. I don't have a photo of the band, maybe this is her on the album cover, Günther doesn't tell me much... :(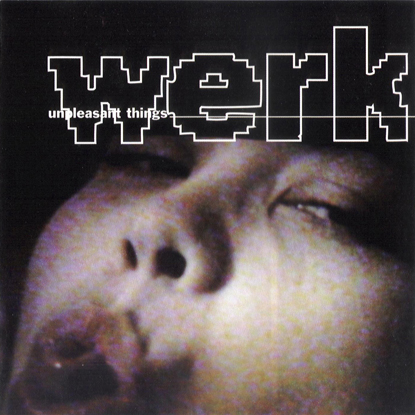 Music & Elsewhere There's just something about Austrian underground stuff that I really connected with, liked so much of it. Even coined the term 'Viennesque' to describe all things Trost in reviews!
Music & Elsewhere Hope you's out there are enjoying all this as much as I am. Be nice if somebody told me. Hint hint.
Music & Elsewhere If just for me then, let's pick the tempo up a bit, get a bit subterranean poppy as it were...


Music & Elsewhere This is "Ice Man"...


Music & Elsewhere The voice and creative force behind Endymion (later known as Silk Rush) is one Barbarella Buchner. I lost touch with her for many years, then she had the good grace to marry a cat, end up all over the tabloids and thus become quite easy to find again. Oh come on, am I in the habit of making stuff up like that?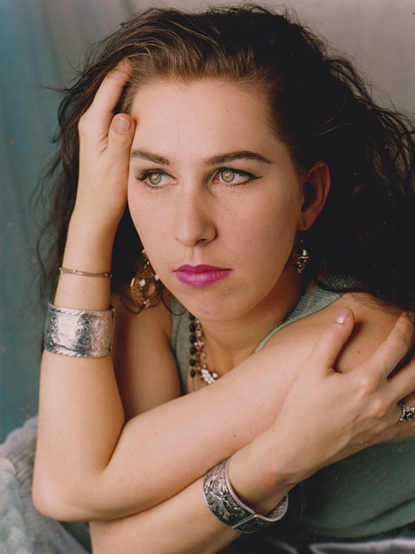 Music & Elsewhere Fair enough. But THIS time, it's all true!
https://www.mirror.co.uk/news/real-life-stories/married-cats-after-last-relationship-7387649
Music & Elsewhere She lives in the Canary Islands these days, but in the days of M&E she was a young German lady living in London and doing modelling on the side. Somebody once told me I should take up modelling. Then I realised they were trying to sell me an Airfix Chieftain Tank kit...
Music & Elsewhere "Ice Man", that's me. Hah! Not when this next young lady is singing...