Back in time to two days after we had recorded our first ever track, and one day before any Magic Bullet had ever been heard in public, Skit and I began work on what would become our debut album. We had been forewarned of the Gravitas project, of course, but somehow didn't feel that was a beginning, rather more an aspiration. Although Skit was intensely comfortable with digital technology, I would still gaze longingly at the TEAC 4-track.
"One must walk before one can run," he would state philosophically, "wax on, wax off."
"I understand." I would respond, painfully aware of my own digital limitations.
"You see," he would continue, pouring some of his beer into my own near-full glass, "I have knowledge to offer."
My glass began to overflow, spilling Boddingtons on to the delicately beeswaxed wooden dining table. It's okay, we have a child, it has a protector on it.
"However," he paused while I went to get some kitchen paper, "to make space for this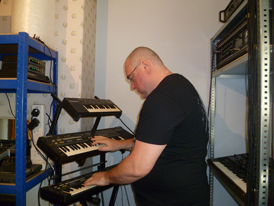 Putting some samples together on the Casios...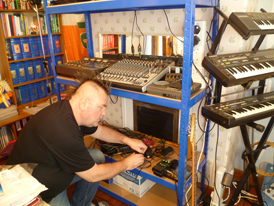 Skit commits acts of serious FX pedal abuse...
knowledge, first you have to unburden yourself of what you think you know."
He reached across the table, lifted my glass and tipped the beer over my head.
"Now," he said stoically, refilling my glass from his own while I sat dripping, "you have space for this knowledge. You understand?"
And so it began. Originally, we had wanted to call the album Digitas, both referencing the digital technology that would differentiate it from my previous work, whilst keeping it in character with Gravitas. Unfortunately, there turned out to be a digital marketing company with the same name, so we opted for Digitalis instead. For men of our age, and considering we had both spent 24 hours wired up to a portable ECG monitor, it seemed somehow appropriate. So much so in fact that our Samantha insisted on referring to it throughout the sessions as Dignitas. In fairness, she regularly brought tea and biscuits, so it would have been churlish to complain. Having said that, cake would have been nice too.