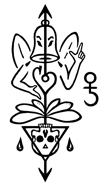 Tracklist;
► 01 Mutant Flash Mob (8:56)
► 02 Small Headed Gods (6:29)
► 03 Single Diminutive Impression (8:05)
► 04 Chaotic Vector Correction (5:29)
► 05 Sky Dark Shadow (10:21)
► 06 In Bitter Repentance (4:05)
► 07 I Find It Cathartic (9:04)
► 08 Crowd Close Door (5:14)
It's finally here: the SECOND Magic Bullet debut album!
All tracks conceived and realised by Mick Magic & Skit Zoyd
Published by Mmatterial
Recorded and mixed in The Mmatterialisation Chamber,
3rd - 12th October 2019
Produced by Dr. Albert M. Tron Ps.D
All accompanying artwork, poetry and prose by Mick Magic

No musical instruments were harmed in the making of this album
"There was a garden, a small square of grass, barely big enough for the plastic table and chairs that occupied its area in finer weather. Away from the trellis and rose, symbolically standing beneath his window, an abacus smouldered in an aged mesh incinerator. The acrid smoke would drift in through the open fanlight, impinge his vision and taunt him as he sat for a non-specific period of time in front of his screen. As he stared, occasionally tending to his stinging eyes with a moist tissue, the monitor would flicker, subliminally suggesting an alternative to his wilful abstinence.

He had heard the stories of others who had successfully made the transition, but surely these were just unfounded rumours, spread by devilment and the wish to keep him in his place. He worked, he ate, he slept, what more could a man expect? However, on the other side of the screen, things were said to be different, and he could not help but wonder if perhaps there were more to these tales than malicious gossip. He pushed his fingers at the screen, bitterly frustrated that they would not pass through the glass.

Days passed, days became weeks, weeks became months, months become years, years became lifetimes, and still he shouted commands at a disinterested tide. On looking down, he realised his feet were wet, his trainers stained with the salt from the ocean. A new sense of determination came over him, he began to shout statements of self-affirmation at the walls of his self-constructed prison. But every attempt would fail and he would fall despondent into the darkest folds of his own mind. He had returned from the dead for this?

And then came a day when he could not think of another excuse that he had not heard a thousand times before. Solemnly, he sat in front of the monitor and rested his forehead against the screen. To his utter amazement, his head began to move forward, his eyes passing through the glass to the strange new world behind, fearful of disbelieving, should the whole experience dissolve before him. Change, it seems, was always inevitable. Time, it seems, was always an arrow that flows in a single direction."
It took a long time to get to this point, Skit's arrival in my world could not have been more timely, believe me! Before Magic Bullet, I had not put out a new album in 24 years. I had been reluctant to embrace the transition from analogue to digital technology. As with many people of my age, change was often an uncomfortable and unwelcome experience for me. I found it easier to cling to a world I knew, but the passage of time will ultimately take that from you, then the doubts creep in. Even on my return to the fold in 2012, I had always put M&E first, the needs of the many, I would tell myself, convinced I would be able to pick up on my own projects 'later'. Then I hit 60, blood pressure tablets and statins, had my first MRI scan and spent a day wired up to an ECG monitor. Turned out 'later' could be sooner than I'd planned. It's a sobering thought, rather focuses the mind. That's what "Digitalis" is all about for me, finally confronting the fear and disillusionment that had held me in stasis for so long. The fact it's the name of a heart medicine, as well as hinting at the post-cassette underground technological revolution, is far from a coincidence, trust me!
0
The whole session completed within a fortnight of our inception, this was always intended to be our debut album, but things didn't quite turn out that way. It's not like the beginning of the Magic Bullet project was definitively planned, it just kind of happened, and only then while I was still busy promoting the recent release of "The M&E Collection". The idea had been to wait to put it out in the New Year, as the start of an umbrella project we were going to call 'Magic Bullet: The 2020 Vision'. Okay, not the most original of concepts, but the year has hardly turned out the way we'd all thought anyway! We'd set March 11th as the release date, a nod to the very first MMATT demo tape we put out way back in 1987, but then the Broken Tape Records thing happened, and when they released "Solidarietas" as a standalone rather than a compilation track, it effectively became our debut album instead, so we thought we'd hold on to this one just a little bit longer. Then the world ended, who could possibly have seen that coming? So here we are, a further seven months down the line, a few weeks past our first birthday, Magic Bullet 2: The Sequel, this time it's personal... ;->