MAGIC BULLET - 'Digitalis'
(Music & Elsewhere -
M&E MB-002, October 2020)
From the same creative stable that recently brought you 'The Music & Elsewhere Collection' 'DIGITALIS' is the latest release from the aptly titled MAGIC BULLET.
Certain things in music are in the lap of the gods and sometimes it's best to just let the universe work its magic. Conceived and recorded within two weeks of Magic Bullet's inception 'Digitalis' was originally slated for a March 2020 release. But then Covid happened and the world went topsy-turvey. The 8 track album was left simmering for a few months and it's finally seen the light of day. Certainly worth the wait it's a long player that'll appeal to electro- and psych-heads in equal measure and will soon rise to the top of your playlist.
Also released as a radio edit 'Mutant Flash Mob' is presented here in all its 9 minute glory and it makes a fitting opener. A strangely magnetic tune it seems set to bounce around in your cranium for several days with its enticingly hypnotic beat. It's a tune that seems to alter the very fabric of time and its lengthy duration passes in the blink of an eye. A nightmare in deep space is 'Small Headed Gods' which punctuates its dark rhythm with a series of detonations. There's a certain intrigue running
throughout that keeps the listener hooked: like the cliffhanger in a soap opera Magic Bullet keep the listener guessing to what will happen next. Prime example is 'Single Diminutive Impression' which flows upon a river of flotsam as 'Chaotic Vector Correction' sucks our entire universe into a black hole and spews it out as dark matter. Magic Bullet aren't afraid to push the envelope and things veer towards the lengthy (only 1 of these tracks is under 5 minutes) but things don't feel forced or unnecessarily elongated, rather things are left to run their natural course as with 'Sky Dark Shadow'.
'In Bitter Repentance' brings forth, and repels, certain sounds to create a feeling of ill ease before 'I Find It Cathartic' entices the listener with its insanely catchy beat and the (dentists?) drill, buried in the mix, adds an air of trepidation. The logical extension of Steve Reich 'Crowd Close Door' stupefies with a succession of hammer blows and ensures 'Digitalis' ends on an unforgettable note.
There's a whole world of goodness going on at Music & Elsewhere and if you're new to the collective 'Digitalis' is a great place to start while long term listeners will delight in this expedition.
Download 'Digitalis' from: https://mickmagic.bandcamp.com
PUBLICATION LINK - 4th January 2021:
https://www.facebook.com/altpulse (no direct link available)
Reviewed by Pete Dennis

Artist: Magic Bullet
Title: Digitalis
Format: CD + Download
Label: Music & Elsewhere
After getting sidetracked several times Magic Bullet's regular debut Digitalis appeared in late October finally. Not sure what the cover is really about but I guess it hints at psychotropica and a second attempt, but enough guessing here.
Also some of former releases, especially the one hour one track album Solidarietas - gave serious hints this will be really going a road far away from Mick Magic's former band Magic Moments At Twilight Time. No Singer, No Vocals, No Lyrics, No Guitars. "No musical instruments where harmed in the making of this album" can be read in the liner notes.
What is present here begins with an electropunk flair, relentless mid-tempo industrial funk which may be brewed in the same cauldron as 'Drinking Gasoline', leading through the first tracks. Monotonous repetitive beats shine through "Single Diminutive Impression" paired with slow drifting sequences echoing
through the empty halls of decayed industrial buildings. With "Chaotic Vector Correction" the intensity reaches back to more raw early experimental electronic before the longish center piece "Sky Dark Shadow" dives into analogue stone age dada chirpings where it captures the listener.
Back in the real World the final trilogy of "In Bitter Repentance", "I Find It Cathartic" and "Crowd Close Door" rekindles the spirit of the first tracks from a different perspective. A Reflection of the worlds yesterdays and today's electro underground at once. Mankind caught in loops paired with urgent sequences and distorted beats.
Echoes of man in the digital age and heading into an uncertain future; "Where we're all going nobody knows, this is the world today" comes to mind. Love And Rockets. No. Temptations. No. This is the other face of space age rock, in a time where no more crowd pleasing is needed.
A limited careful handmade CDR version is also available.
0
PUBLICATION LINK - 6th January 2021:
https://www.chaindlk.com/reviews/11574
Reviewed by Carsten S (Klappstuhl Records)

MAGIC BULLET
Digitalis
Music & Elsewhere
Full disclosure. I've been fed and watered by Mrs Magic at Magic HQ and played a lengthy game of squidgies with Ms Twizz. Oh, and there's Mick as well, who to all intents and purposes is Magic Bullet.
And if you've ever wondered what that scrabbling noise is inside your head when you've been awake for three days and it's at the darkest point of the night then you can now replay it to your hearts content by popping on 'Small Gods'. Then there is the industrial sturm und drang of 'Single Diminutive Impression', underpinned by a welter of drone.
It's actually got very little in common with Magic Moments at Twilight Time from back in the dark ages. Back then things were very psychedelic and still rooted in rock but as time has passed Mr Magic has moved wholesale into the worlds of grinding electronica. I'm not complaining. Age of the Micro Man and all that. And if anyone were looking for a soundtrack to an updated print of Metropolis then they could to a lot worse than grab Mick in the beer garden down the Bourne and offer him money. He'd like that. I'm especially fond of 'Chaotic Vector Correction' which, as the name suggests, teeters on the edge of chaos.
Although it's an instrumental album, each track comes with a story. Which Mr M has carefully compiled on to a PDF I'm currently perusing. I don't know if you'll get that with your purchase. I'm sure it will be on the Magic Net somewhere. Let's just say, as befits the music, it's not cheery. Which considering the state we're currently living in, isn't a great surprise. So it's cybertronic, electronic, End of Days musical stylings and rumblings. And, in a strange twist which really shouldn't be happening a quarter of a century after our paths first crossed, I reckon it's his finest release to date.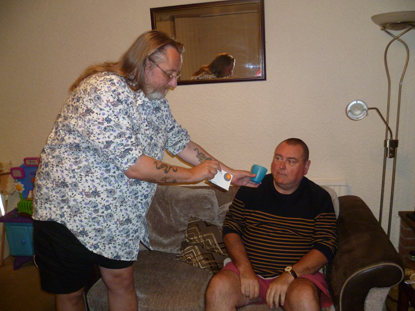 Having once said our M&E United World Underground Collection featured
"an array of people who were obviously off their meds at the time", Stuart was very keen to make sure I remembered to take mine on his last visit...
---
Granted, you won't be playing it at your wedding reception unless you're aiming for the shortest marriage in history, but with the lamps dimmed, the headphones on and a death wish to, um , die for, this will do nicely.
https://mickmagic.bandcamp.com/music
No video so here's some Magic Moments at Twilight Time;
https://www.youtube.com/watch?v=-IMUDysgTE0
0
PUBLICATION LINK - 25th March 2021:
https://therocker65.wordpress.com/2021/03/25/reviews-roundup-the-flying-caravan-messenger-magic-bullet-dwiki-dharmawan-victor-sierra/
Reviewed by Stuart "Mr. H" Hamilton