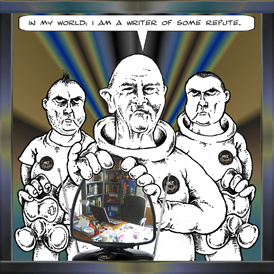 09. In My World, I Am A Writer Of Some Repute (4:51)
This track comes from a set we did for Hal McGee's Electronic Cottage Split Series, recorded in September 2020. The concept of our half was that we got a transdimensional visit from the man who lived in our house in an alternate reality, the tracks being linked by a Lynchian avant garde house tour narrative. Sam (Mrs. Magic III) plays The Hostess, who you'll hear showing him around the place, the real coupe here being that we got the enigmatic Blacklight Braille legend that is Owen Knight, already 92 years old, to play the part of The Traveller. The idea behind the music was also a little offbeat, in that each track had to be constructed from items found in the room it related to; so this one, representing The Mmatterialisation Chamber (our office / studio), utilises a printer, a shredder, a telephone and a dehumidifier!

Artwork by Kev Trundley. Left to right, Skit Zoyd, Owen Knight, Mick Magic.

From "MI CASA, SU CASA"
(Hal Tapes, EC Split 25)
---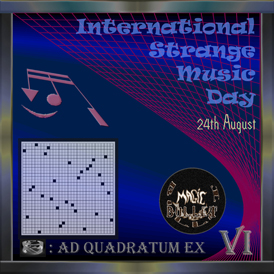 10. XXX: Ad Quadratum Ex VI (0:30)
Recorded specially for International Strange Music Day (oh yes there is, 24th August!) in 2021, this was very much a concept piece. The 'album' consists of 30 tracks of 30 seconds apiece, each track contains only 1 second of sound, the sound appears at a different point in each track, the tracks are in random order. Effectively, it's an experiment in anticipation; in the 15 minutes duration, there is only a total of half a minute of sound, so you never quite know when it is coming, or what you will hear. This is the sixth track from the album, we thought it would be the best fit here, starting with 29 seconds of silence and providing the one second of sound right at the end, so be patient!

From "XXX: AD QUADRATUM EX"
(Music & Elsewhere, M&E MB-004)
---
B O N U S
V I D E O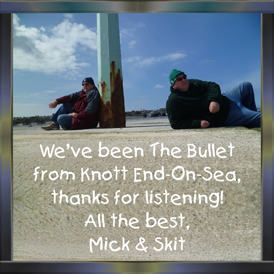 11. The Magic Bullet Song (Reprise) (2:04)

And that's the end of the album, so we thought we'd take you back to where we came in, thanks for listening! This time, however, we're going to leave you with the sounds of Knott End-On-Sea, recorded from the famous jetty upon which we slouch, as immortalised by L.S. Lowry's painting (though not while we were there), and in the spirit of our 'cover version' of John Cage's 4'33", as broadcast on John Wills' memorable lockdown podcast series in June 2020.

Representing "THE CAGE VARIATIONS" (Music & Elsewhere, M&E MB-008)

"Hang on, Magic, you said TWELVE releases at the beginning!"
Indeed I did, Brownie point for paying attention! The missing one was "Multiplicitas", a now deleted special collectors 2 disc set of "Solidarietas" and "Curiositas", both of which we've already covered.

OMG! I'VE JUST REALISED, THAT MAKES THIS ONE THE THIRTEENTH!!!
---