The beginning; it was a Tuesday morning, I'm sat with a coffee, watching the PC boot up, ready for another day of promoting The Music & Elsewhere Collection, which at that time had been out for less than a month. First order of the day was always check e-mails, social media et al, and for some unknown reason, I stopped and read the post on the right. It's hard to say why it was that moment, I wasn't sure exactly what musique concrète was, I had to check it on Wikipedia! I'd already been on Facebook for over a decade, must have seen loads of call outs for tracks for all sorts of projects, yet I don't think I'd ever really stopped and read one before. Of course, I knew who Shaun Robert was from the glory days of the cassette underground, we'd released a 'factor X' album on M&E back in 1992. But who was I kidding? Save for a couple of tracks I'd done specially for MMATT's 30th Down The Rabbit Hole in 2016 (and they were both on a TEAC 4-track), I hadn't recorded a thing since Creavolution, 24 years ago. Digital technology and me, well, we had different mindsets. Okay, there'd been a lot of false dawns, promises of recordings to come, but even the Flashbax Omicron 13 thing was 2 years into the past now. I'd been waiting all that time for this promised Magic Bullet project to start.
"We could do that."
We could? We? I didn't need to look over my shoulder to see where the voice was coming from, I knew, they'd told me he was coming. But I didn't share his confidence. I had bought a Behringer mixer at the beginning of 2015, determined to break my digital recording duck. With it came a copy of Tracktion 5, repeated attempts to make use of which had lead to zero results. If at first you don't succeed, fuck it, try again later, much later. I knew what I was doing with analogue recording, I understood rolls of tape and a machine to load them into, but this was just a piece of software and a whole new way of thinking.
"Dr. Magic's Audio Lab." He continued.
You understand, I think I'd convinced myself that I would definitely start recording again one day, so I'd been collecting sound samples on my PC from all sorts of sources for years, all categorised into sub-folders, carefully labelled and stored in alphabetical order in a master folder called Dr. Magic's Audio Lab. The first folder, top left, Animals. But how to structure any of those samples into a coherent piece, multi-track them on that Tracktion 5 thing that I still hadn't made much sense of?
"Wavepad."
Now why didn't I think of that? That was a piece of software I knew backwards, I'd mastered and edited all of the digital M&E releases on it and was fairly proficient by this time. It wasn't really designed to be recording software, but it had much of the functionality to make it viable. So the two of us sat down for the next few hours and created the track god Eat god. I was pleasantly surprised by the end result, it sounded a lot better through headphones than speakers, but it wasn't at all bad for a first ever digital project. It had rhythm, it had structure, plus most importantly, it seemed to meet the basic requirements to qualify as musique concrète.
"Sorted."
We decided there and then to go for the whole package, first designing a Magic Bullet logo from the original MMATT and Ehrlich Bullet artwork, then getting Sam to take a few pictures of the two of us, by this hour in matching pyjama bottoms. Nervously, I put a package together to send via We Transfer to Shaun. As luck would have it, we didn't have to wait long for his response. In one day, Magic Bullet were born, had designed their logo, had their first band photos taken, recorded their first track, submitted it and had it accepted. It was released on the Friday, three days later...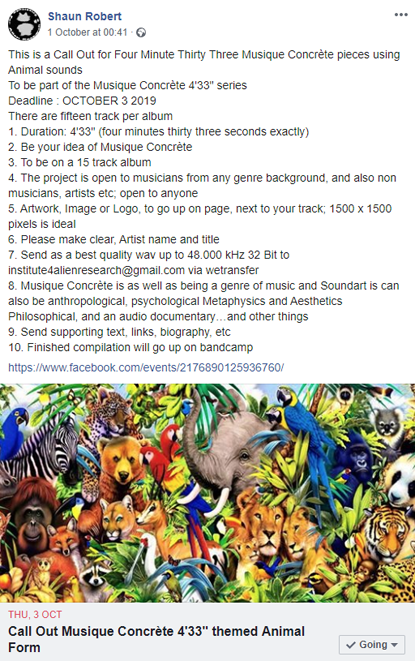 The social media post that started the whole new adventure...
---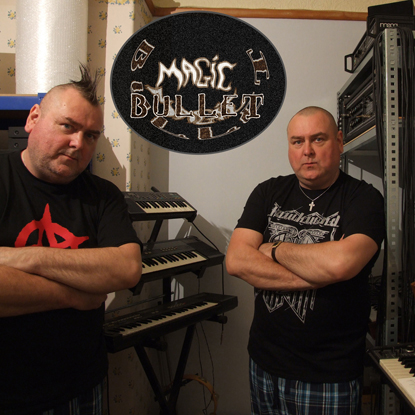 The very first 'official' Magic Bullet band photo, 1st October 2019...
0