Fortuitous serendipity on a couple of counts here, just reward for willingness to work outside your comfort zone, we would like to think! This particular project came about when Skit spotted a 'call for musicians' from the Italian Liburia Records label, 'dedicated to the various forms of unconventional music; electroacoustics and impro.' Okay, not exactly our field, but not exactly alien to us either. And, if I'm honest, of particular interest because there was talk of a possible CD release for it as well. The theme and eventual release title of the two volume set (which sadly didn't make it to disc, as it turned out) was 'Sound Diaries In Quarantine Time'. So, we sat down in The Mmatterialisation Chamber to explore options for Covid-19 take 3. With our first take, A Baneful Circle Of Light (for Fraction Studio), we had gone with the theme of fear and anxiety; for the second, Lacrimae Angelis Dei (Requiem) (for Harsh Reality Music), we had explored the feelings of sorrow at so many deaths. For our third and final take, we chose to look at the race to develop a vaccine, whether that be about hope or a healthy dose of Magic Bullet pessimism (guess which we went with). When researching the subject online, I came across a rather chilling video issued by the World Health Organisation, in which it is stated "there are no specific treatments for corona viruses." Okay, it's not news per se, the common cold is a corona virus, and we still don't have a cure for it, more than half a century after putting a man on the moon. It was a matter of timing. It was because it was now. It was because we were in a growing global pandemic. That's why it was so chilling. The sample we took of that statement would form the core of the track. So, do we go with hope? I think not, let's go with pessimism and despair, the sounds it produces are more interesting! Aside from the percussion and vocal clip, everything on the track is constructed from tuned and processed samples of human screams, both male and female. Quite pleased with the finished work, we submitted it to Liburia. Disappointingly, they rejected it, which was a new and unpleasant experience for us to process, but at least they were good enough to explain why, simply a case that it didn't fit with their chosen tracks. Having heard the album, I'd have to agree, it's a really fascinating selection of quite abstract avant garde experimentalism, but very different to the structured and 'in yer face' piece we'd presented them with.
o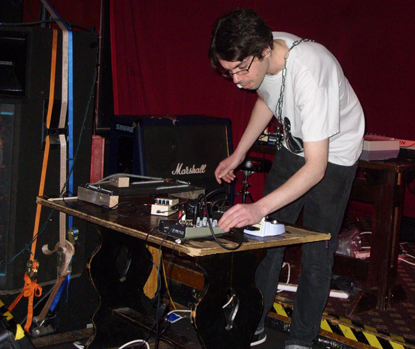 Michael Ridge, aka Zebra Mu, no musical instruments, kindred spirit...
---
As luck would have it, we had a Plan B. Covid-19 take four was already in our 'Projects' folder for a Quagga Curious Sounds compilation called "QCS Loves The NHS", and would have been next on our list anyway. This was put together by Michael Ridge, aka Zebra Mu, whose work the label was, in the main, a vehicle for, along with the occasional compilation. This was planned as a benefit for NHS charities, a cause we were very happy to support. One of our best friends (and fellow Womble), Michael Baker, is one of those very NHS heroes we were applauding on our doorsteps every Thursday evening at eight o'clock. He works as a porter at St. George's Hospital in Tooting, so knowing someone on the front line at such a difficult time, you couldn't help but have that extra little bit of empathy for our beleaguered National Health Service. Thus it was that our offering ended up as track no. 47 on this noble release. And the second count of fortuitous serendipity was being introduced to the work of Michael Ridge himself, who besides the digital output, also produces a lot of beautifully crafted releases on cassette and CDR in the truest and most kindred of underground spirits. Sorted.