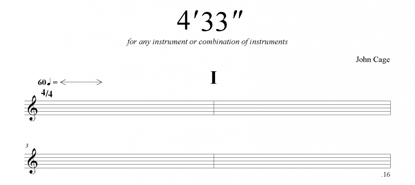 And here's the sheet music, on the off chance you'd like to accompany us
---
Whilst not specifically released as such, this recording has been out in the public domain since it was broadcast as part of John Wills' The Great John Cage Project - In Lockdown, although it very nearly didn't happen at all. It's often been argued that anybody could have composed 273 seconds of silence, and maybe so, but John Cage actually did it! Legend. The intriguing notion that it's not about listening to nothing, it's about listening to everything. Well, it's clearly not just us that appeals to, Pumajaw member and ambisonic sound acolyte, John Wills, is an other. Don't get me wrong, I'm not accusing him of being one of the bad guys in Lost, rather a fellow true believer in the joys of the silent aural experience. He decided to take advantage of the incredible noise reduction that the first lockdown had brought to the world, a chance to really hear some of the sounds that surround us every day, only to be drowned out by the motor vehicle and general cacophony mankind itself generates. As a nod to the great man himself, each recording would have to be 4:33 exactly (yes, Shaun Robert is another Cage fan), all of which would then be collated into a series of podcasts and ultimately gifted to the British Sound Archive for posterity. A noble quest indeed, thought we, the Bullet were in!
o
ATTEMPT No. 1...
And we knew the perfect place to record it was just at the other end of the village; Knott End jetty. The long ferry slipway, made famous by L.S. Lowry's painting, marks the meeting point of the River Wyre and the Irish Sea as they come together at the edge of Morecambe Bay. On Friday 1st May, Skit, Sam and myself walked down there, armed with camera, iPhone and the handheld Sony IC Recorder. As is not unusual in Knott End-On-Sea, it was windy. Very windy. Skit grinned broadly and admitted he'd deliberately left the microphone muff at home so we'd end up with a noisy recording. We had half a mind to send him back to get it, but we figured it was hardly gale force, and if we put the recording devices on the concrete between us, it should adequately shield them and completely thwart Skit's evil plan. So the three of us sat on the edge of the jetty, feet dangling towards the sea below, and carefully positioned our devices. I checked Skit was ready to start (e.g. shut the fuck up for five minutes, just for a change), he confirmed he was and I counted us in, 1 - 2 - 3 - 4, and it was a go...
"Good performance." I said cheerfully when Sam gave the signal that time was up.
"I'm good." Says Skit.
"I think we nailed that, mate." I agreed.
Sam said nowt much. Bit shy. But she did take the photo (right), bless her.
When we got back home and listened, we were actually quite surprised at what we heard, because what we thought had been reasonably well shielded recording devices had produced a serious ear-battering, albeit with the sounds of the sea in the background.
"Yas!" Skit punched the air triumphantly, "that's the Bullet!"
Hey ho, thought we, it was an honest and un-doctored recording, and yet very Magic Bullet at the same time, so we submitted it at 5:02, complete with count in and end back-slapping.
"Yes, indeed." John responded, "The wind noise becomes quite mesmeric. Thank you so much for participating in the project. I'll be in touch very soon with more details about the show."
But he wasn't, and because we're not above begging, we contacted him again.
"I really love the concept behind your recording and the picture you sent is great." He began, in such a way that we could sense the but that was obviously coming, "I have a problem with the constant wind noise on your recording (I know this is a nightmare to avoid). Is there any chance you could do a re-run on a more still day? I know this is a lot to ask but I do really want a Magic Mick production! Please put me out of my misery and let me hear The Ferry Slip."
How could I refuse such a plaintive plea?
o
ATTEMPT No. 2...
So, on Monday 8th June, which I think was the next day the winds fell below 10 miles per hour (it doesn't happen too often around here), I snuck back down there on my own (when Skit wasn't around), armed only with camera and Sony IC Recorder. Oh, and microphone muff. What a difference! You could hear everything; the water running along the side of the jetty, the gulls, a distant car, a dog barking and some annoying arsehole in a microlight. I duly cut it to the prescribed 4:33 and sent it in. John was a happy bunny now and duly playlisted it as first track on the eighth and final podcast of the series (phew!), as "Lockend Jetty (UK)", which would undoubtedly have poor Mr. Lowry turning in his grave and I sincerely hope he corrected that before committing it to the British Sound Archive for eternity, but at least we got there in the end! It was several days before Skit would talk to me again, and he still threatens to find somewhere immensely noisy to record his own solo version. Be afraid. Be very afraid...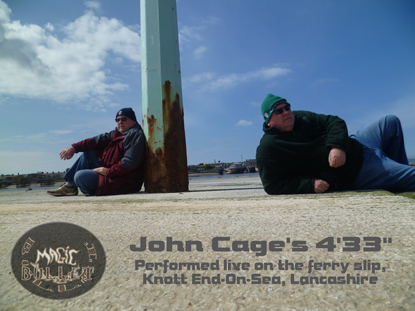 Skit (right) and myself posing for a photo to accompany our first attempt