The Cool Chris Phinney Theme
Running Time: 3:56
Released On: "Electronic Cottage Compilation 7: Forgotten Memories Of A Harsh Future (A Tribute To The Harsh Reality Music Label)" - Various Artists (34 tracks)
Label: Hal Tapes
Release Date: 10th July 2020
Format: Download
Buy Link: Bandcamp
Later included on "Communitas: Volume II" (M&E MB-006, 15th October 2021) ►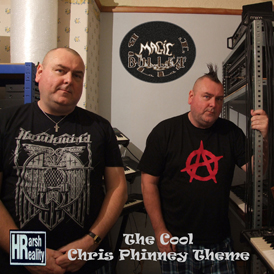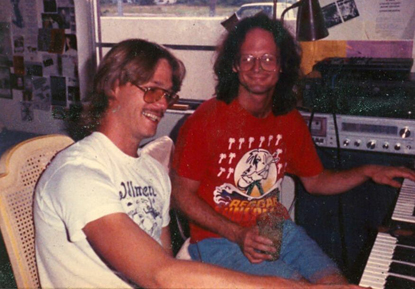 Chris Phinney (the ultra cool one on the left) & Hal McGee - back in the day
---
I first made contact with Chris Phinney in the summer of 1991, he was already a veteran of the underground scene at the time, his Harsh Reality Music tape label having over 200 releases under its belt more than a year before we'd released M&E 001. Yup, this is another of the giants I refer to as my having built Music & Elsewhere on the shoulders of. Hal McGee is, of course, another, so when you put the two together in one project, how could you not? Look, I have to give Jerry's book another plug here, because it covers those early days of the cassette underground in great detail and you'll definitely read a lot about these two gentlemen in it. "Cassette Culture" by Jerry Kranitz (published by Vinyl On Demand), buy it, trust me, and no I'm not on commission, I bought one, it's THAT good!
LINK: https://www.vod-records.com/-1-432-675.htm#prettyPhoto
Chris has done a lot of seriously heavyweight music over the years, some of which we had the privilege of entertaining on M&E, my personal favourite of which was Viktimized Karcass (check out Loaded Man on the labels compilation section of the 2019 M&E Collection, M&E 25-02, darkly excellent), so we wanted to do something equally heavyweight for this tribute release. The best laid men of mice with plans, as they say, we ended up with this instead! Hands up, my fault. We were going for quite doomy gloomy sounds, cut the samples from an old Stylophone and dropped them a good couple of octaves, come up with this melody I could only describe as a rock & roll horror soundtrack, then as it got to the end of the phrase and the drum kept running, I say 'Chris Phinney is cool' to the beat. And that was it, we couldn't play it again without adding that on the end. Sorry we made ya blush, Chris!
o
LINKS:
HR Music - https://harshrealitymusic.bandcamp.com
HR History - https://www.electroniccottage.org/jerry-kranitz/harsh-reality-musicchris-phinney-historical-web-site-update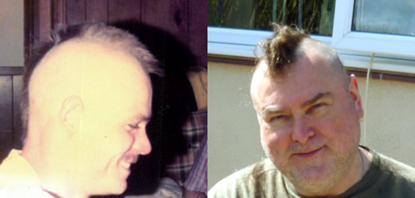 Chris Phinney comes a respectable 2nd place in the Memphis heat of the 1988 All Tennessee Skit Zoyd Lookalike Competition