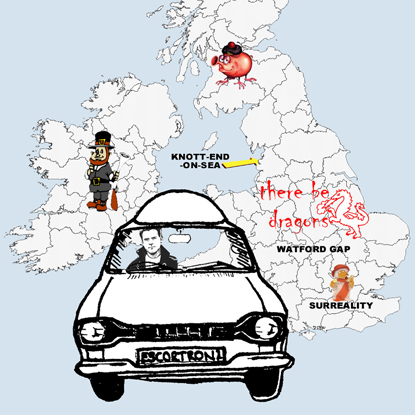 As a Surrey boy born and bred, I don't think I'd ever imagined leaving the south east for pastures new, let alone developing a real fondness for somewhere else. Then early in 1989, I started chatting with a young lady called Samantha after we'd finished playing a gig in Lightwater. In spite of there being nearly 13 years between us (cradle snatcher, I know) and her parents being thrilled at the prospect of her going out with a twice divorced taxi driving rock musician that was only a couple of years younger than her stepfather, we soon became an item. Her folks had moved down from Knott End a few years earlier, but still owned the cafe by the jetty in those days, and cunningly press-ganged her into working there over the summer holidays, conveniently as far away from me as possible. However, young love being as compelling and all consuming as it is, I decided to hop in the Ford Escortron and drive the 260 miles north (for the first time ever) to visit. I can't say I really knew what to expect; probably flat caps, grey industrial towns, pigeons and whippets; because Coronation Street and the Andy Capp comic strip in the Daily Mirror were pretty much all many southerners 'knew' of the north in those days. Man, was I in for a shock.
The first thing that struck me was the friendliness. It simply wasn't right, why would anyone be civil to someone they didn't know? I was staying at The Old Post Office in Preesall, took a stroll down to the local shop in the morning to pick up a paper, elderly guy coming in the opposite direction smiled at me and said good morning. I nearly jumped out of my skin. In Surrey, you would cross the road to avoid eye contact with a stranger, perish the though you'd actually speak to them. Somewhat alarmed by my experience, I told Sam about it
when I saw her later that morning, how this crazy old man had accosted me and freaked me out completely. She gave me a hug, assured me he wasn't a psychopath and that it was quite usual for people up here to talk to each other. I was far from convinced. I wondered if she wasn't trying to lull me into some false sense of security to start with, making up words like 'barms' and 'Vimto', asking if I'd like to go 'wimberry picking' with her (even though I knew there was no such thing), trying to make me believe that life and the people up here were normal. I kept expecting to wake up one morning in a giant burning wicker man, crowds with flaming torches gathered at its feet, baying for deep fried southern softie blood. It took some getting used to, I can tell you.
Fast forward through our 22 year courtship (we wanted to be sure), and there we were, getting married and talking about starting a family. But not where we were, not where the dawn chorus comprised the distant rumble of the M3 and lorries delivering to the shops next door, what kind of life would that be for a child? Her parents had long since moved back by this time, and Sam wanted to get home to Lancashire as well, and it is so much a better place to raise a kid than a housing estate in Surrey. We've been here nearly 9 years now, our daughter is 8, and wild horses couldn't drag me back down there. Uncrowded roads, being able to get to places in the time your sat-nav actually tells you it'll take, the views across the fields to Parrox Hall Farm and the Lancashire Fells, the views across the bay to the Cumbrian Hills and, of course, Knott End is the best place to see Fleetwood from a safe distance.
When Vladimir Vpdodo's Shorty Music series featured the theme of 'My City' for the November 2020 compilation, I thought it well worth stretching the definition. Okay, the samples we used to build it aren't new, they're the ones from the old Magic Moments At Twilight Time track, Psychojolting, that we originally used on our debut live radio session for Neil Crud On Tudno FM the previous December, just a couple of months after we'd started the project. But it's the thought that counts and we did record some seagulls specially. Oh, while I think about it, people ask about this Reverbnation chart thing, if our 'claim' (it is tongue in cheek, promise, oh be still my beating ego!) to be the no. 1 experimental band in Knott end is genuine; yes, 100%. I think the way they do it is name your own local chart after wherever you happened to be based, though it clearly extends further. Mostly, we're no. 1 in a field of one, but sometimes a long defunct band called LA Shrimp (who aren't even experimental, they sound distinctly punk to me) from Lancaster appear at no. 2. I don't think there's ever yet been a no. 3, but we keep a nervous eye over our shoulders. Et voila, that's how a track about Knott End-On-Sea got to be released on a Ukranian record label. Altogether now...
o
♪♫ WE LOVE KNOTT END-ON-SEA, OOH! ♫♪