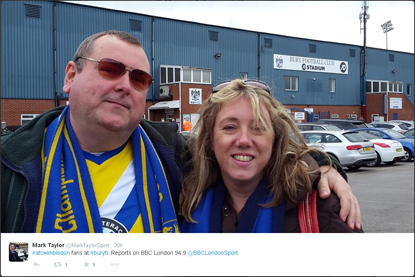 Meself and Mrs. Magic III, caught by BBC London at the old Bury FC in 2015
---
2020-21, it's been a year like no other for AFC Wimbledon. Well, and pretty much everybody else, I guess. At least we got to see the lads play at Fleetwood Town early last season, before it all got cancelled because of the Covid-19 outbreak, and we escaped relegation from League 1 on the points per game system they used to decide it. This season, we hadn't had the chance to see them at all. Not only had it been a fourth highly tense backs-to-the-wall season in a row, the lads hadn't even had a crowd to cheer them on through it. And there we were, with only a few weeks of the season left in front of us, bottom of the table. And we couldn't go down, not THIS year, that would be unthinkable, not the season we got back to Plough Lane and nobody could be there. Nobody wants to get relegated when they're going to be trying to fill a larger new stadium once it all kicks off again.
o
Wimbledon going back home; it had been a dream for me ever since the first team were coerced out of our original Plough Lane ground 30 years ago (it was still used by the reserves a couple of years after). I'd always hoped the groundshare arrangement with Crystal Palace had just been temporary, but when Sam Hammam sold the site to Safeways in '94 and trousered the £8 million, the "club with no fans" became the "club with no home." And I never set foot in a Safeways again. After that, it seemed the impossible dream that we may ever return. But with the creation of the Continuity AFC in 2002, the possibility moved that little bit closer. For a fan owned and run club to achieve that in only 18 years, with all the planning involved, the fundraising and a global pandemic on top, astounding. You couldn't make it up. Personally, I think everyone who has contributed to making this happen is a legend. And as much as I'm going to miss my brick at Kingsmeadow (bottom right), I'll take the hit. There's a really good book out called "We Are Home" (The Complete History Of The Dons And The Journey Back To Plough Lane) from Vision Sports Publishing, comes highly recommended by Skit and meself.
So, like I was saying, bottom of the table, only a few weeks to go, the nerves were fraying. A loss to Plymouth Argyle, a loss to Fleetwood Town, they think it's all over, but when did a Wimbledon team ever fold and die? Yeah, okay, we can all remember a few, but for the sake of the narrative, yeah? Then, after scoring only 4 goals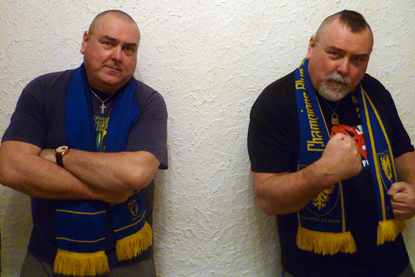 The Magic Bullet: Can we do it? YES WE CAN! (Apologies to Bob the Builder)
---
in the last 5 games, the lads scored 5 in 1 at Accrington Stanley, 5-1 ironically being the final score. Three more wins followed; Ipswich, Swindon and Oxford; could we seriously do it again? A 0-0 draw, away at Ipswich this time, left it all resting on a home match with Rochdale on April 27th, who may have been below us in the table, but were also on a solid run of form. We knew nothing less than a win on the Tuesday night would make it certain survival, were we willing to bet a day's work in The Mmatterialisation Chamber that they'd pull it off? The Magic Bullet had faith, of course they were going to beat Rochdale and we were going to have a track ready to put online at 9pm to start the party!
o
What do people like to do at parties? Drink and dance! And while whoever manages to make the former happen by impregnating soundwaves with alcohol will undoubtedly make a fortune, it clearly wouldn't be us, but we could certainly manage the latter. For samples, we turned to Marc Bell's wonderful analogue remaster of the old MMATT foot-tapper, "The Starship Psychotron", brought the cuts up to date with a heavier kick drum, added some crowd chants (recorded away at Bradford City, 4th May 2019, the last time Covid allowed us to be present at such a Great Escape match!), and et voila; several hours and much coffee later, we had our finished track. All we had to do then was follow the game online and be ready to upload it as soon as our survival was confirmed. An hour gone, we were 2-0 down. Then 2 goals in 5 minutes, we were level! Another 5 minutes or so, we're 3-2 down. Tick tick tick. Oh... oh... 83rd minute penalty... Joe Pigott to take... he'll score it... feed The Pig and he will score... he shoots, he sc...THE BASTARD SAVED IT! Tick tick tick. 90 minutes up. Tick tick tick. 91... come on, guys, don't do this to us... 92... we're not above begging... 93... we've worked on this track all day to get it ready for tonight... 94... if we lose this, we might not get to use it at all... 96th minute... PIGOTT EQUALISER! After resuscitating eachother with electric paddles and CPR, Skit and I realised the track wouldn't be going online just yet. But there was hope. And breathe...
o
Luckily, come the Saturday, our loss to Portsmouth didn't matter as other results went in our favour, and at 16:59, our post with the track link went up on social media;
WE ARE STAYIN' UP! LET THE PARTY BEGIN!