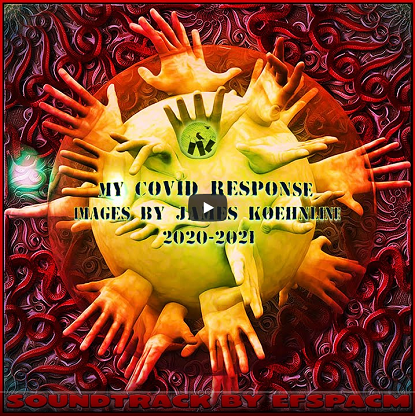 o
The inspiration for this piece came from an Ensemble For Sound Poetry And Contemporary Music (EFSPACM) group project, one that sounded really interesting right from the start. Working with visual artist ('amongst other things'), James Koehnline, we were tasked to create a soundtrack for a slideshow he had prepared called My Covid Response, running some 30 minutes. Unlike the earlier Gordon Way video project, however, the idea here was to mix and blend each contributing group members' offerings into one piece, to be mixed by the capable hands of Volker Störtebeker. And that is pretty much what Skit and I set out to do, even though this is what we ended up with. We had the idea of what it was like to be stuck indoors through the January - March lockdown, battered into depressive submission by Lancashire weather, desperately awaiting the much touted liberation of the Astra Zeneca vaccine. It involved setting up microphones in the front porch to catch the sound of rain and hail pounding against it's small flat roof and windows; pushing another microphone up the chimney (unused, I hasten to add) to get its hollow reverberation around the howl of the Irish Sea coastal winds; and to stick a couple around the house to capture the pair of us shuffling around sullenly, muttering under our breaths and grunting with displeasure.
Now, what we should have done is send in those component parts as they were, leaving Volker to weave his magic. But what we did was yield to temptation. Don't judge us, think what the great Oscar Wilde said, who were we to argue? Said temptation was to put it together as a concept piece; it starts with a sigh and rain as yet another lockdown is announced, reality drones on, it builds to hail and a storm (with a little electronic enhancement, as is our way), and then at last, the door unlocks, there are murmurings of hope, though there are still sniffs and sighs, and it can't rain forever, surely? But if it does, when can I get my umbrella? So, as I said, this is what we ended up with, it didn't quite fit the remit. I talked to Volker about the possibility of including it as a standalone, using the artwork we'd done to accompany it et al, but it simply wasn't compatible with the overall concept. So, having something of a team spirit and as being members of the EFSPACM group means a lot to us, we bowed to the collective wisdom and agreed to its joining the grand mix. The end result (in two sections, circa 15 minutes apiece), I have to say, is quite something else, whether you be listening to the audio release or watching it with the slideshow. Hand on hearts, we are very proud to have been a part of it. But (and you knew there had to be one)...
o
As much as it was rewarding to hear our rain and hail recordings in the midst of Part Two, we both kinda liked the track the way we'd recorded it, and the artwork we'd done for it, and the word we'd made up (yes, I admit it, but it sounds good, doesn't it?) for the title, and we were both kind of hankering for it to be released in its own right too. As luck would have it, another project on our To Do List was for Sábila (Cian) Orbe's new Internet Daemon netlabel, who were organising a compilation on the theme of vaccines. It was a perfect fit, thought we, and duly submitted it. And the man from Del Monte, he say yes! Sorry, I still have that IFAR 'advert compilation' article going round in my head). Ultimately, I think we really lucked out, having both the privilege of being part of a great EFSPACM project and getting a track out on a new label too! Incidentally, I had my first vaccination on March 1st, my second on May 7th, the rain makes me a little less nervous now...
o
LINKS:
EFSPACM Audio Release - "Koehnline Slides"
Slideshows and soundtrack on video - "My Covid Response"
Part One: https://www.youtube.com/watch?v=iXmvdpZRi7s