FUCK / STOP / KILL PUTIN!
"Shorty Music Mix" Release;
Running Time: 1:30
Released On: "LTNS (Parts I - V)" - Various Artists (27 tracks)
Label: V. Poiskah Dodo & Friends (Shorty Music)
Release Date: 1st April 2022
Format: Download
Buy Link: Bandcamp

< STOP PUTIN! (Shorty Music Mix) (1:30)

< STOP PUTIN! (Radio Edit) (3:02)

< KILL PUTIN! (3:02)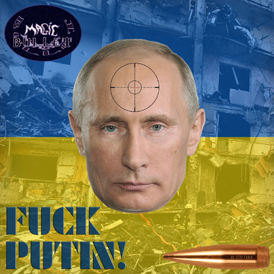 o
T H E O R I G I N A L , A N D T H E B E S T ,
I N O U R H U M B L E O P I N I O N . . .
o

FUCK PUTIN! (3:02) >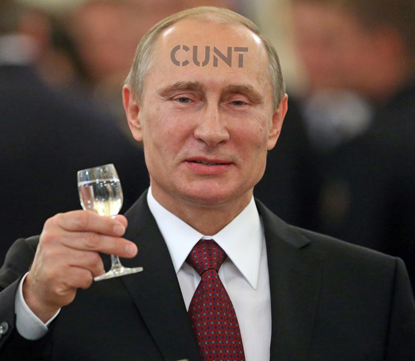 "They say a picture paints a thousand words, but with apologies
for the offensive language, sometimes only one is needed."
---
Yeah, Putin, I'm not a fan. I posted the above on social media a few days after he ordered the invasion of Ukraine. You know, the one that he had assured us he had absolutely no plans to carry out, the one that was just manoeuvres, that invasion. Far be it from me to suggest that he was being economical with the truth...
o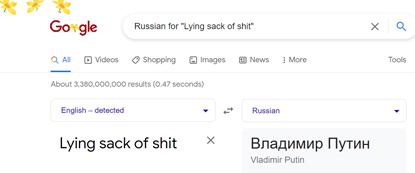 o
I'd watched the news with horror as the invasion was announced on the morning of Thursday 24th February. I got online and wished our friends there the best of luck while I still could, told them they would be in our thoughts and that I hoped we would do enough to help them survive it. Now, while I fully understand the reticence of the west to get involved militarily, World War III and all that, I couldn't shake the sneaking suspicion that kicking them out of the Eurovision Song Contest wouldn't be enough to make them see the error of their ways. Whilst Skit and I would be the first to admit that we're no Pete Seeger or Bob Dylan, we wanted to add our voices to the cries of protest, thus was born FUCK PUTIN! Okay, hand on heart, we're not necessarily expecting an Ivor Novello, but we think it clearly expresses our feelings nevertheless.
However, for our little contribution to the protest efforts to have any effect at all, we needed it to get played, and that was highly unlikely with the word 'fuck' in the title and being 50% of the lyrics. And heaven forbid we be in breach of Facebook's community standards. So we came up with KILL PUTIN! as a Plan B.
But why kill? Honestly?
1) Because, having recorded it in cod-Russian accents, it sounded like Boney M meets Kraftwerk, which we thought was really funny.
2) It never occurred to us that anyone would take it or us seriously.
3) We were doing an 'A-Z of the Magic Bullet' series on social media and we needed a 'K'.
That was it, we're pacifists, not a pair of advocates for political assassinations. Frankly, we'd rather see the man stand trial for war crimes and those against humanity than get shot, though if the latter were to occur, I'm buggered if I'd shed a tear for him. To begin with, it looked like we'd hit the nail right on the head, it was a huge streaming success, we even got the coveted e-mail from Reverbnation; "Your song KILL PUTIN! is trending!" Bless 'em...
o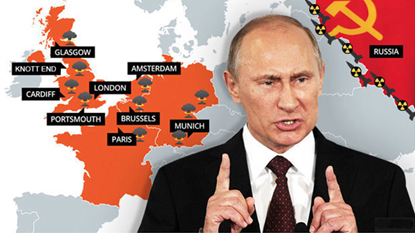 o
Then Neil Crud played it on his Punk & Beyond show on Louder Than War Radio, only two days after we put it out there! Unfortunately, he also happened to mention we were based in Knott End, thus getting the village added to Putin's nuclear targets list. Thanks, Neil. But that was pretty much it ... a lot of radio stations wouldn't play it because of broadcasting regulations, several of our friends refused to for reasons of conscience and we did fall foul of Facebook's community standards! Even when we offered a special edit to Vladimir Vpdodo, actually based in Kyiv, for the next of his Shorty Music series, he declined on the grounds of it being too violent. Obviously, when a native Ukranian says that under the circumstances, you have to listen. And while we are not prepared to apologise for either version, both of which Putin thoroughly deserves, we were quite happy to record the less controversial STOP PUTIN! as a more palatable Plan C. Guess what that stands for?
FUCK PUTIN! / STOP PUTIN! / KILL PUTIN!
THE CHOICE IS YOURS!