godspunk volume twenty-four
Artist: Various Artists (48 tracks)
Title: Godspunk Volume 24
Label: Pumf Records
Catalogue Number: Pumf 854
Release Date: 8th January 2023
Running Time: 151 minutes (approx)
Magic Bullet Tracks;
Disc 1 - 11/ 11. I Want More Toys (featuring Twizz - 1:16)
Disc 2 - 8 / 33. We're The Bullet From Knott End-On-Sea (4:44)
Format: 2 x CD / Download
Buy Link: 2 x CD: Pumf Records / DL: Bandcamp - GBP £7.00 (either, UK p&p free)
0


o
< I Want More Toys (1:16)
We're The Bullet From Knott End-On-Sea (4:44) >
0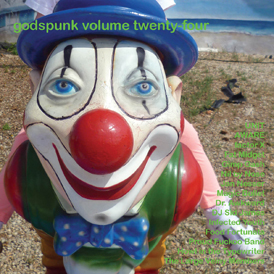 o
Yup, it's that time again, the 24th and latest edition in Stan Batcow's long running co-operatively financed compilation series, Godspunk, ta-da! Well, it deserves a little fanfare after all these years. Quite the eclectic mix on here, as always, many a name from realms we are completely and utterly unfamiliar with, so something of a comfort to see Shaun Robert's factor X on board alongside the usual suspects. Stan is, of course, pretty much a neighbour these days, being a mere half an hour down the road in Blackpool, so he just turns up at the house and refuses to leave until we agree to be on it and give him money. To be fair, because he promotes these to local radio contacts as well, it probably can't hurt our reputation as Knott End-On-Sea's no. 1 experimental band, so we went along with it. Again. In spite of not getting very much attention from it last time. Ah, but this time, we have a cunning plan. It's to do with titles, you understand. We're The Bullet From Knott End-On-Sea. Yeah, to avoid any confusion, the track is actually The Magic Bullet Song, just used the lyrics on here instead. But I shouldn't downplay that simple fact, because that IS our cunning plan; drop the name of
o
FEATURED ARTISTS:
Howl in the Typewriter, UNIT,
The Large Veiny Members, Nil by Nose,
Dr. Awkward, Jan Nesser, Infected Youth,
Fat Midget, Gimp Gash, AWARE, factor X,
Food Fortunata, Magic Bullet,
DJ Sid James and Proud Fuckoo Band.
---
Knott End to catch the attention of the aforementioned local radio connections, record of the week on Fylde Coast Radio, picture on the front page of the Blackpool Gazette, handprint in the cement outside the Houndshill Shopping Centre, statue at the top of the ferry slip next to Lowry's, honorary mascot at Wyre Villa's last home game of the season, me and Skit switching on the illuminations in September, followed by a fish supper with mushy peas at Papa's. Ah, I can see it all now...
o