Through the quarkness of futures cast
The Magic One's madness to see
One band, he claims, from two different worlds
It's dire, he talks to trees...

Skit Zoyd (January 2023)
o
---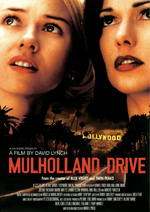 Oh yeah, we got quite excited when we saw Plataforma, a label we had not previously been released on, were doing a Lynch themed compilation, that was an absolute must do for us (in spite of our only finding out 6 days before the deadline!), both huge fans of his movies as we are. I guess the title of this piece gives away my favourite Lynch film (left, should you still need a further clue), Skit's is Eraserhead, neither of us like Dune. Sorry, David, nobody is perfect. Of course, we'd already done our own tribute to the maestro in the shape of Mi Casa, Su Casa for Electronic Cottage back in 2020. So what to follow that with? Follow it with a prequel, thought we, seemed the most Lynchian thing we could do.
We decided it was time to reveal the tale of how the visit of The Traveller had come about, it hadn't just been a message from his transdimensional craft that morning, you understand. I had sat down with Twizz and a damn fine cup of coffee a couple of weeks before, planning to tell her of the intriguing communiqué her mother had received, which Samantha insisted be portrayed via the medium of interpretive dance. Gradually, as she pulled faces and moonwalked across the living room carpet, we began to piece together that The Traveller lived in the same house as us, but in a parallel universe, and would visit the Asgard of our dimension (situated, of course, in Hackensall Road, Knott End-On-Sea) so he may hear our machines.
The music was inspired by the opening credits sequence of Mulholland Drive, but we didn't go for bebop, instead opting for processed lawnmowers. It's been a very lawnmower year so far, Skit is very fond of lawnmowers and I can confirm there are more to come, but I digress, which is most unlike me. Having said that, it does actually fit the narrative, as the lawnmower lives in the garage, which he would have passed (and wanted to listen to) on his way up from the field at the rear of the house, taking care to avoid the tractor, before reaching the utility room, et voila. One day, I will put this all together so it makes sense, promise. Meanwhile...
o
T h a n k y o u t o o u r s p e c i a l g u e s t s ;
Our Twizz as herself
Killer (Man from Here) - appears courtesy of his Prison Warden
Dr. Patel (Doctor from Here) - appears to doubt her existence
Our Samantha as The Hostess
Owen Knight (ex Blacklight Braille) as The Traveller
The Food Processor (from Café Too Late)
And finally, The Machines, as themselves...
T H E S C R I P T (*in case you want to sing along...)
MAGIC: Come, sit with me. Ah, that's a damn fine cup of coffee. Now, your mother, as potential hostess, has received a communiqué which could be of benefit to you.
TWIZZ: How so?
MAGIC: There could be candy.
TWIZZ: That would indeed be of benefit to me. Tell me more.
MAGIC: Your mother will reveal its contents to us, via the medium of of interpretive dance, let us watch intently together.
o
* * * * *
MAGIC: You notice your mother made a sweet face and moonwalked across the carpet?
TWIZZ: Yes.
MAGIC: Now this means the message was sent from a parallel dimension, and The Traveller will be coming far to visit us.
TWIZZ: I understand.
MAGIC: There is more.
o
* * * * *
MAGIC: You saw how her your mother had one hand in her pocket, and made bunny ears with the other?
TWIZZ: I did.
MAGIC: And how she blinked both eyes, as if in disbelief? This means that The Traveller lives in the same house as ourselves, but in that alternate dimension.
TWIZZ: But why would he wish to visit the Asgard of our dimension?
o
* * * * *
MAGIC: A good question indeed. Dr. Patel, perhaps you could shed some light on his possible motivation?
KILLER: She is not real.
DR. PATEL: I am not real.
KILLER: She is a construct.
DR. PATEL: I am a construct.
KILLER: She does not belong here.
DR. PATEL: I do not belong here.
THE HOSTESS: But I do, and I have his words here, in this small box of light, sshhh....
THE TRAVELLER: We would hear your machines.
THE MACHINES: He will hear the machines.
THE FOOD PROCESSOR: That means me, doesn't it?
*(in 'machine talk')*
THE MACHINES: No, not you...
o
* * * * *
TWIZZ: When will he come, daddy?
MAGIC: What day is it!?