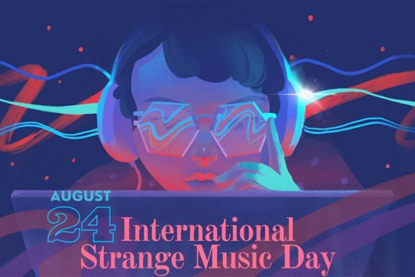 Yup, it's an absolute 100% genuine thing. As it's explained on Happy Days 365 (from whom we appropriated the nice graphic);
"International Strange Music Day is commemorated on August 24 of every year. The day is celebrated as to play and pay attention to the kinds of music which you have never experienced before. Be a part of the strange music to deal with the unexpected moments of your life in a better way. So itís time for you to start enjoying the strange new music on this International Strange Music Day."
It's quite fascinating looking at these reams of minority interest days, must be something for everyone somewhere. At the time of writing (September 29th), we were gutted to realise we missed National Drink Beer Day yesterday (though did hit the gin last night), and quite enthralled to discover today is Ask A Stupid Question Day. How does that make you feel?

o
I went into the history of International Strange Music Day when we did XXX: Ad Quadratum Ex for it in 2021, so won't repeat it all here. We didn't do anything for it last year because we were in Wales for our session on Neil Crud's Punk & Beyond show for Louder Than War Radio. This year, we found ourselves in the unpleasant position of grieving for a major loss and and having only had the one new track released since May, and even that only being the requiem we'd created in response to the grief. I have to be honest, the idea of putting time in and working hard on a track still wasn't appealing, so we thought of another approach, something more serendipitous, thus Taking The Piss In The Name Of Art.
Thursday 24th August; an ordinary day, Twizz was at school, Sam was working in her home office, and here was I alone in our Mmatterialisation Chamber. No Skit today, he doesn't live here, he's not always around, but he's never far away. Circa midday, Sam was out of the house for 20 minutes, so I took advantage of the quiet to get a microphone in the bathroom and make my sample recording. Sod's Law, stage fright, performance nerves, call it what you will, but something approaching 6 seconds was the total... er... 'streaming time' available. I'd been saving it up as well. Men of a certain age, I'm saying nothing more. Nevertheless, with the joys of modern digital technology, you can make endless and seamless loops from short samples played forwards and reversed; you can play around with equalisation, pitch and speed; positioning in the stereoscope; maybe even a little reverb. The end result is what you hear here, quite influenced by our May The Waters Run Through Its Pipes For Ever More, of course, which I found pleasantly hypnotic and I think we shall be experimenting with water again in the not too distant future. It's art, darling... ;-)